How to get to Falls Creek, Australia, from the UK?
I took the easy route…
Flight from London Heathrow to Perth, Western Australia. A few days in Perth, getting over jet lag, and then on to Adelaide to pick up a ski buddy. I also took some time to look around Adelaide. Interesting town. Quite quiet but also quite large. Some interesting shops and restaurants. I then flew to Melbourne (well, actually an airport just outside of Melbourne, i.e. not the main airport) to meet up with two more people.
The drive from Melbourne to Falls Creek takes around 5 hours and is all on good roads apart from the last 30 miles or so which is up some very windy, and in places narrow, roads that lead up into the mountains. You seem to be able to see the resort from miles and miles away as the hills rise out of the plane.
Two things to bear in mind when going to Falls Creek:
It is in a State Park, and therefore you have to pay an entrance fee (in this case it was $25 (Australian) per night).
You need to carry snow chains.  When we entered, we didn't have chains, but it was clear that if the weather was bad, you would be stopped and asked to fit them.
On arriving at Falls Creek, we were asked to park our car and report to the reception.  We were then told that if we wished to drive into the village with our car, to drop the bags off and to pick them up again at the end of the stay, it would cost $50 (Australian).  We decided to walk (another option was to use the snow cat taxi service, but this wasn't running due to a lack of snow on the village roads).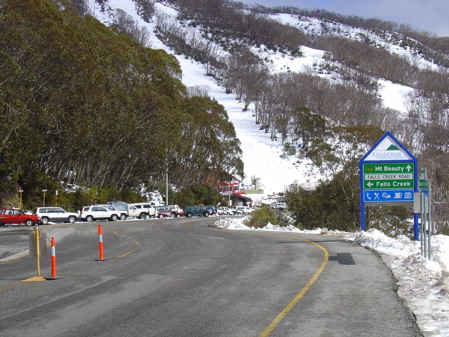 The walk to the hotel was surprisingly tough as our hotel was some distance and it was all uphill along a series of hairpins.  The walk (as would driving in) would be almost impossible if there were snow on the roads.
Bags were unloaded, the car taken to the long term carpark (there is a shuttle service to bring the driver back) and we had a 10-minute uphill walk to our hotel, the Koki.
We were arriving at the resort late season, and it was very quiet with little snow on the ground.
Falls Creek, Australia –map it
-36.86314,147.28203
If you have enjoyed this article then please feel free to share it using the buttons below.