So, an early start as I was taking the train from Christchurch to Picton.
Taxi at 6 am to the train station, for the 7 am train.
The ticket office at the station opened at 6:30 am. I had booked my ticket in advance as the train is small with limited seating.
My large bags had to be checked in to the baggage car (no storage on the train) – one good thing was that the bags could be checked through to Wellington, i.e. they are (hopefully) transferred to the ferry.
The train station was a $15 NZ taxi ride from Cathedral Square in the centre of Christchurch; the station was in the centre of town until 1993 when it was moved to the west.
The train track was completed in 1945, and the last commuter train in the Christchurch area ran on the 10th April 1976. It is incredible to think that a rail network was built, and then essentially abandoned.
The current train is only for tourists.
The train only had five cars plus an engine. That is, a baggage car, an open observation car (see above), two passenger cars, and one cafe car.
The train left promptly at 7 am, and due to arrive Picton at 12:13, some 48 km (216 miles) – maximum speed of train, 105 km/h (65 mph). The train is also narrow gauge and tended to be very bumpy.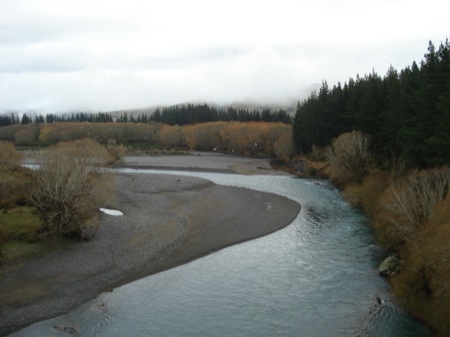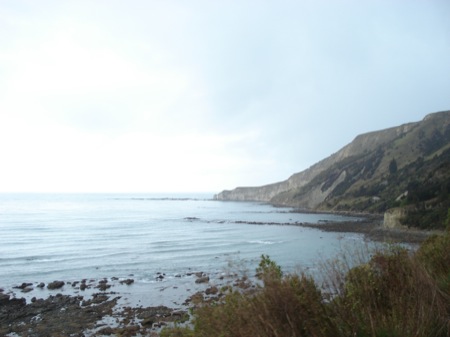 Food on the train was not very good – it was all microwaved and therefore very soggy. However, the tea was excellent!
The open observation car made for some very interesting (but very cold in winter) viewing of scenery.
The views from the train are amazing. I saw seals on beach and quite a lot of birds. One thing that was odd was the sand on the beaches appeared to be black. There were also a lot of sheep (population of sheep in NZ must have more than doubled in the last few weeks judging by the number of lambs).
198 miles later, and at 12:30 (only 17 minutes or so late) we arrived in Picton.
If you have enjoyed this article then please feel free to share it using the buttons below.