The Auffach Ski Area seems quite extensive and it is certainly bigger than Niederau.
The free bus dropped us at the bottom of the Schatzbergbahn gondola which is the main lift out of the town. The ride to the top, via a mid-station, took around 15 minutes.
The snow on the mountain seems very good, and it is a lot less icy than Niederau.
Again this is a mountain of mainly red and black runs.
From the top of the Schatzbergbahn gondola, I skied down to the Hahnkopfbahn lift, and from the top of that down Route 13 (Wurmegg Abfahrt) to the mid-station of Verbindung. I was hoping to ski down to the village of Inneralpbach but there is no route down, and instead the gondola has to be used.
In Inneralpbach I caught the gondola (Poglbahn) to the top and skied the mountain. I eventually worked my way down to the bottom of the Wiedersbergerhornbahm which is the furthest distance my pass will take me.
Overall I am quite impressed with the ski area. There is a lot of terrain to cover and it is served by modern lifts. There are not many drags.
Snow conditions have been variable, ranging from excellent to dangerously icy.
One bonus is there are free wifi spots on the mountain.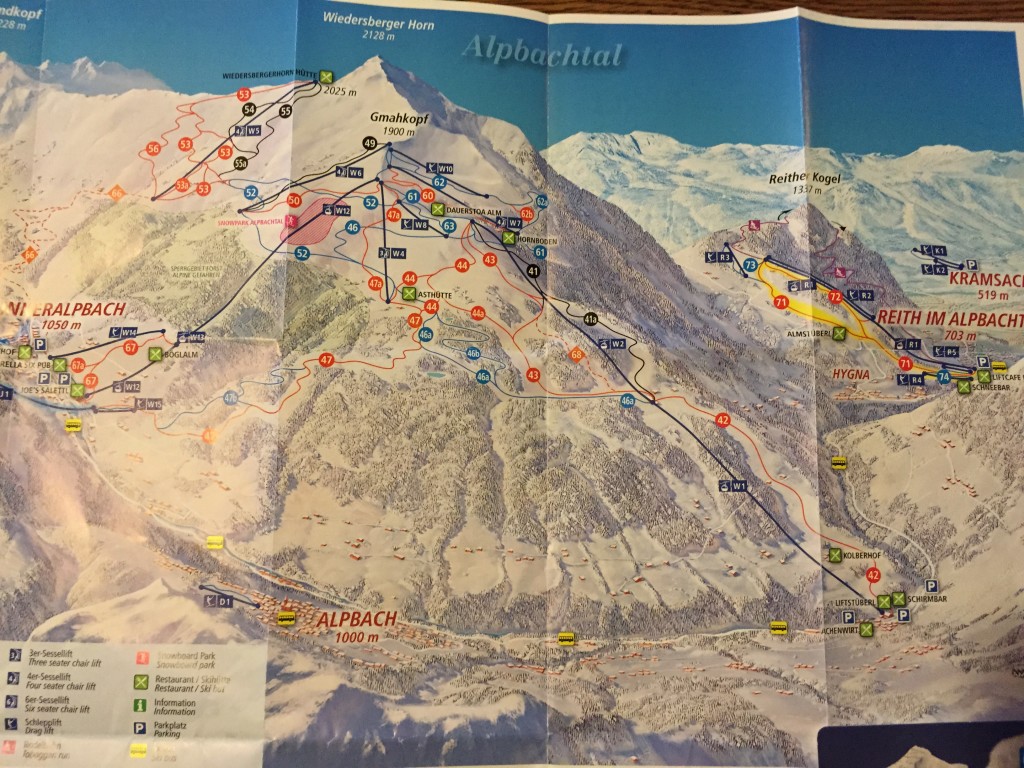 Alpbachtal Ski Area
If you have enjoyed this article then please feel free to share it using the buttons below.