I had been looking forward to skiing Deer Valley for some time as I have some great memories of skiing it nearly 20 years ago. It turns out Deer Valley has changed, and/or my memories are not correct. (I think it is the case that things have changed…)
Deer Valley is still very much Deer Valley. That is, it is still a very swanky and swish up-market ski area that doesn't allow snowboarders. However, it is not as upmarket as I remember it….
The Good
OK, if you go skiing you want good snow, good terrain, and good lifts – and Deer Valley has those (with the possible exception of terrain – see below).
Lift lines were well managed (sometimes over managed – see below), and the lifts were modern and fast. The lifts weren't as comfortable as I remember them (I think I described them once as being like sofas) but I think that is because previous to my last visit I had mainly skied small resorts in New England with some very old uncomfortable two man lifts.
Snow conditions were good, and Deer Valley certainly had more snow both on the trails and across the mountain in general than Park City or The Canyons.
Grooming and general management of the trails was very good, and the skiing conditions were excellent.
Another good point was the staff. There were a lot of them on the mountain. If you had a problem or a question you could always find someone to ask.
The mountain also appears to be a good place to learn to ski as I have never seen so many ski instructors and lessons going on before in one resort.
The Bad
The people…. There was something about the people at Deer Valley that just rubbed me up the wrong way. They didn't seem to be into the skiing for the skiing, but for the 'look at me and what I am doing'. I have never seen so many nicely turned out skiers on a slope. It was all the latest gear and the latest skis. It all feels a bit false.
The terrain is boring. I couldn't put my finger on it at first, but a clue was that I kept thinking I had already skied a run when I hadn't. My ski buddy finally hit the nail on the head. All the runs are pretty much the same! That is, Deer Valley isn't so much a valley but more a collection of 3 large hills and one small one. All the lifts go to the top of the mountains, that is, they all converge on the top, and then you ski down. The result is all runs appear to be similar.
Another bad (and maddening) thing was the lift lines. Yes, it is great to have managed lift lines when the slopes are crowded but the day we were there it was not particularly busy, and I didn't need someone telling me that I could now move forward and get on the lift. I know I can do that – there is no one in front of me!
There were a lot of staff on the mountain and sometimes this was a bad point as there seemed to be more staff hanging around at the bottom and the top of lifts than skiers. The staff were getting in the way.
The Ugly
The mountain is quite ugly… The views are good but boring, and sometimes alarming as on some runs you appear to be skiing into nothing.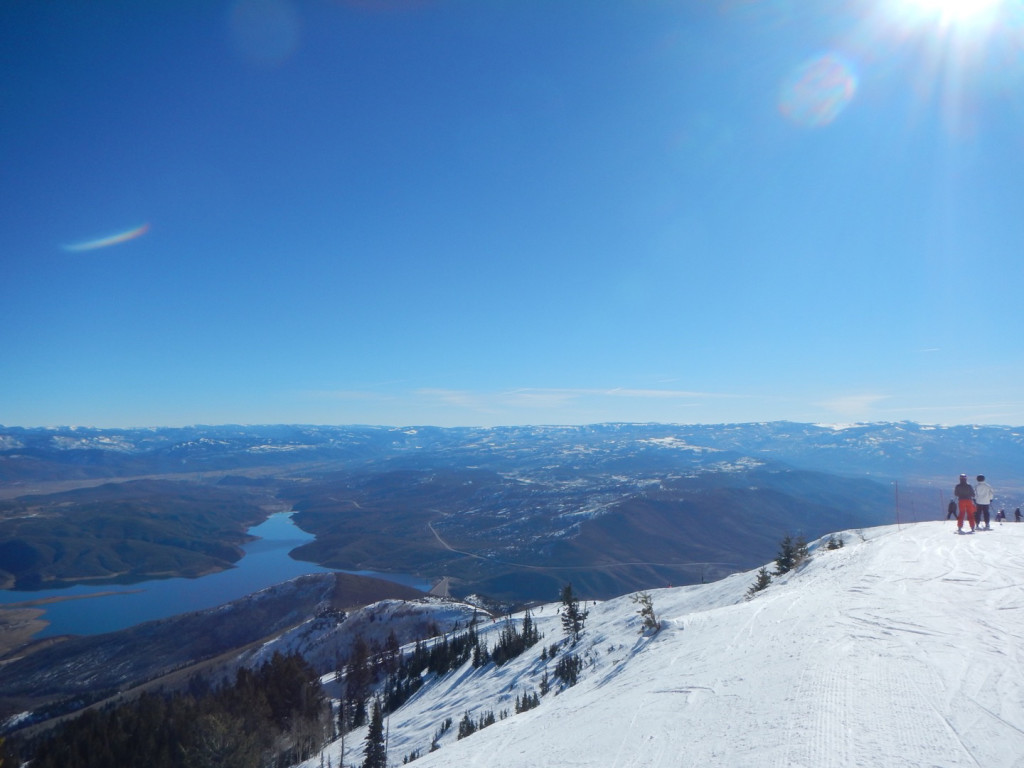 One thing that is truly ugly is the number of condos and houses that have sprung up since my last visit. I have no problem with people having large, expensive houses at ski areas, but at Deer Valley, they were just over-the-top regarding size, and they were shockingly visible. Most resorts (and I am thinking of Okemo in Vermont and The Canyons just down the road) manage to hide their big houses away in woods or discrete valleys. But at Deer Valley, they seem to be 'in your face'.
One thing that did appear odd on this visit were the trails low down the mountain. Deer Valley, it would appear, has to maintain trails for their residents so they can have 'ski-in ski-out' access as these appear as long ribbons of snow snaking across the brown landscape.
Summary
Overall I was not impressed with Deer Valley, and I will not be hurrying back. Yes, the snow conditions were good, but I found the mountain boring and the people annoying. And it is very expensive.
If you have enjoyed this article then please feel free to share it using the buttons below.