I saw the Yangon (Rangoon) War Cemetery mentioned on a couple of travel sites so I thought I would have a look, and it was worth the effort.
On the Circular Train I decided to get off at Hanthawaddy station and walk to the cemetery, which took around 20 minutes. The route is down main roads (with no pavements), and it was very hot.
The cemetery is tucked down a little back street and is quite hard to find, it took a bit of searching, even with Google Maps on the phone. There were no signs indicating where it was… but the effort spent in finding it is worth it.
Online you will find some confusion over war cemeteries in Yangon (Rangoon). There is the Yangon (Rangoon) cemetery (map) and also the Taukkyan War (also called Htauk Kyant) Cemetery (map) – more on Yangon and Taukkyan. The two seemed to get regularly confused online, with TripAdvisor having Taukkyan at completely the wrong location.
The inscription in the information book states:
"Rangoon War Cemetery was first used as a burial ground immediately following the recapture of Rangoon in May 1945. Later, the Army Graves Service moved in graves from several burial sites in and around Rangoon, including those of the men who died in Rangoon Jail as prisoners of war.
There are now 1,381 Commonwealth servicemen of the Second World War buried or commemorated in this cemetery. 86 of the burials are unidentified and there are special memorials to more than 60 casualties whose graves could not be precisely located.
In 1948, the graves of 36 Commonwealth servicemen who died in Rangoon during the First World War were moved into this cemetery, 35 of them from Rangoon Cantonment Cemetery and one from Rangoon (Pazundaung) Town Cemetery."
The photo below shows the entrance to the Yangon (Rangoon) War Cemetery.
Main entrance.
The Yangon War Cemetery is very well kept. Exceptionally neat and tidy.
The Yangon War Cemetery is a pretty amazing place, very well kept, and despite the mad hustle and bustle of Yangon just outside the main gate surprisingly quiet.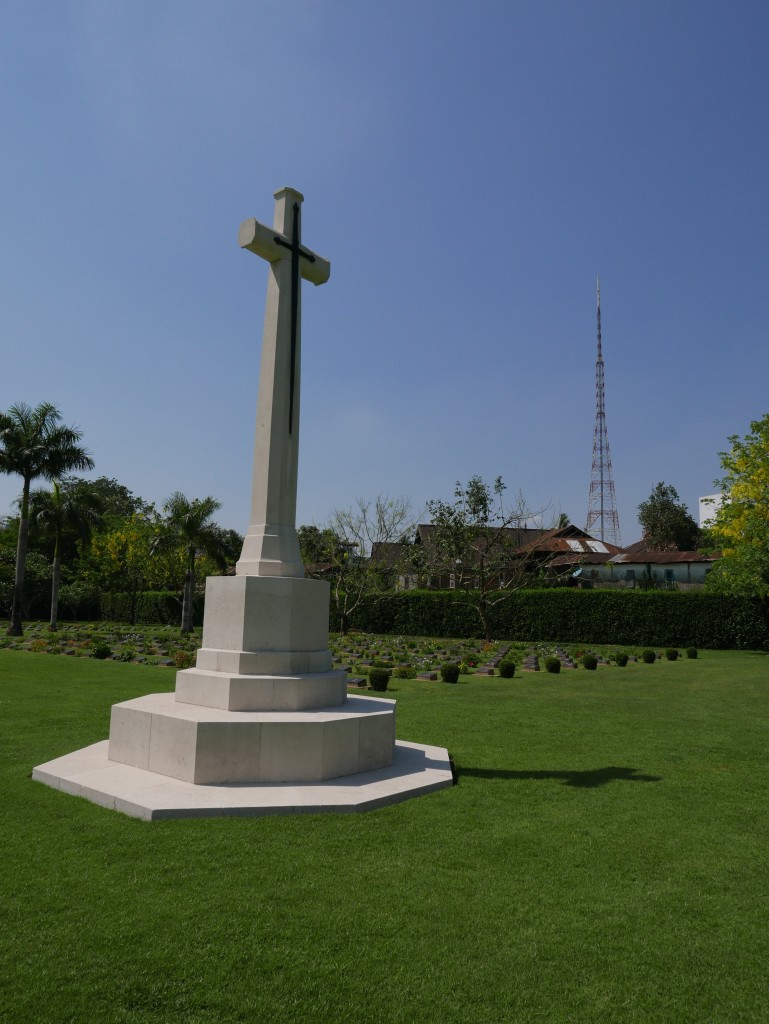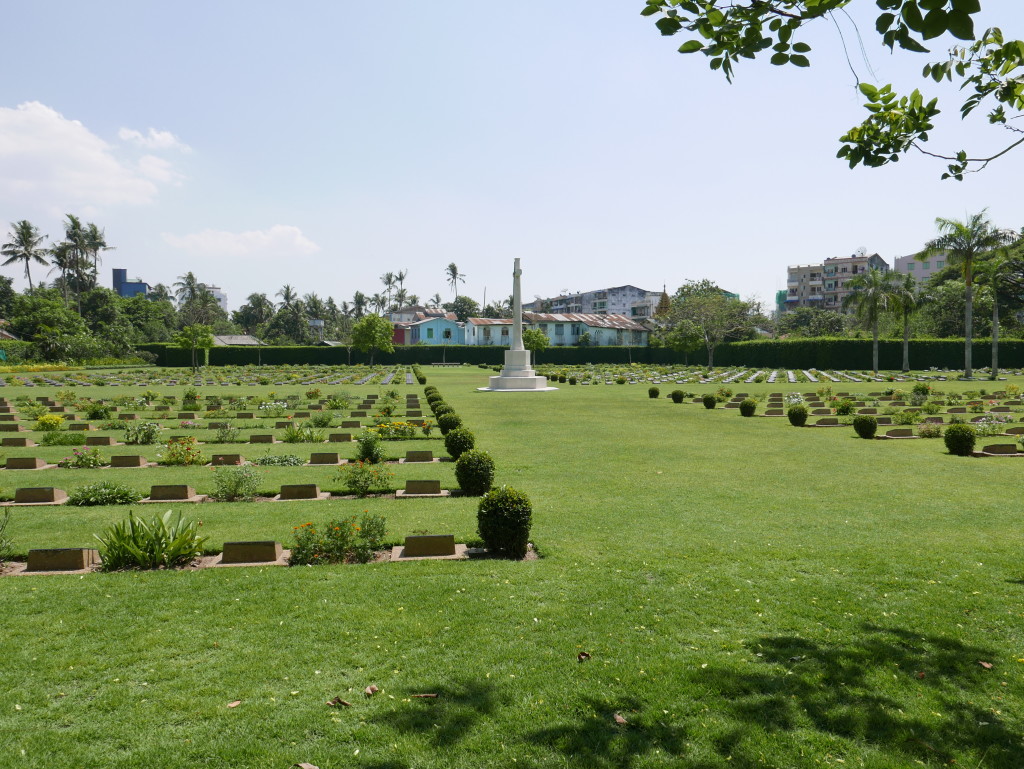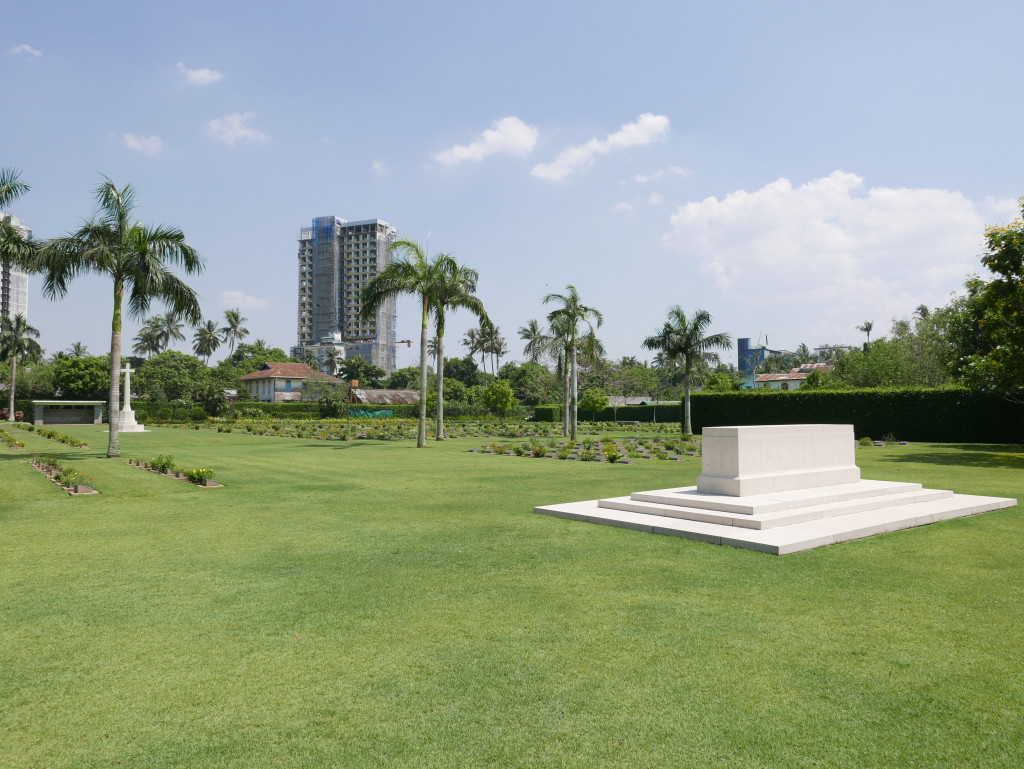 One particularly striking entry in the information book was for Flt. Sgt. Woodbridge:
"WOODBRIDGE, Flight Sergeant, (Wireless Operator), STANLEY JAMES, 1393806. G C. 159 Sqdn., Royal Air Force Volunteer Reserve. 7 February 1945. Age 23. Son of James Henry and May Ashman Woodbridge; husband of Florence Edith Woodbridge, of Chingford. Essex. The following details are given in the London Gazette of 24th September, 1948, in which the award of the George Cross was announced:
Flt. Sgt. Woodbridge was the wireless operator in a Liberator aircraft which crashed in Burma on 31st January 1945, and was taken prisoner by the Japanese together with 5 other members of the crew. All six were subjected to torture, and eventually the four N.C.O.'s were separated from the others, taken to a forest and there put to death by beheading. During the subsequent trial of three officers and three N.C.O.'s of the Japanese Army at which they were found guilty of the torture and murder of these four airmen, it was revealed that they had concentrated their efforts on Flt. Sgt. Woodbridge, in an endeavour to obtain techincal information which would have been usefiil to the Japanese Intelligence service. Despite repeated and prolonged torture this gallant airman steadfastly refused to speak, and was beheaded on February 7th, 1945. Flt. Sgt. Woodbridge behaved throughout with supreme courage. His fortitude, loyalty to this country and complete disregard for his own safety constitute one of the highest examples of valour in the annals of the Royal Air Force. Grave Reference: Col. grave 3. F. 6-9."
His grave marker is shown below.
If you have enjoyed this article then please feel free to share it using the buttons below.