The Imbiah Trail on Sentosa Island, Singapore runs up the hill just behind the Siloso Beach Resort.
It is a kind of off a weird place, which has an interesting history. What makes it weird is the hill is a mixture of natural (well, managed) woodland, and some also quite cheesy landscaping.
Mount lmbiah was occupied by military forces for more than a century until the 1960s, and the top of the hill had been completely cleared of trees so as to give a clear line of fire, hence all the growth seen only dates from around 1965. That is, all the growth is 'second growth' of only 50 years or so, which is amazing when you consider how thick the forest is, and how big the trees are…
The walk starts (in my case) up a road with a big large metal thing on one side. No idea what it was used for, or why it is still there…
Parts of the walk are on proper 'trails' through the forest.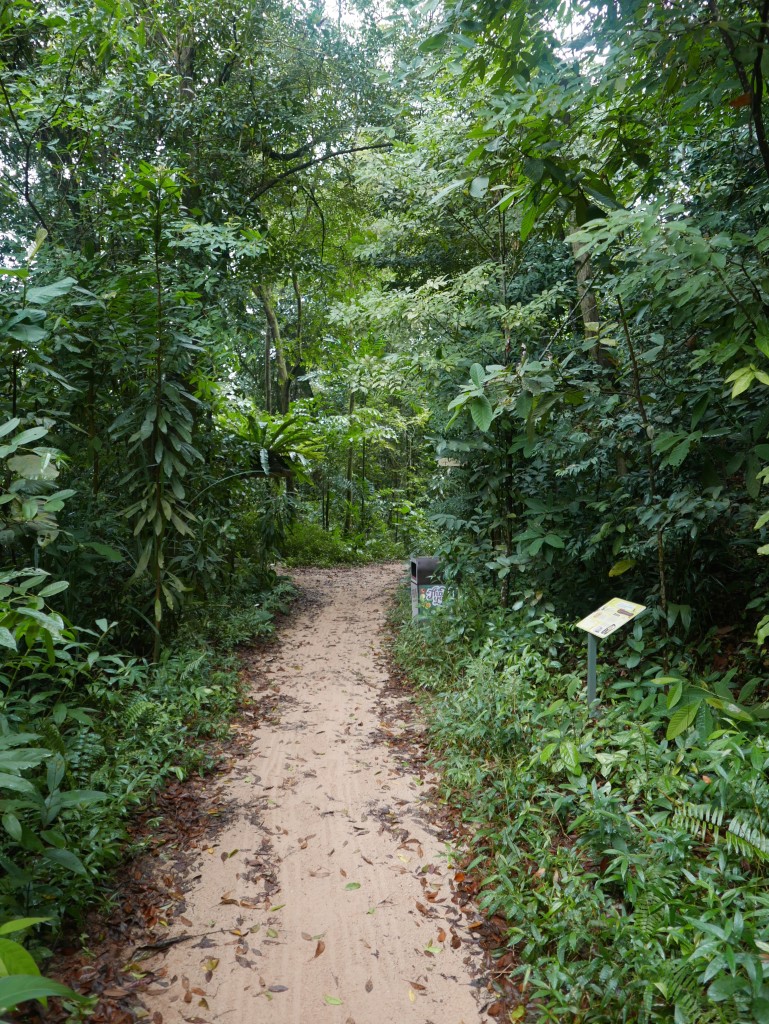 On the trail there are a number of waterfalls. These are all false. Manmade…. Below is the Imbiah Falls…
There is also the Tempinis Cascade, which looks even more manmade than the Imbiah Falls. Note the clearly false rock just below the name of the falls…
Even the picnic tables are false in that they are made to look like wood when it is in fact all concrete.
The photo below looks 'artsy' as the day when I walked up the Imbiah Trail it was so humid that it was almost impossible to keep my camera lens mist free..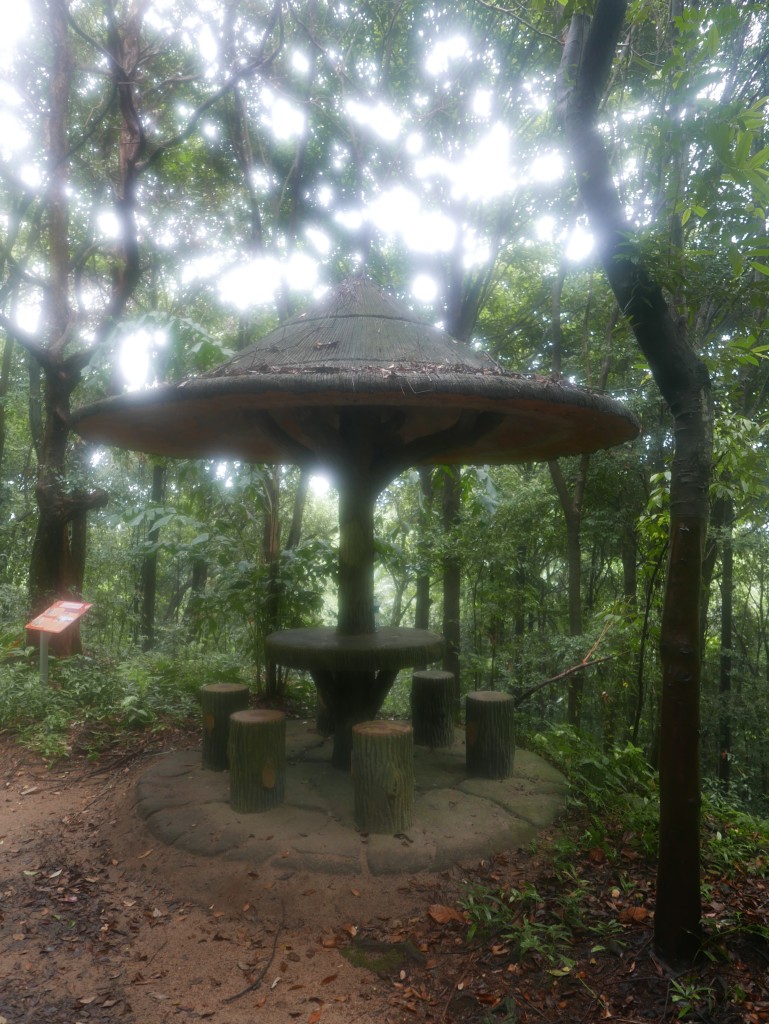 And the most obviously man-made waterfall of them all…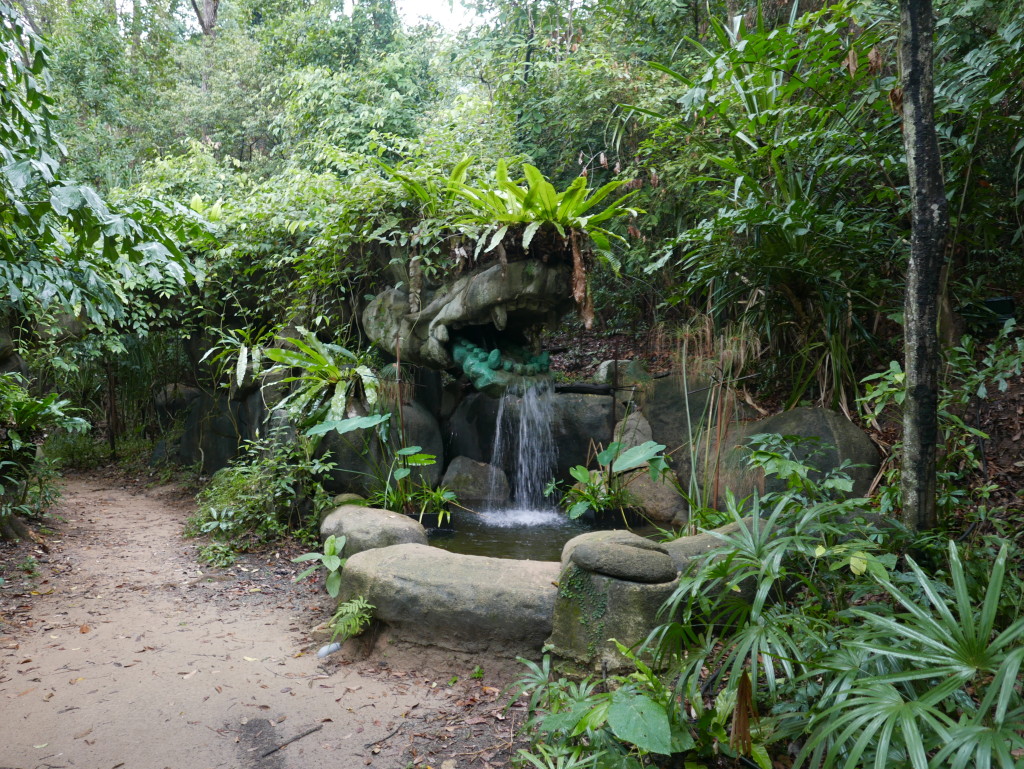 Even the 'logs' that are protecting the trail stairs from erosion were made of concrete and just made to look like logs. These can be seen in the photo below.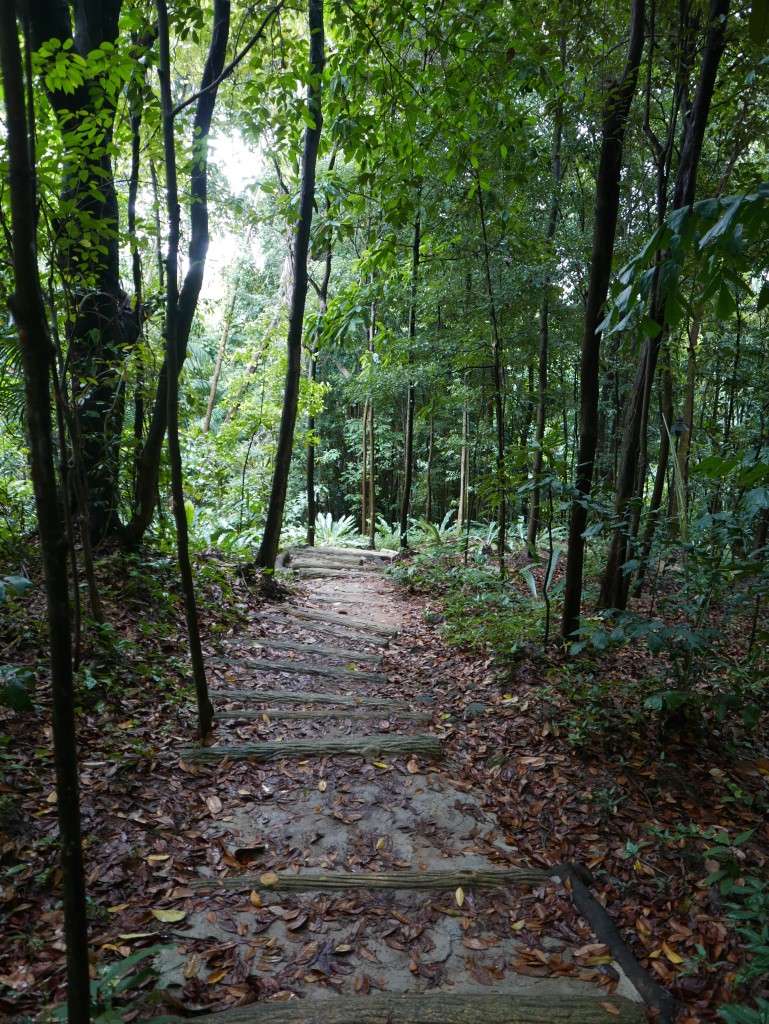 In summary, an interesting hike, particularly when you consider the history of the hill and that it is in fact so close to the Sentosa Beach. However, like a lot of Sentosa Island it is false, it is heavily managed, and it just feels unreal.
FourSquare: Imbiah Trails @ Sentosa Nature Discovery
If you have enjoyed this article then please feel free to share it using the buttons below.