On the walk down to the beach at Tanah Lot, Bali, you do pass a lot of shops and stalls, and once you get to the beach, you are still not safe from people trying to sell you stuff.
Besides the rather colourful plastic flower seller, there were also people selling kites, birds that flew, and a lot of guys were wandering around with expensive cameras offering to take your photograph (they must hate smart phones!).
The views on and along the beach were spectacular.
Finally, the thing I had been waiting for, started… The sun began to creep slowly towards the horizon.
Some people sat up on the cliff top and waited for the sunny to set…
Others waited on the beach…
On one cliff top, there were a series of bars and restaurants where you could sit down, enjoy a cool drink, and wait for the sun to sink behind the horizon.
Some people seemed to celebrate the setting of the sun by making weird shapes on the beach….
Finally, the sun started to set, and it threw the coastline into some wonderful silhouettes….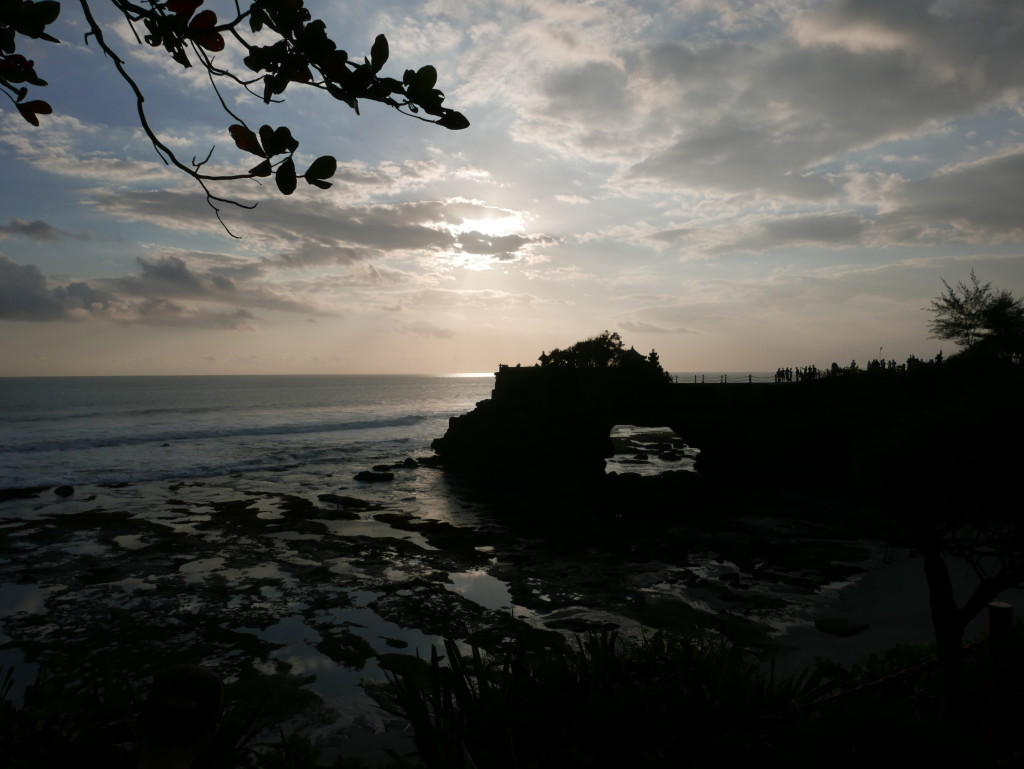 I enjoyed my visit to Tanah Lot. The place was very crowded, but it was genuinely beautiful, and it was also a great place to watch fellow tourists. The sunset was spectacular. I would have also liked to have seen the place with the tide in as I bet there are some wonderful photo opportunities for catching shots of the waves crashing against the rocky out crop that is Tanah Lot, and swirling between the arch way and crashing against the cliff.
Don't miss:
FourSquare: Tanah Lot
If you have enjoyed this article then please feel free to share it using the buttons below.