After my time in Hanoi I was looking forward to getting out of the city to explore one of the natural beauties just down the road – Ha Long Bay.
I'd enjoyed Hanoi a lot, but at the same time, I thought it would be nice to get out of the city for a few days, away from the noise and the buzz, the heat and the air pollution.
For my visit to Ha Long Bay, I was using a company called Glory Cruises who laid on a coach to take us to the bay.
When the coach arrived to pick me up from my hotel, the weather was looking grim, and it was pouring with rain.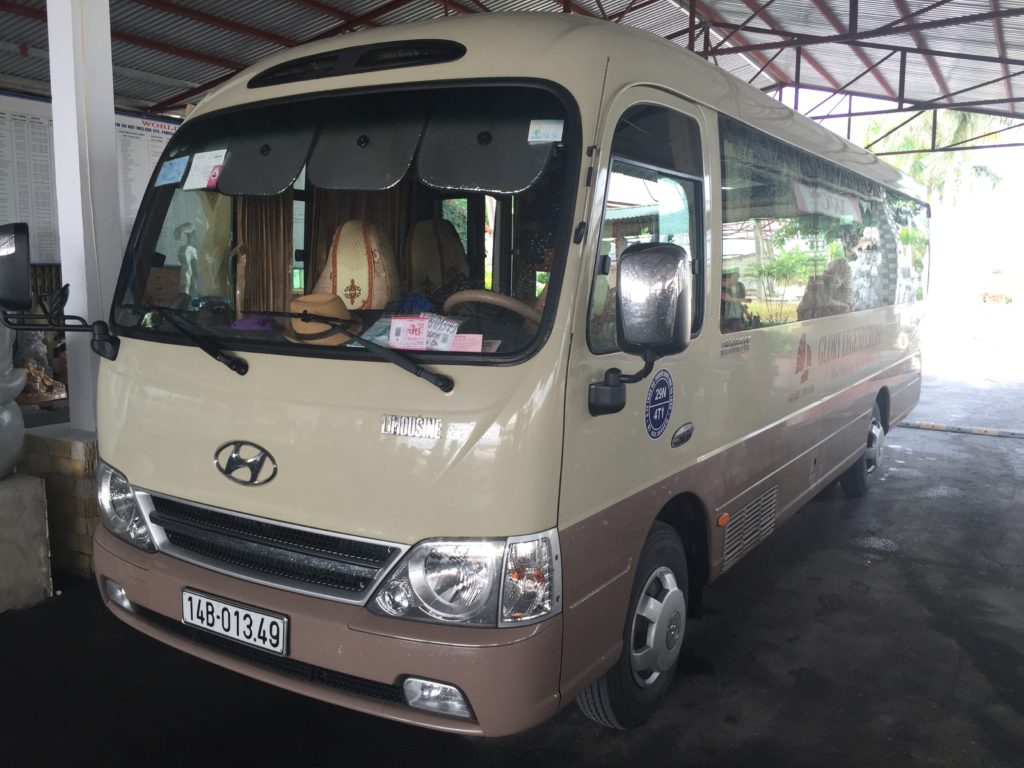 I was picked up from the hotel by bus at 8 am, for a 3.5-hour transfer to the boat – a distance of some 230 km. The bus was a 20 seater went from hotel to hotel picking up guests. It seemed to take an age to pick up all the guests. The bus was very nice, with comfortable seats, and exceptionally good air conditioning.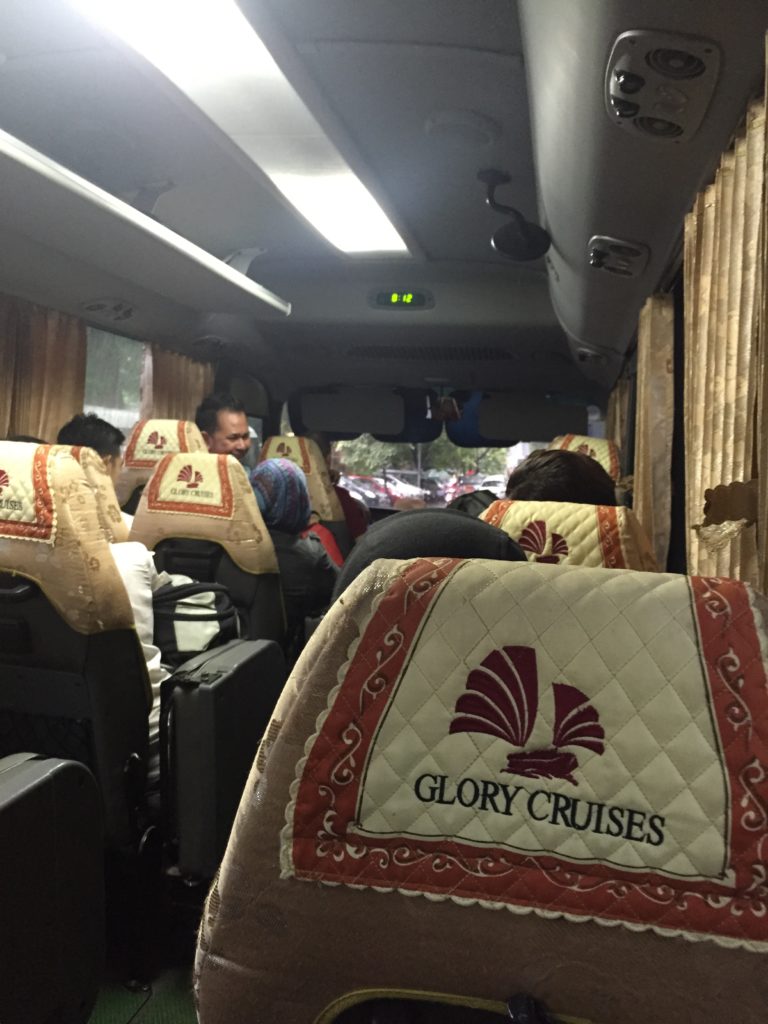 The main motorway outside Hanoi had just been resurfaced, and they hadn't bothered with road markings – no lanes, or junctions, marked. Some of the side roads in the small towns were flooded to several feet deep. The motorway was quiet. Roads through towns were very busy with slow moving traffic.
After just over 80 mins we stopped for a break at a "Production Workshop for Disabled People". This seems to be a regular stop for buses going out to Ha Long Bay as some other buses were pulling in when we arrived. I was hoping for coffee.  The bus drops you off on one side of the building, and then you have to walk through the workshop to get back to the bus.  On this walk, you pass through the workshops, and you are regularly offered "special deals" on the goods on sale.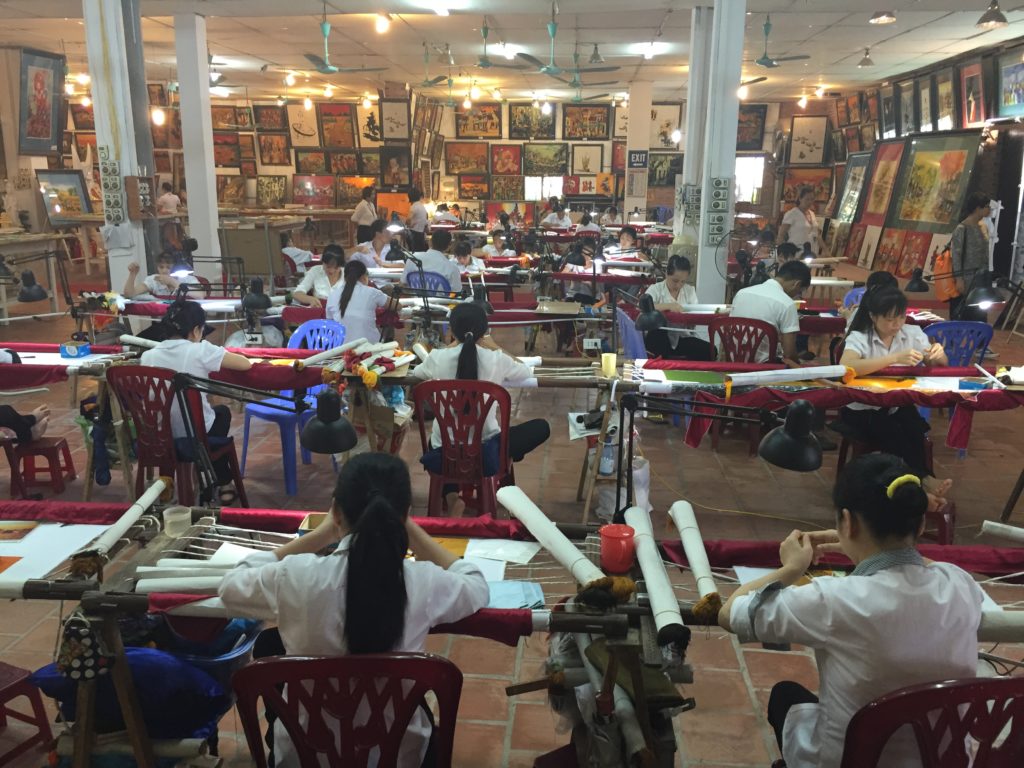 I did find some coffee and snacks, but the coffee was not available "to go". The snacks, chocolate, crisps etc. seemed heavily marked up, for example, a Mars Bar was 50,000 Vietnamese dong (£1.70 GBP (they cost £0.60 in the UK); $2.25 USD), and yet I had paid "only" 25,000 in Hanoi. Total stop time was 30 minutes.
Roads after the stop slowly got worse. Very bumpy in places, and with some significant flooding.
The approach to the boat terminal was through a semi-flooded partially deserted seaside resort complex. Very weird. It was a sort of Disney-themed area. What was most disturbing was that most of the houses seem to be empty or only partly built. There was not a lot of sign of work going on.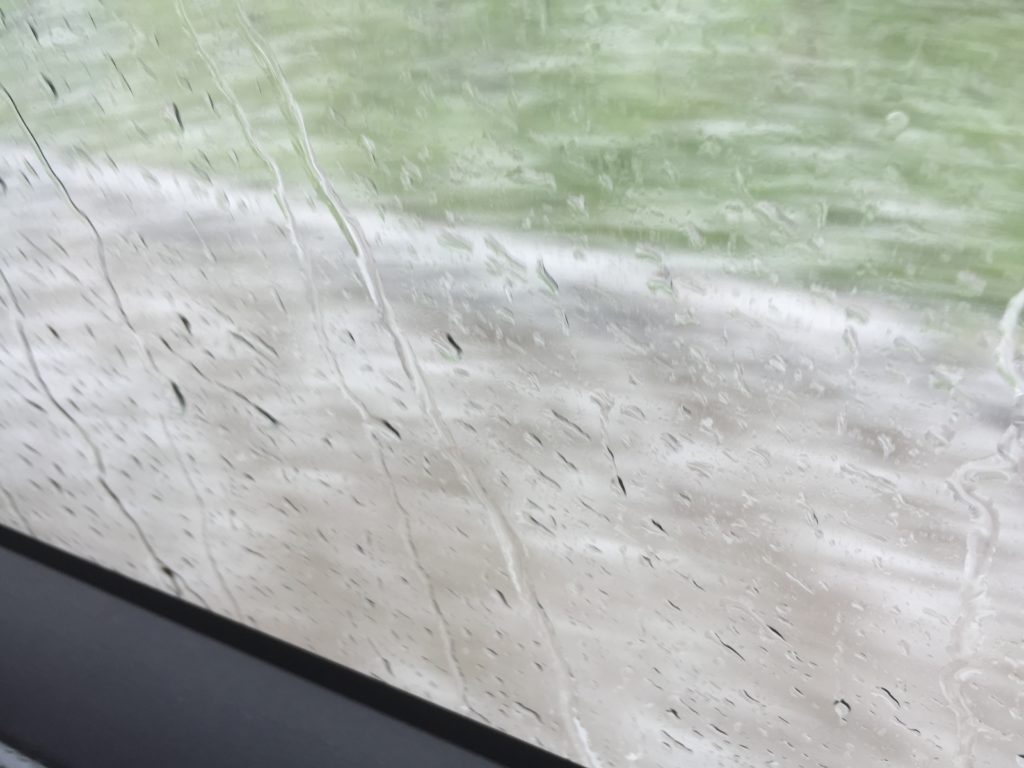 From the terminal, we were transferred to the main boat by tender.
If you have enjoyed this article then please feel free to share it using the buttons below.