I decided to do the breakfast tour of Mandalay with Grasshopper Tours – map – neckline.marbles.elevates, and I wasn't disappointed. A great tour! Loved it, and excellent value at $35 US.
For the breakfast tour, I was taken around Mandalay by trishaw and had my own local guide.
And, if I have one piece of advice for anyone taking the breakfast tour it is – don't eat before you go on the breakfast tour and plan to skip lunch!
Stop 1: Roadside Tempura Stall – location: imported.weeknight.risen
The first stop was at a traditional roadside tempura stall. The stall was mainly for takeaways, but they had set up a small table for myself and the guide. The stall was incredibly busy during our visit with lots of locals stopping to buy their breakfast.
Everything that was served was as fresh as fresh could be, and was deep-fried in front of us.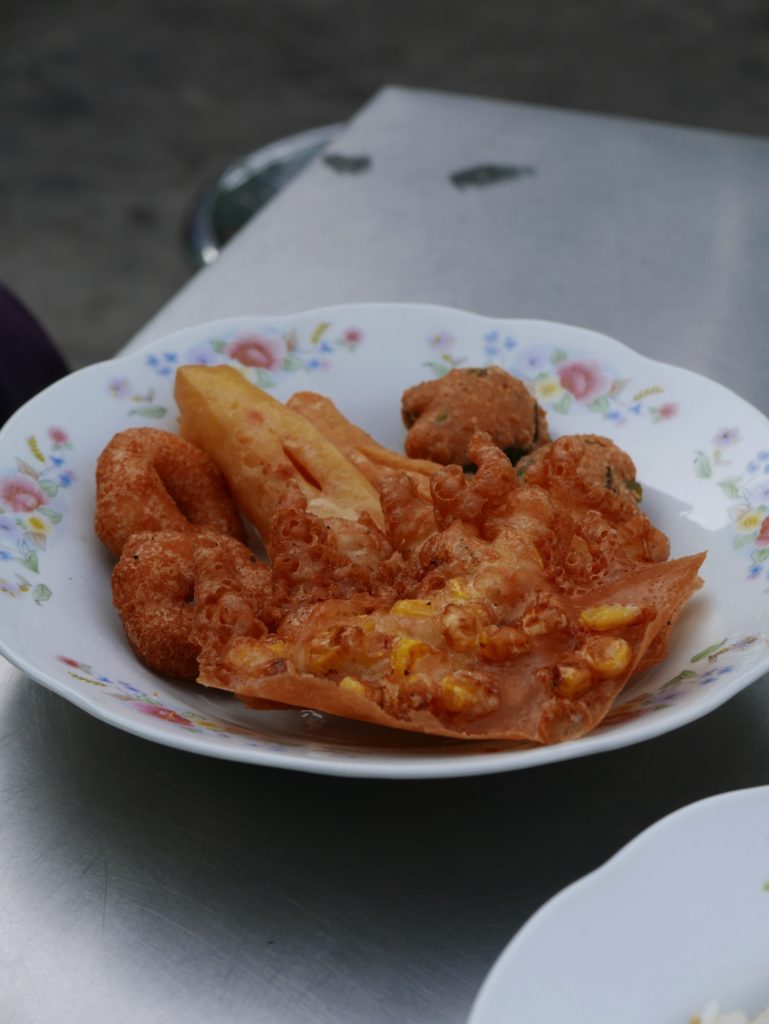 The food was fantastic, and incredibly popular with the locals.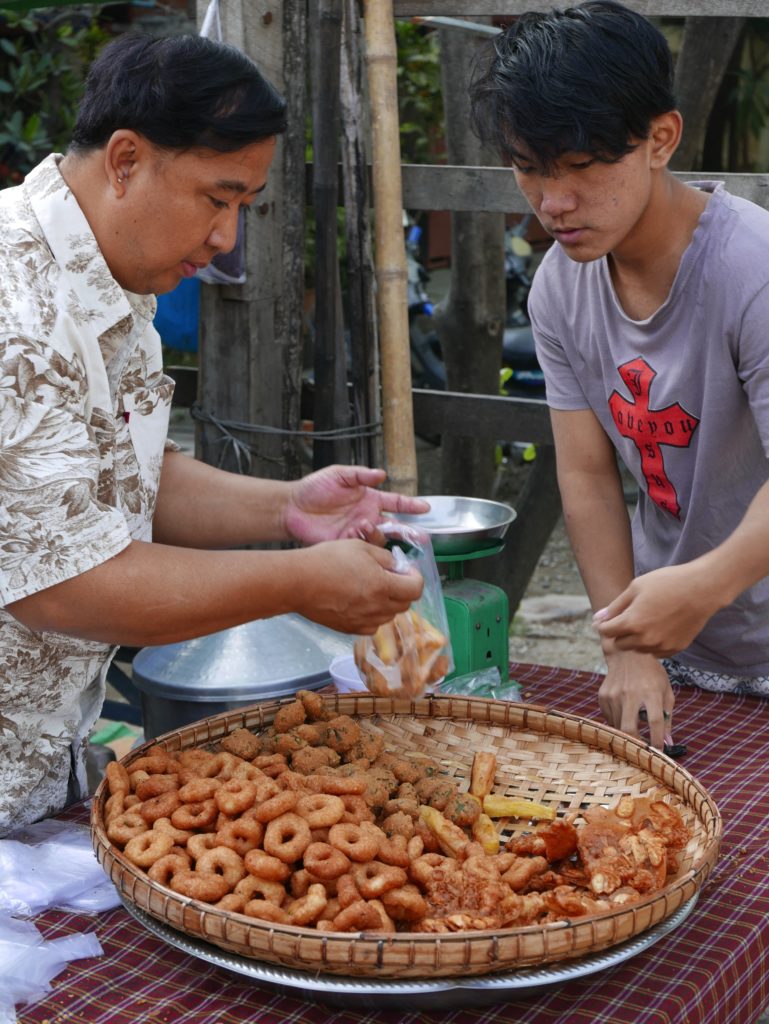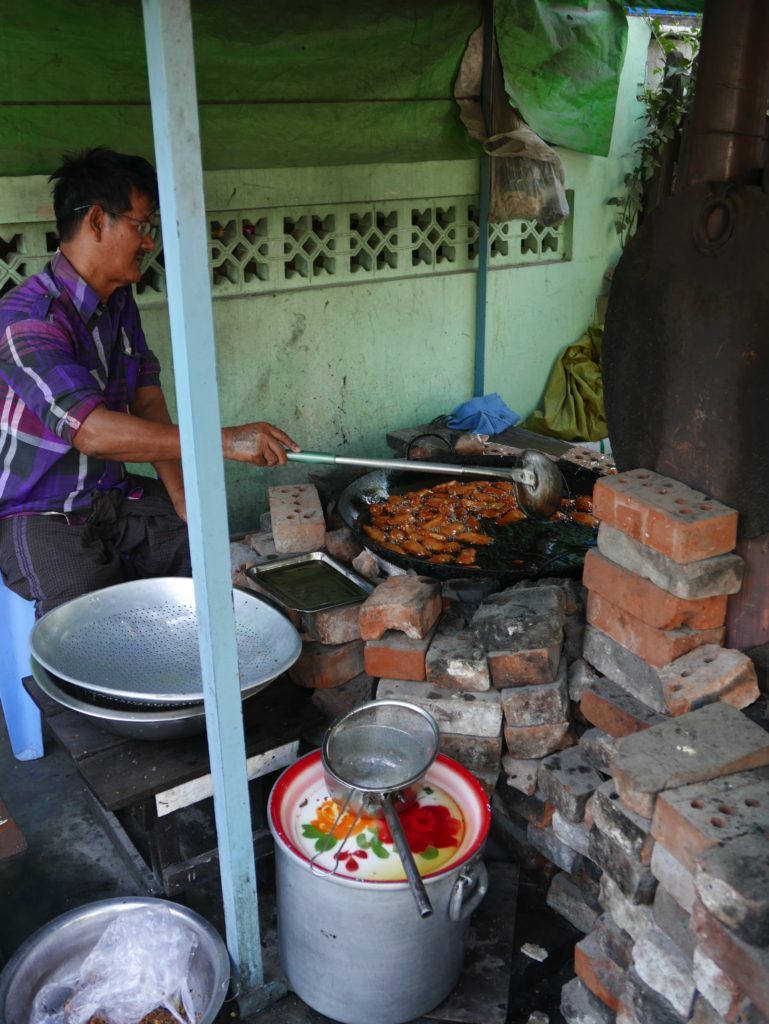 The tempura was served with sticky rice.
I asked my guide why he had picked this particular stall and he said that it was because it was well known in Mandalay and that he regularly ate there himself.
After our first stop, we were back on the road in the trishaw, which was a great way to get around the back streets of Mandalay.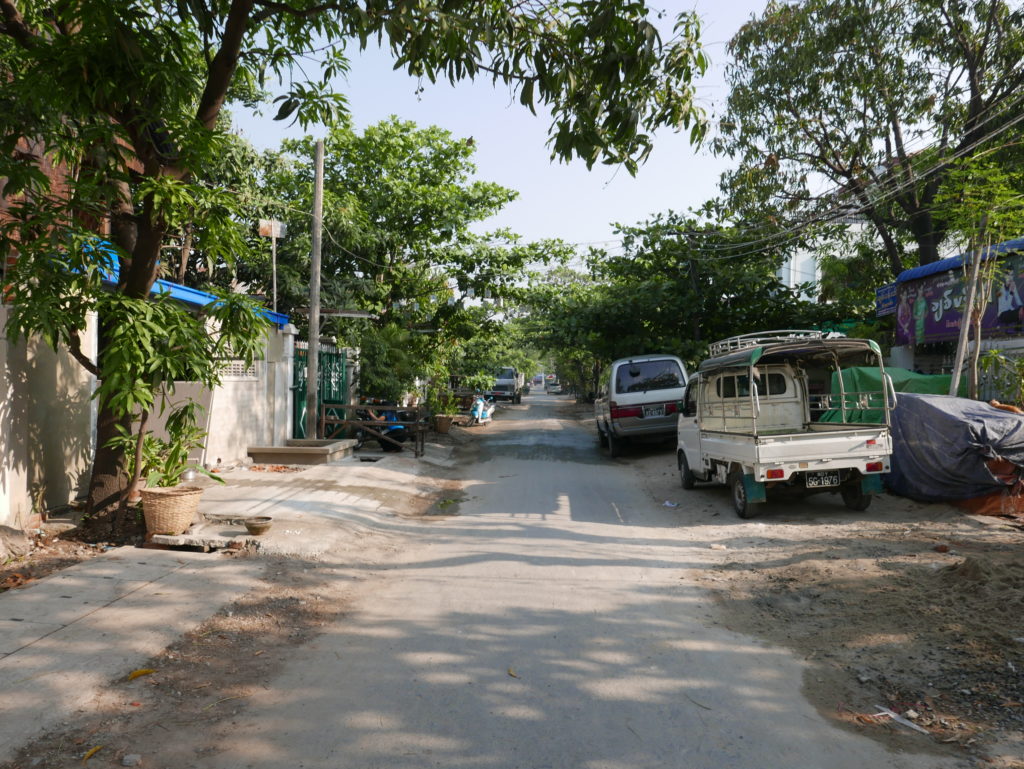 Stop 2:  A local restaurant – location: importing.microchip.marine
Our next stop was for Mohingha, which is a local fish and noodle soup.  Although Mohingha is served throughout Myanmar I was told that the local Mohingha in Mandalay was 'more soupy' than in Yangon.
To the dish you can add some lime juice and coriander, and mix in some chilli (be careful with the chilli!). Very tasty.  I really like the Mohingha and thought it was an excellent dish to start the day.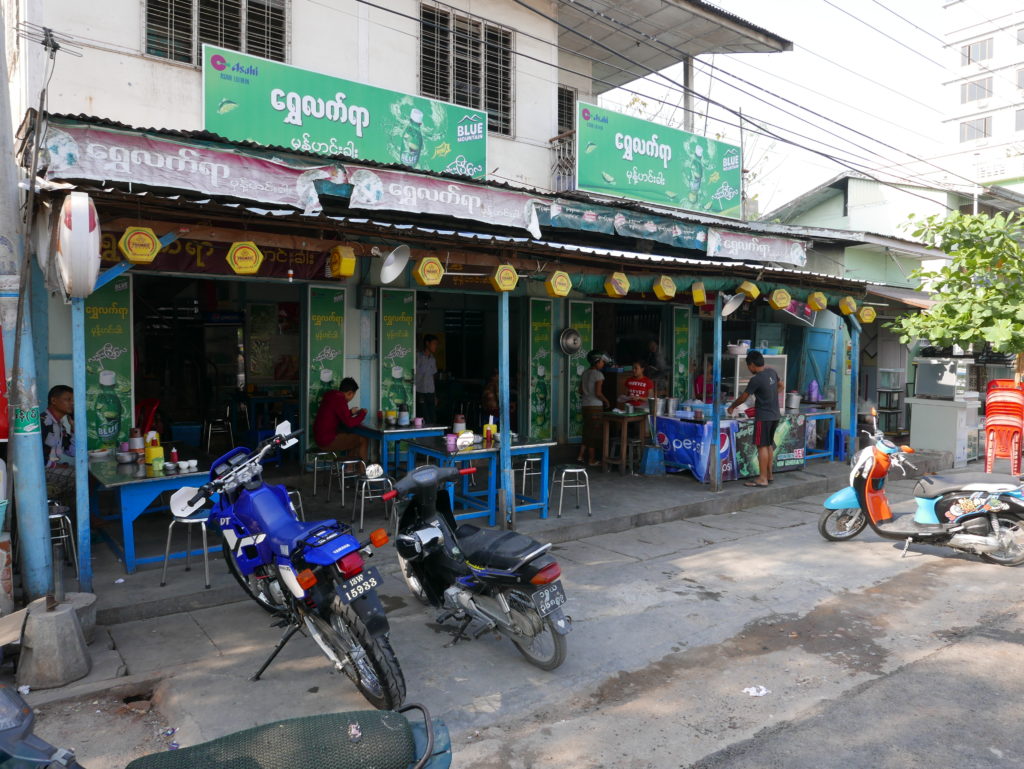 Besides fishing and noodles the Mohingha also contained hard-boiled egg.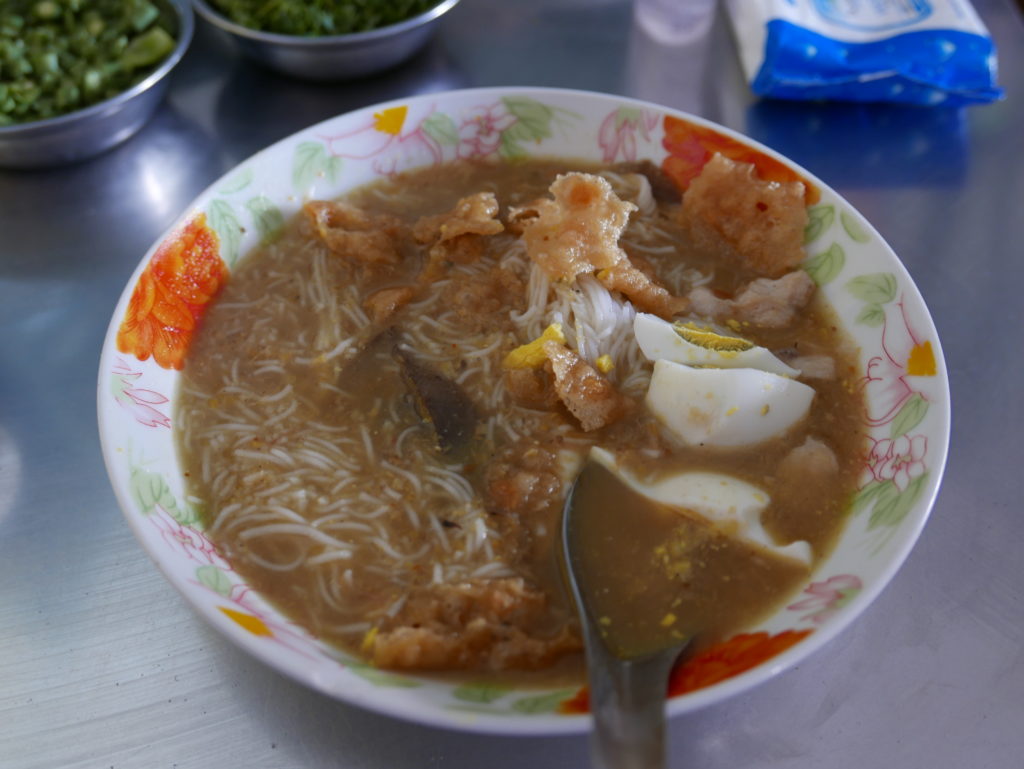 Again, everything was cooked fresh on the premises.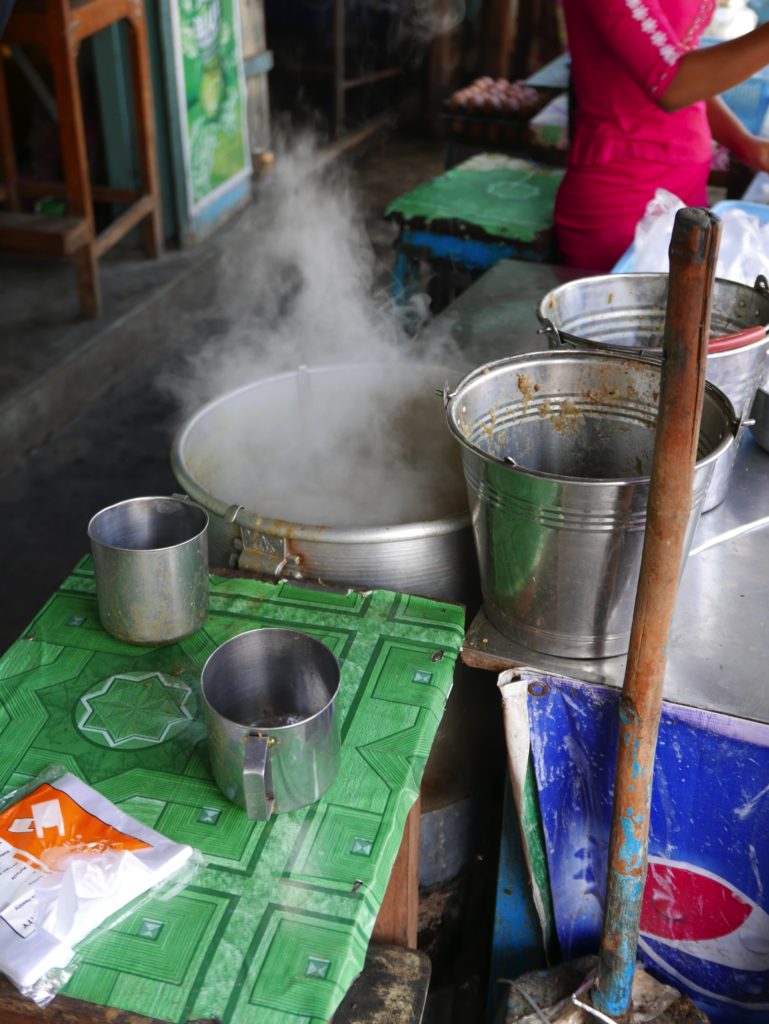 And just like the tempura stall, the restaurant selling Mohingha was very popular with the locals with numerous customers arriving during our stay. And, just like a lot of food outlets across Asia a number of locals turned up and took their food away in plastic bags.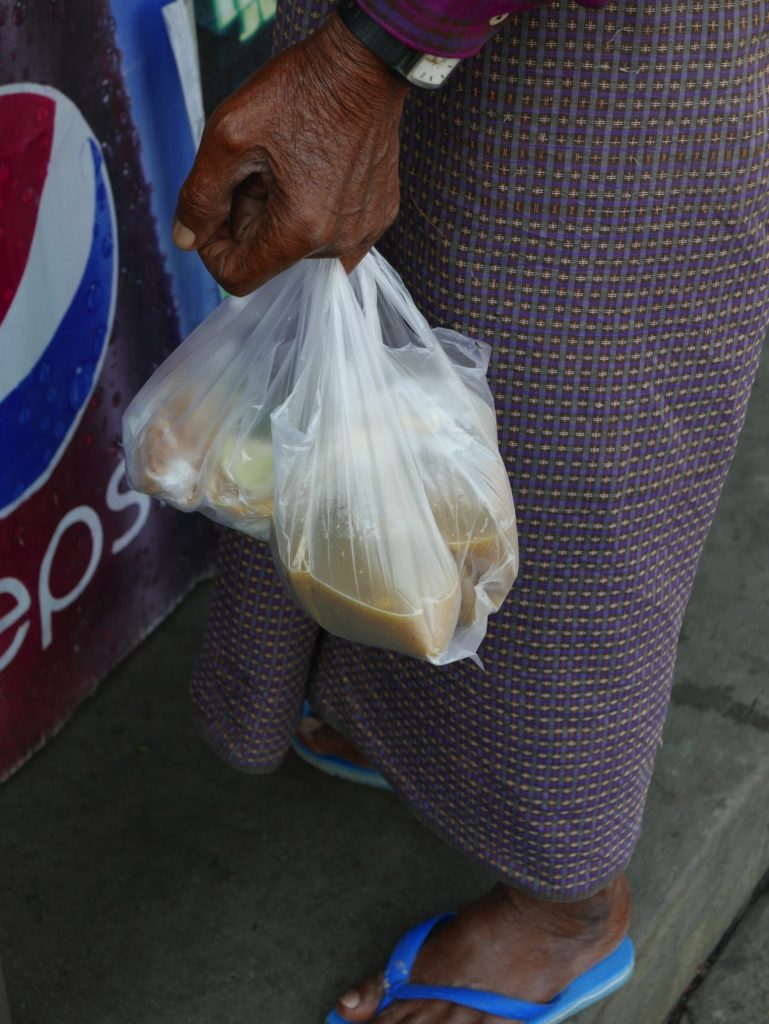 Stop 3:  A teashop – location: shortcuts.wager.games
By now it was now 8:40 am, and it was time for stop 3 and some tea.
I was beginning to feel pretty full up at this stage, and the tea stop was very well timed.
The teashop was just a small shack in a residential area. (In the photo below you can see my guide and trishaw on the right.)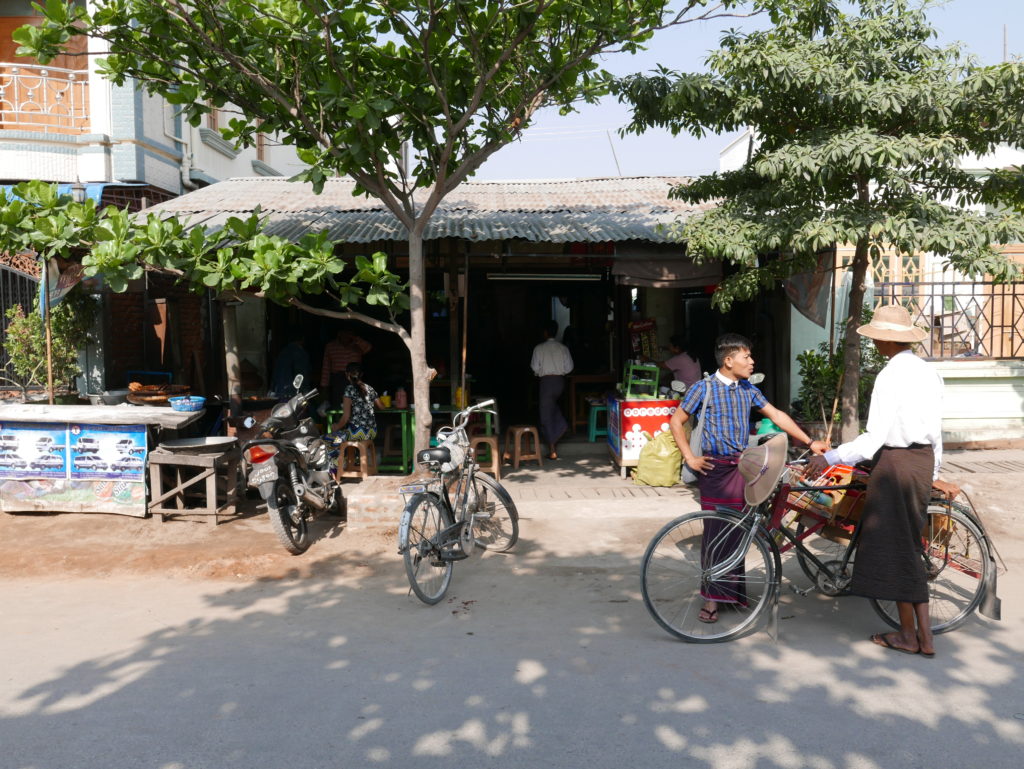 The local tea was very sweet and was made with a special condensed milk. The tea was served with doughnuts (the long thin pastries in the photo below).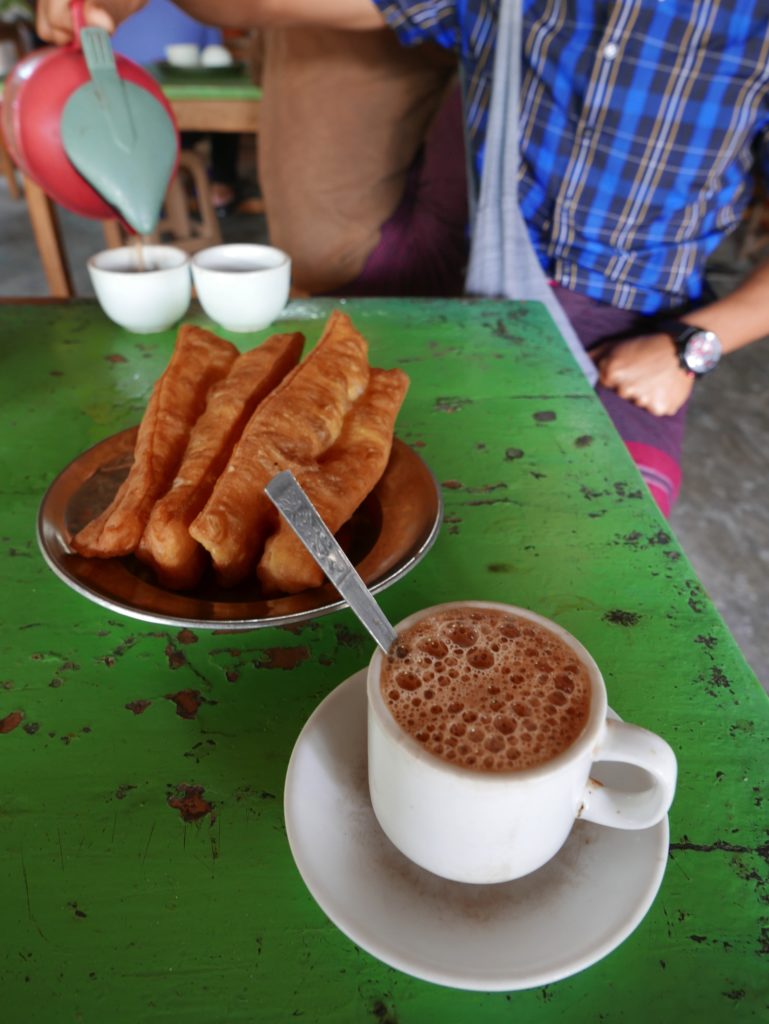 I found the local tea in Mandalay to be very similar in taste to tea tarik.
I loved the setup in the teashop with the large kettles boiling away and fresh tea constantly being prepared and served.
Again, the teashop was very popular with locals and there were numerous visitors stopping for tea, and takeaways, while we were there.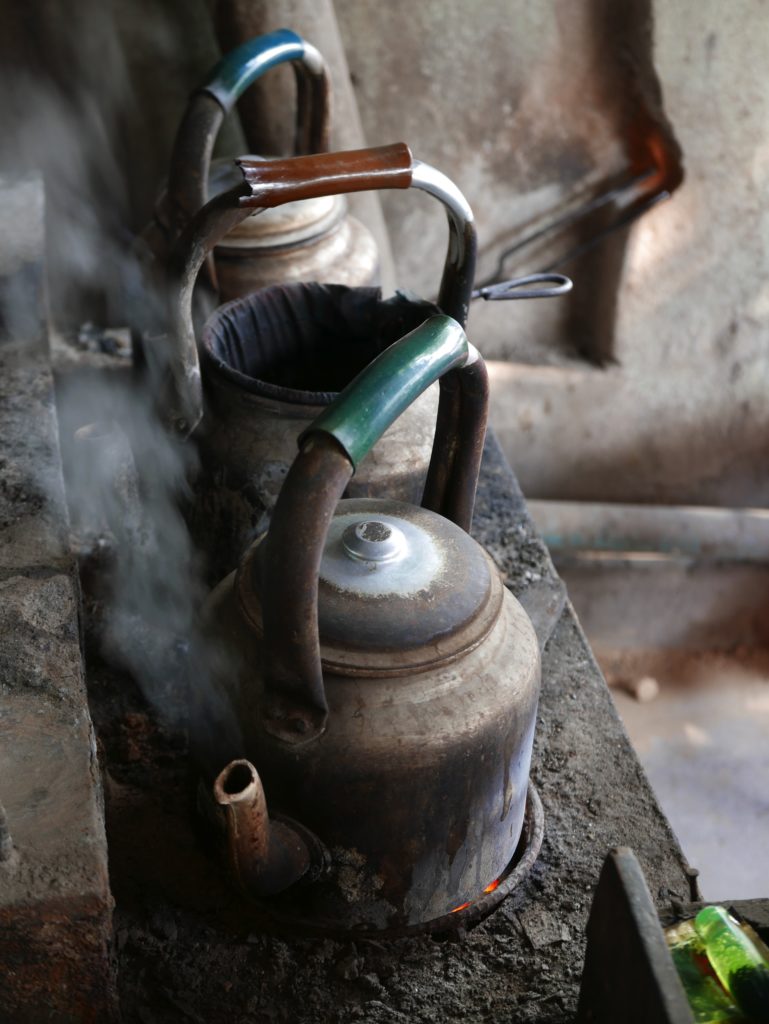 Stop 4: A local market – location: grandest.adjust.water
By stop 4 I was feeling really full of breakfast, and tea, and I was quite grateful they wander around a local market so as to give all the food time to digests.
The logs below are not for burning, but are in fact the starting material for the yellow paste (Thanaka) that is seen smeared on the faces of people in Myanmar – see Why does that person have yellow paste on their face?.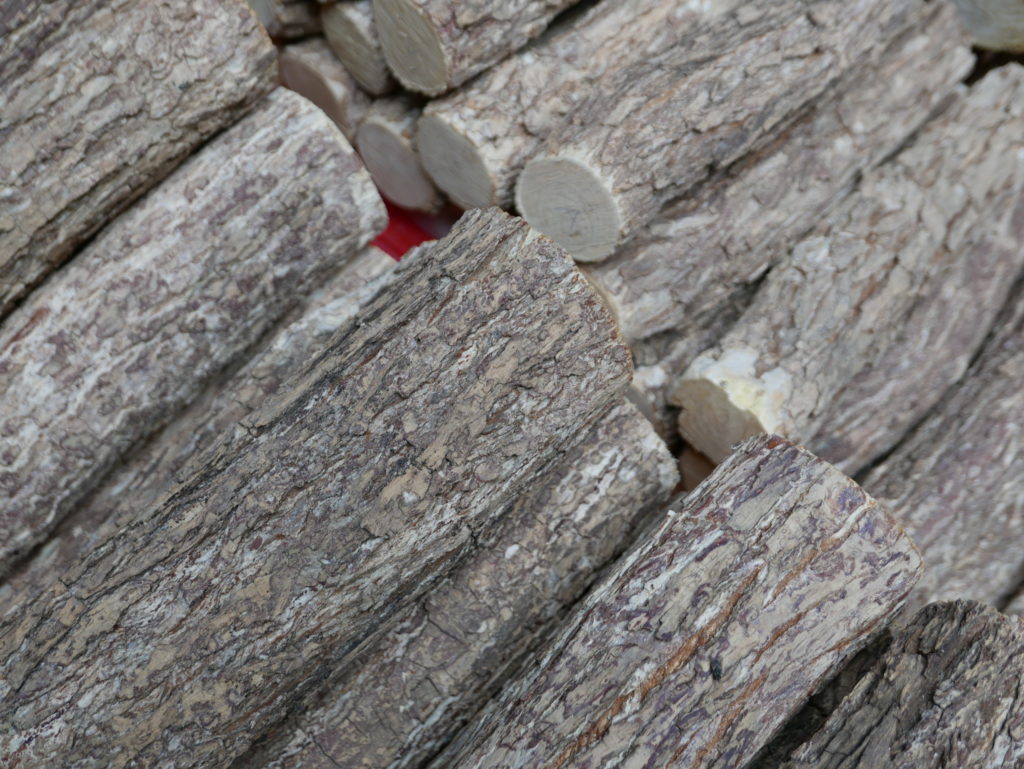 The market had all the usual stalls – fruit and vegetables, meat, fish, household goods, etc. and my guide was excellent in explaining all the local vegetables, spices, and herbs, and how they were used in the cooking of local dishes.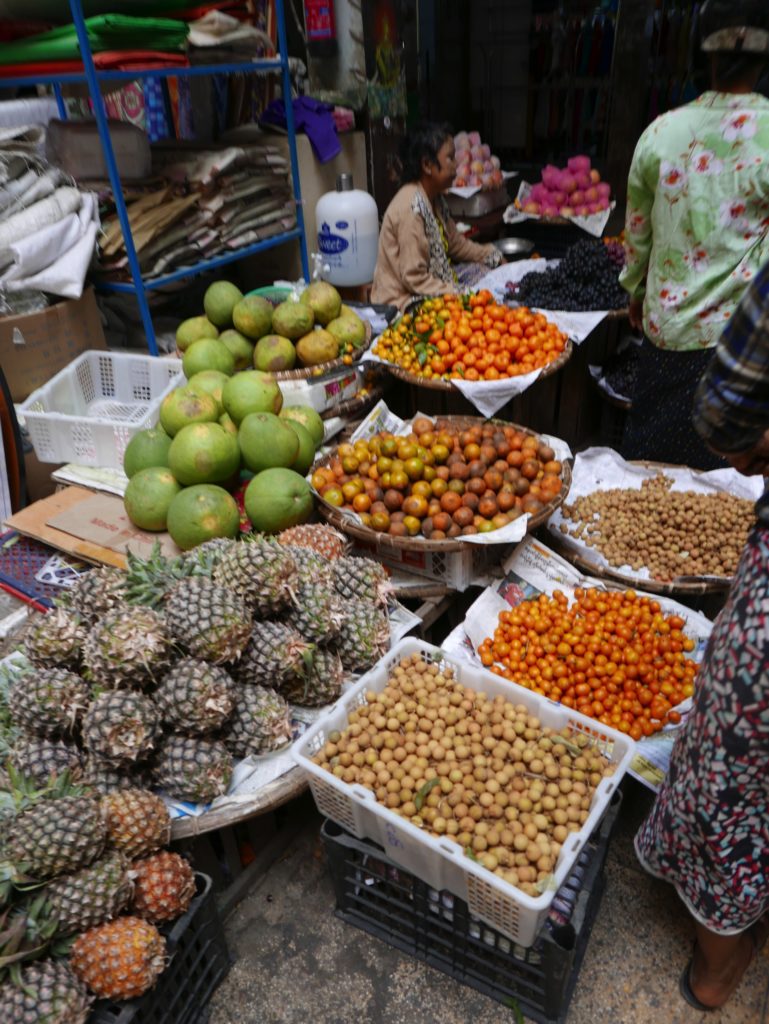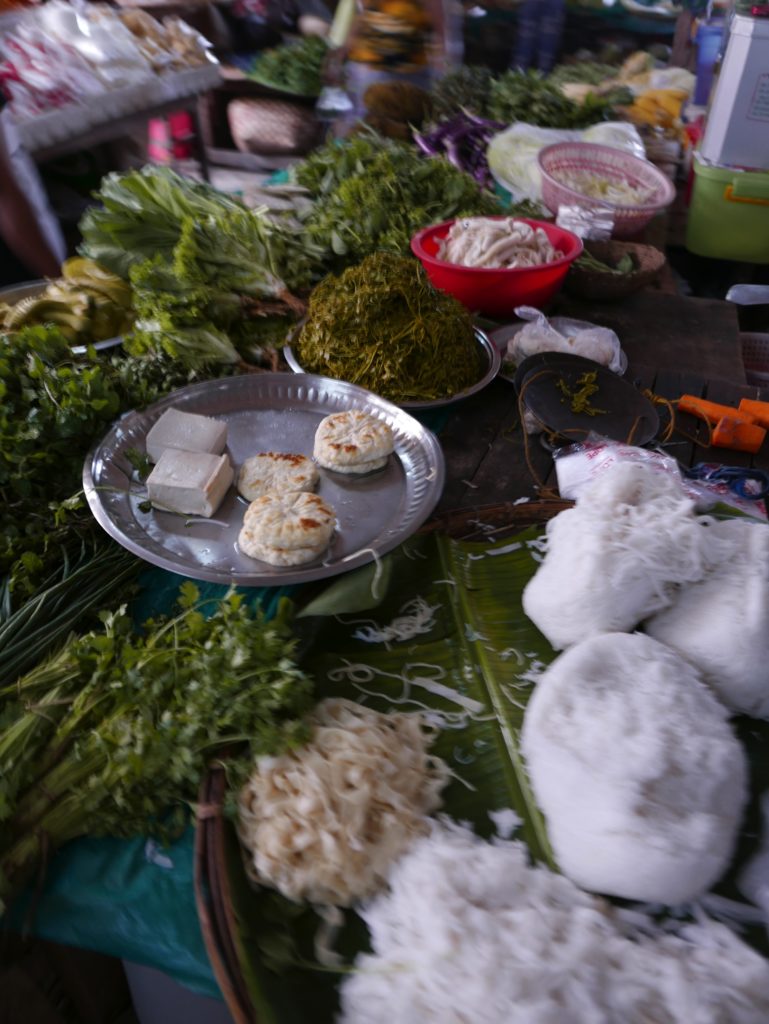 Preparing fish in a local market in Mandalay…   I really like how the stallholder is looking straight at the camera. She also nicely shows the use of thanaka.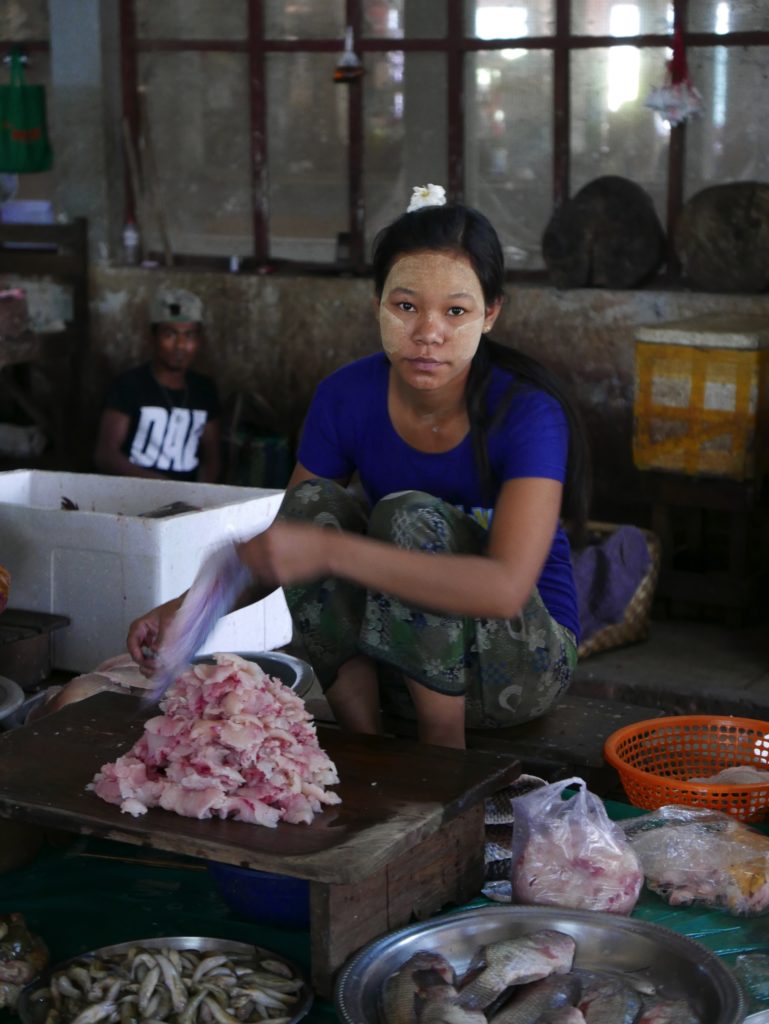 The market was a great place to explore and do some people watching. I love visiting places like this on my "wanderings" as you really get a feel for the local life.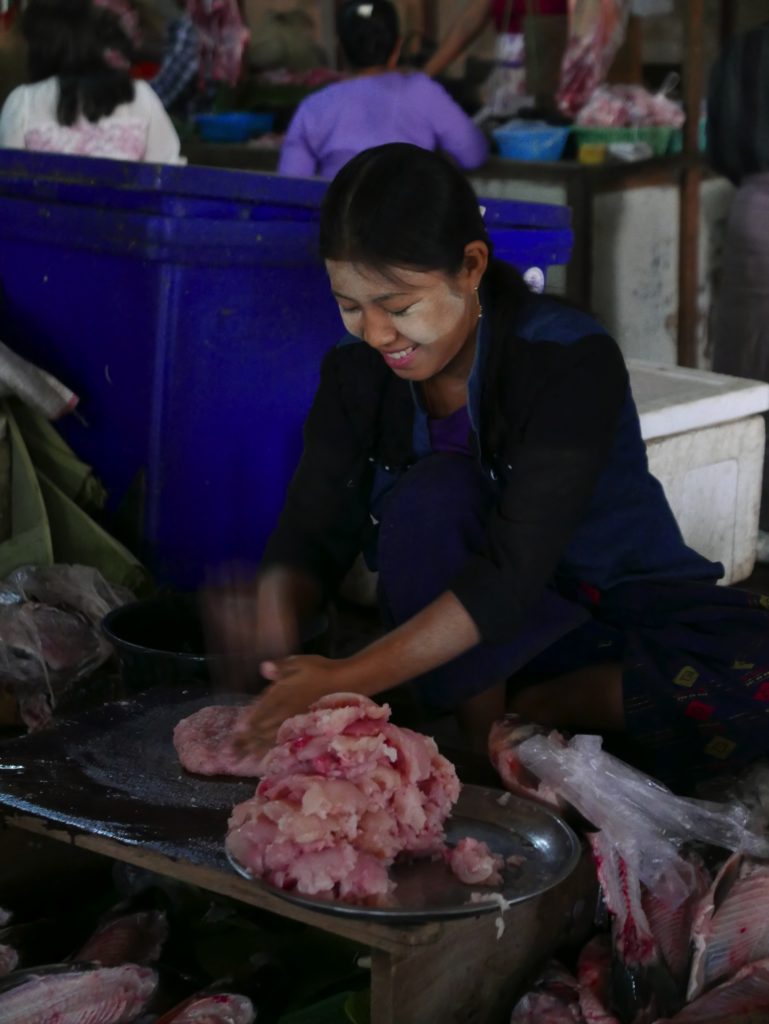 The smell of the herbs and spices on sale in the market was fantastic. Also, the colours were so rich.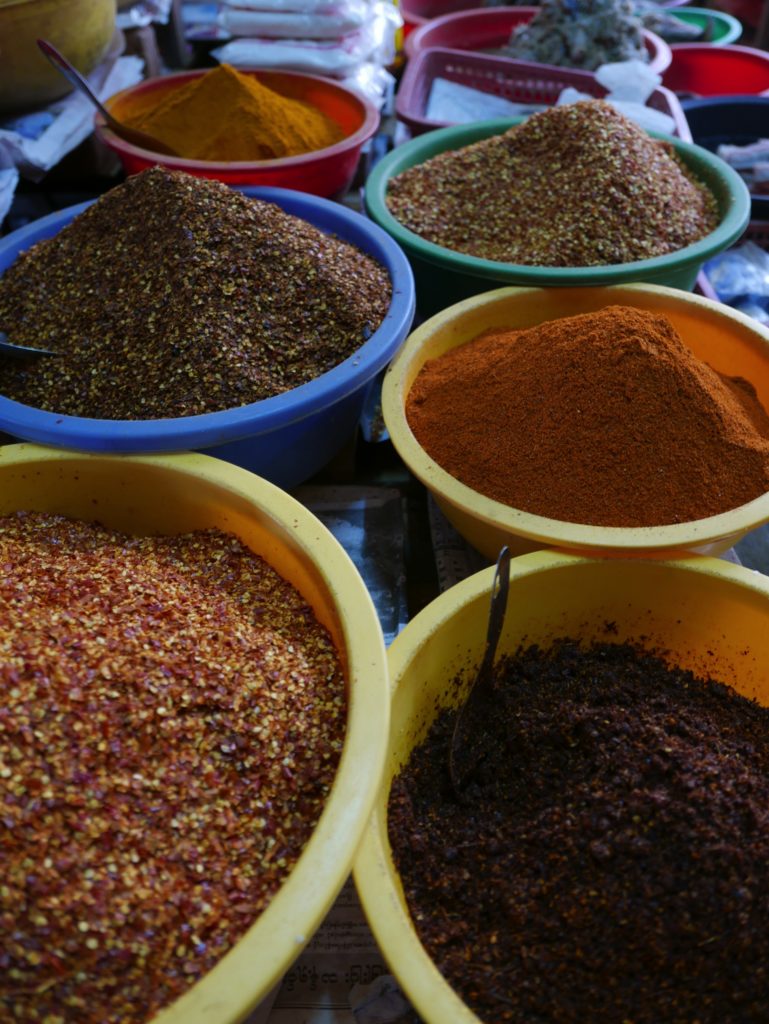 Outside the market, we came across a stall selling something rather unique. And on all my travels around Southeast Asia is the first time I have encountered such a food on sale – deep fried rat.
Apparently, these rats were being sold by a local farmer. During the preparation of the rice fields for planting the farmers flood the fields and the rats drown and float to the surface. The farmers then collect the drowned rats, and deep fry them.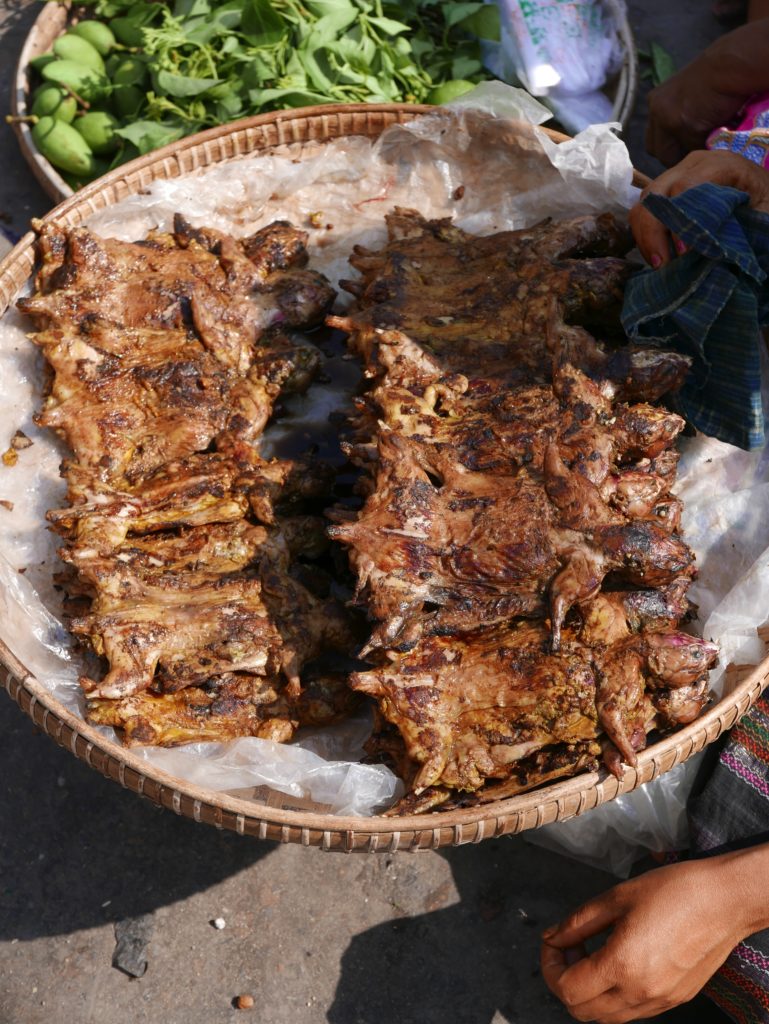 Stop 5: Tea-leaf salad –  location: coffee.homeward.fingernails
After the delights of the market, and the surprise of finding deep-fried rats on sale, we moved on to a local restaurant which was renowned for its tea-leaf salad.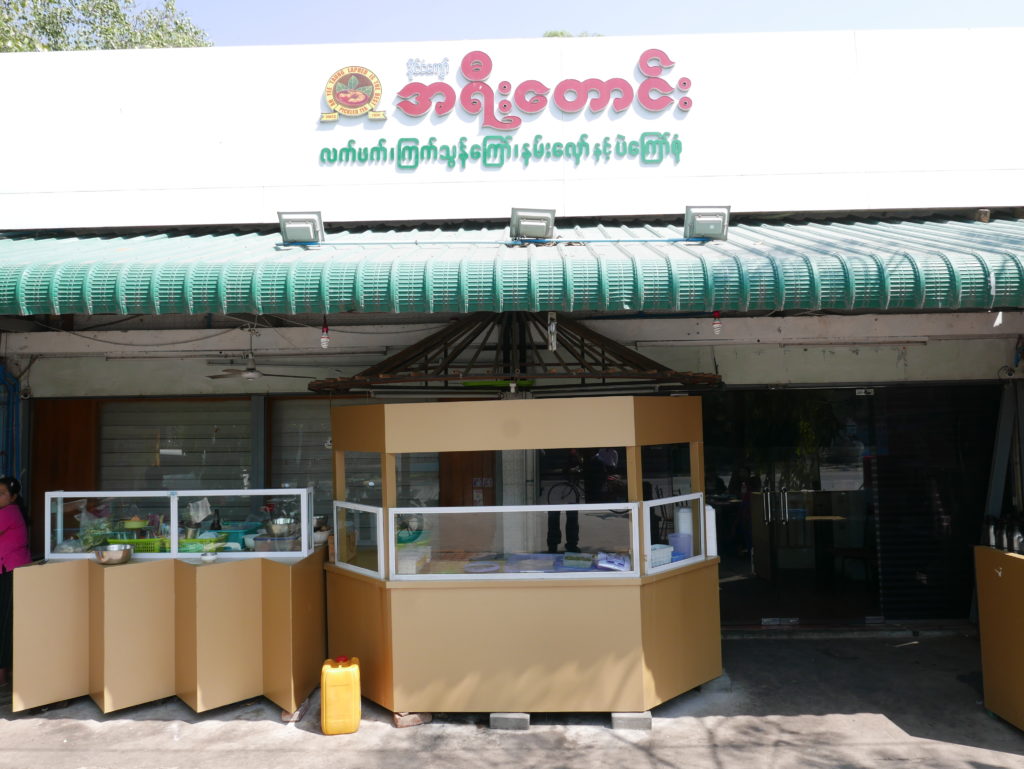 The salad was very good, and it used double fried peanuts which gave it a real crunch.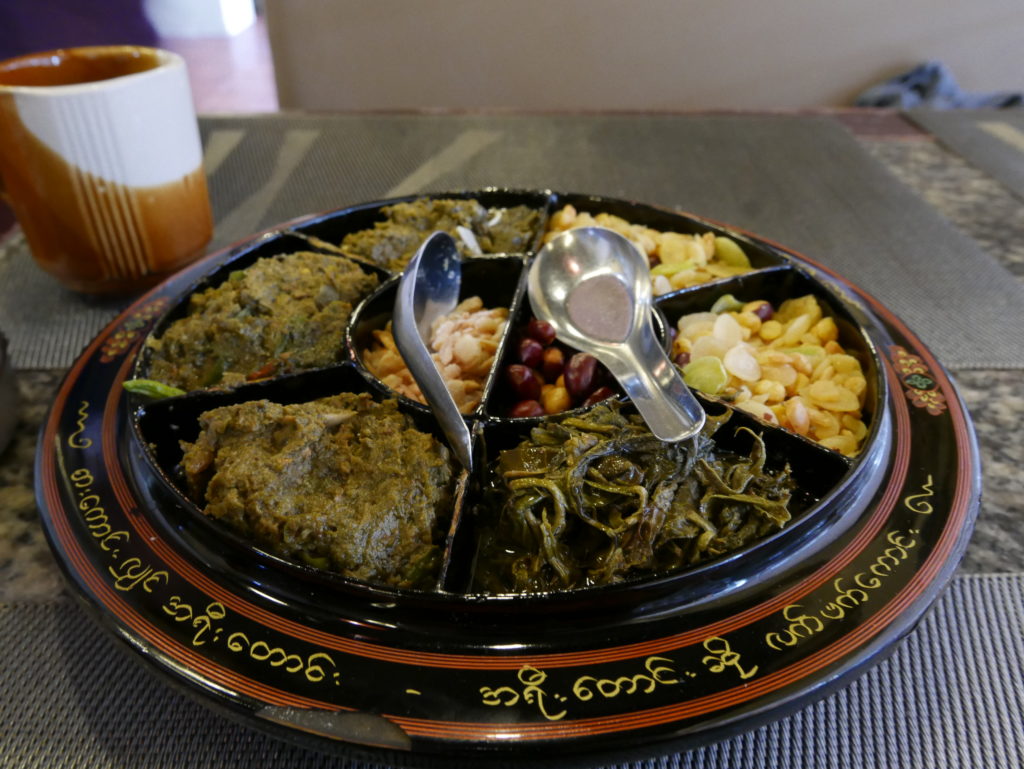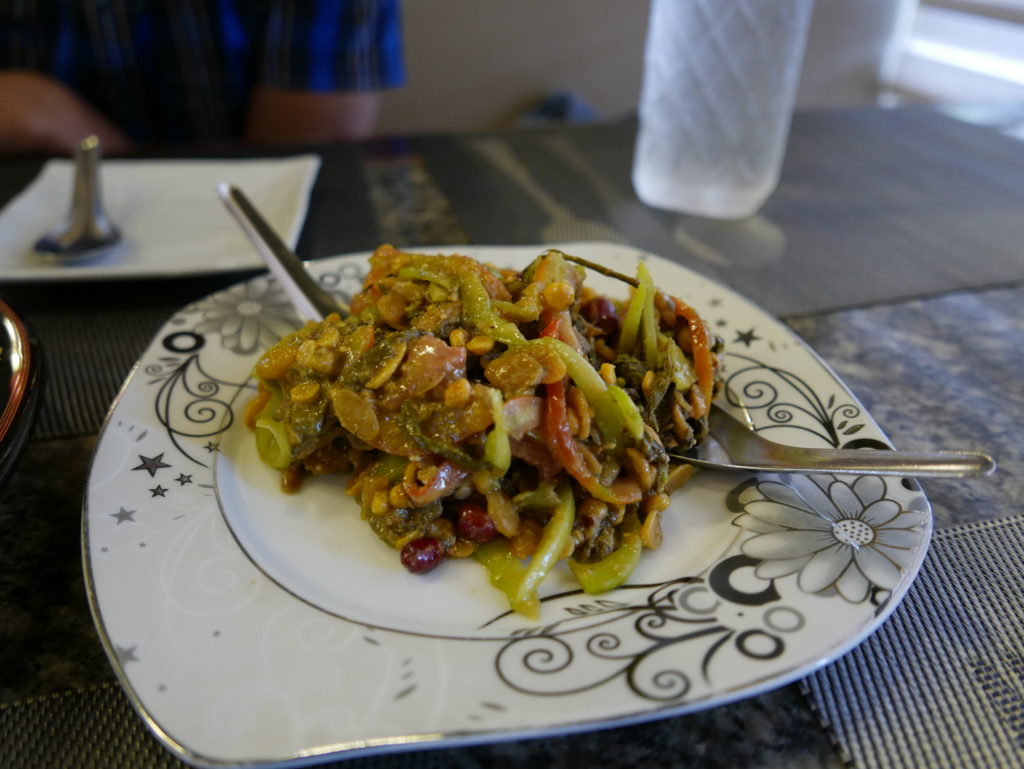 Stop 6. Tea house –  location: continued.ironic.command
Stop 6 was another teahouse, and this time it was the most popular tea house in Mandalay.
Again, that he was very sweet and had been prepared with the local condensed milk.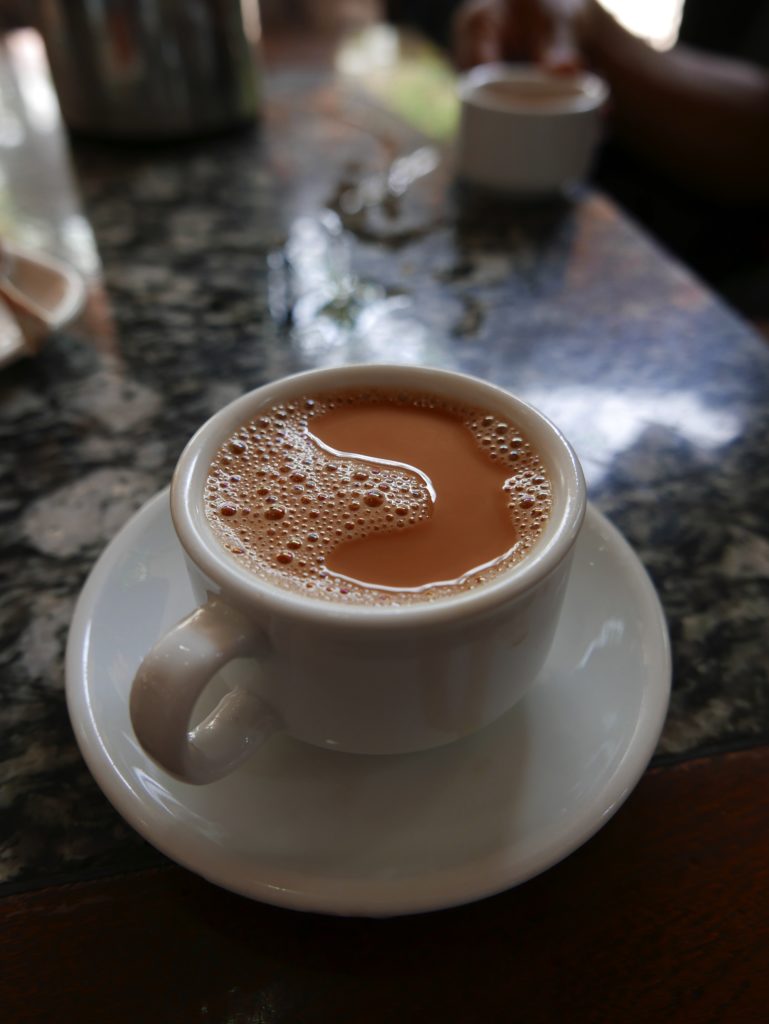 This time, the tea came with three different types of rice cake (all of which were very tasty).
The rice cakes were, left from right in the photograph below, sticky rice, rice and carrot, and pounded rice.
Just in case we were hungry, there was also a serving of banana pancake….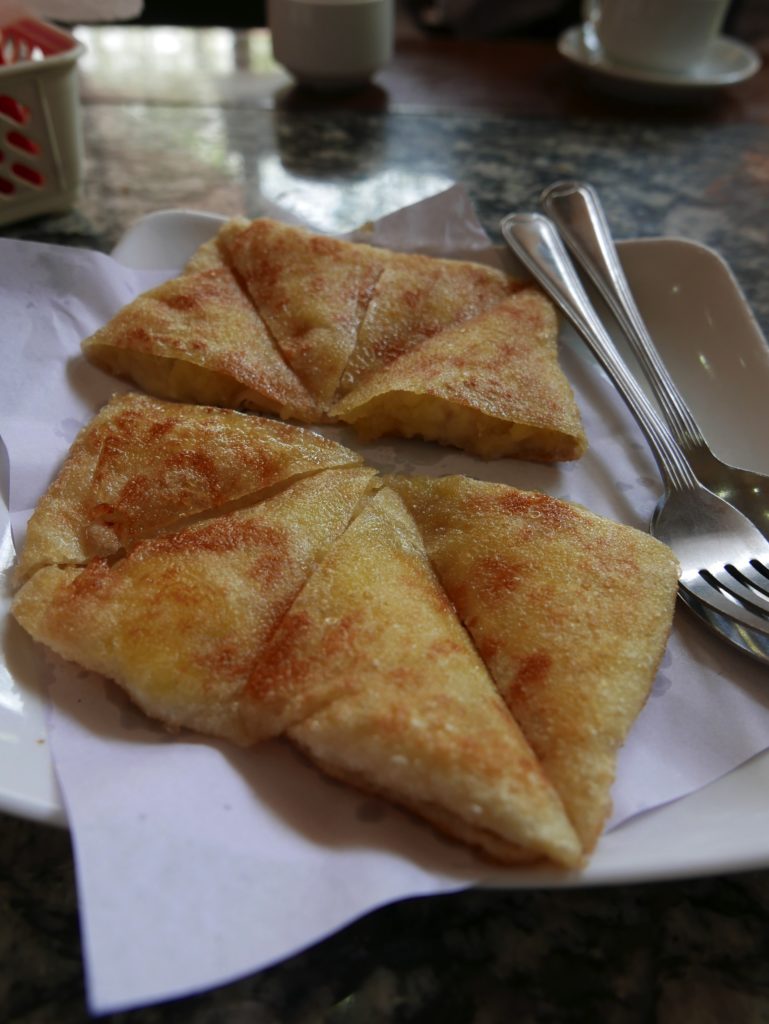 Stop 7: A cooling drink –  location: magnets.stealthier.rinses
Our last stop, stop 7, was at a street drink stand for a lime juice.
Again, the place was very popular with lots of locals dropping by to sit down for a cooling drink beneath the shade of a tree, or to take away a drink casually slung in a plastic bag from the handlebars of their mopeds.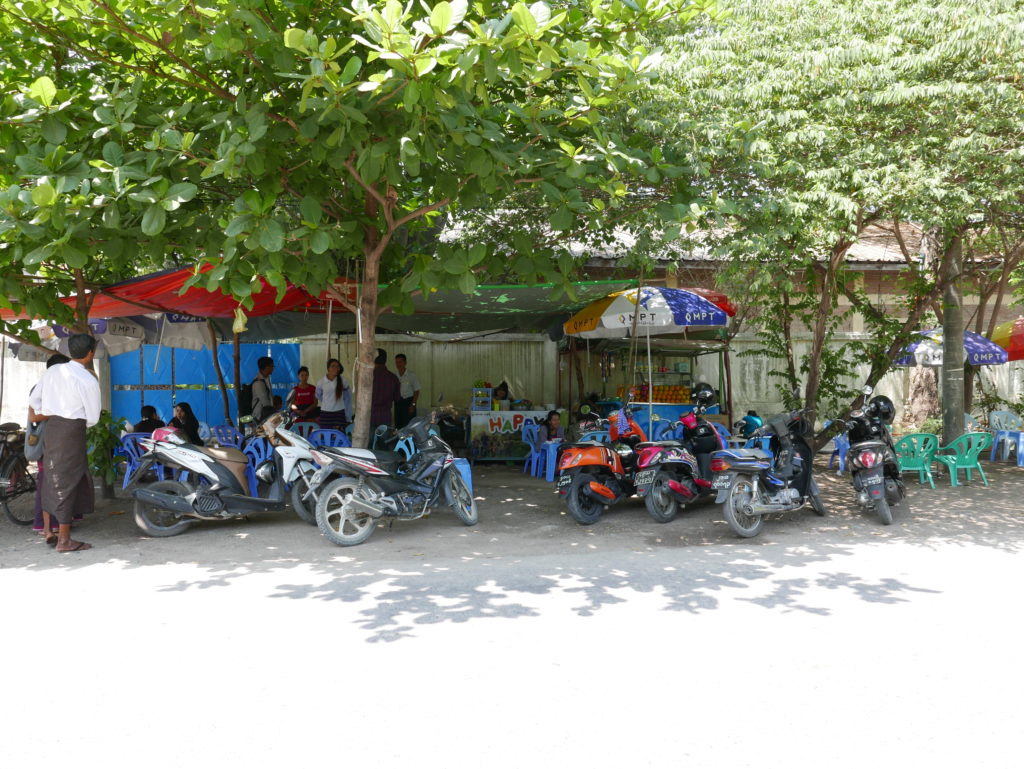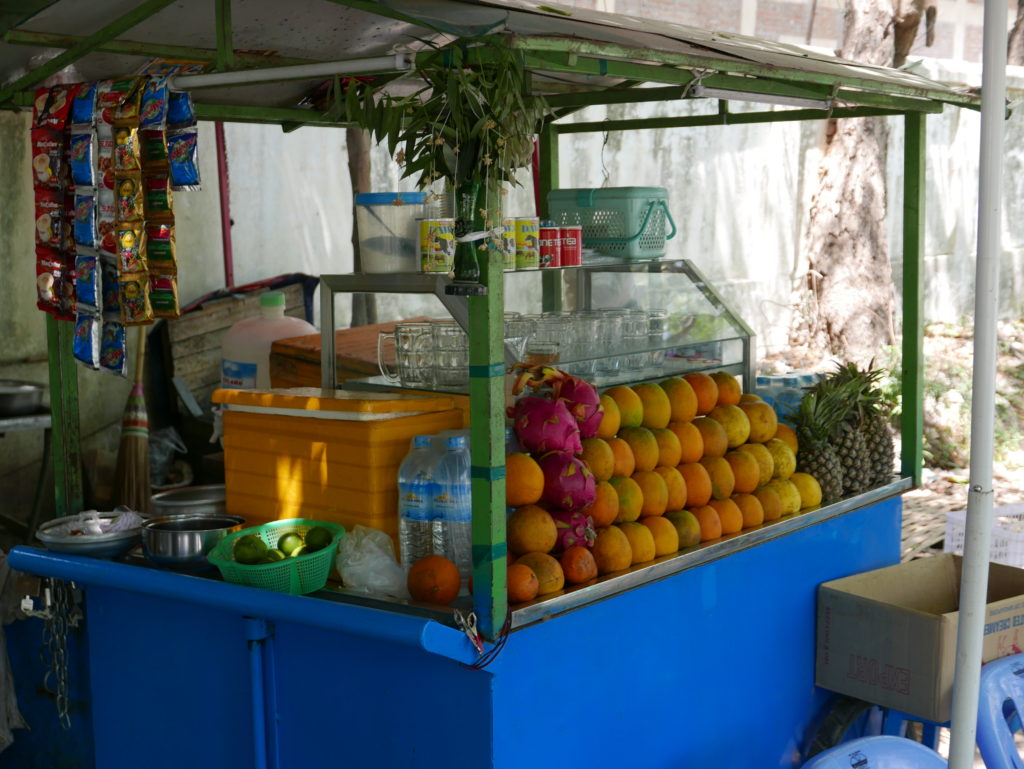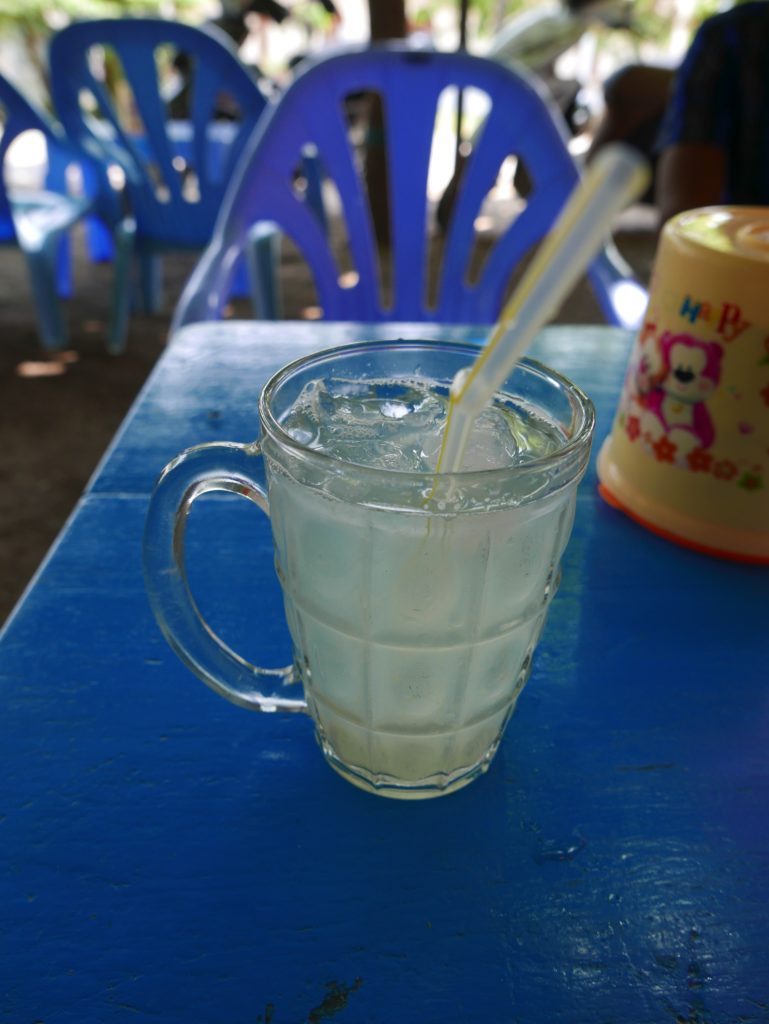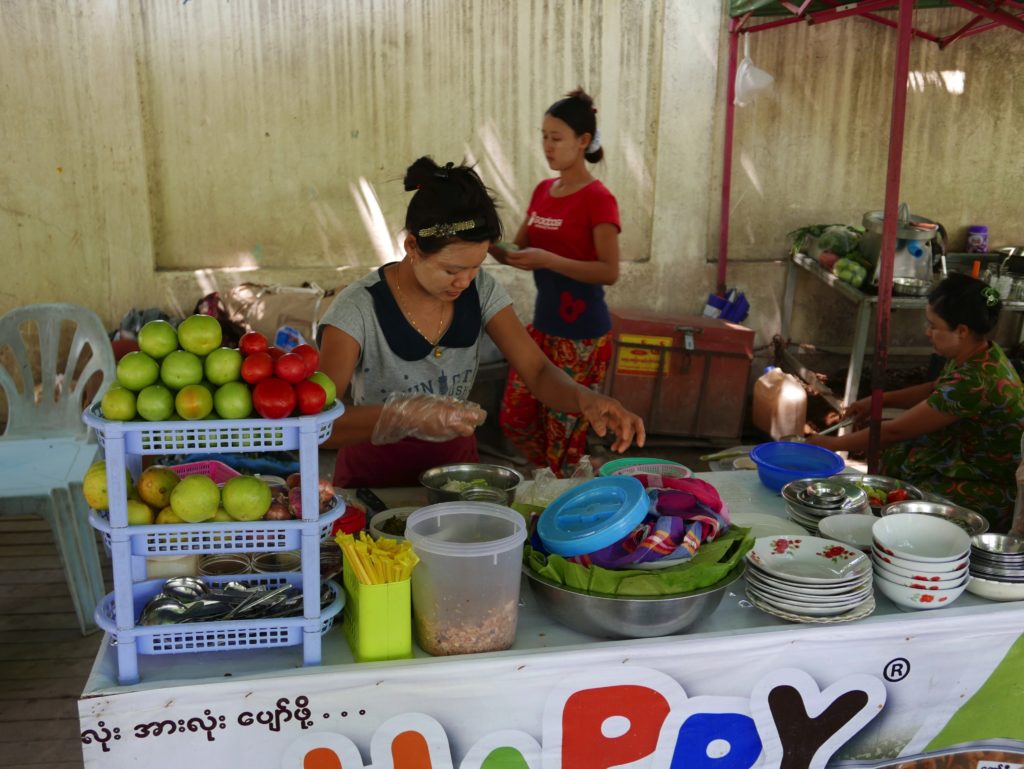 All-in-all, the Grasshopper Breakfast Tour of Mandalay was excellent. And I thoroughly recommend it to any visitor to the town. It is a great way to see Mandalay and to learn about local food and customs.
I must give a big thanks to my guide and my trishaw driver, who are pictured below. Thanks guys for a great tour!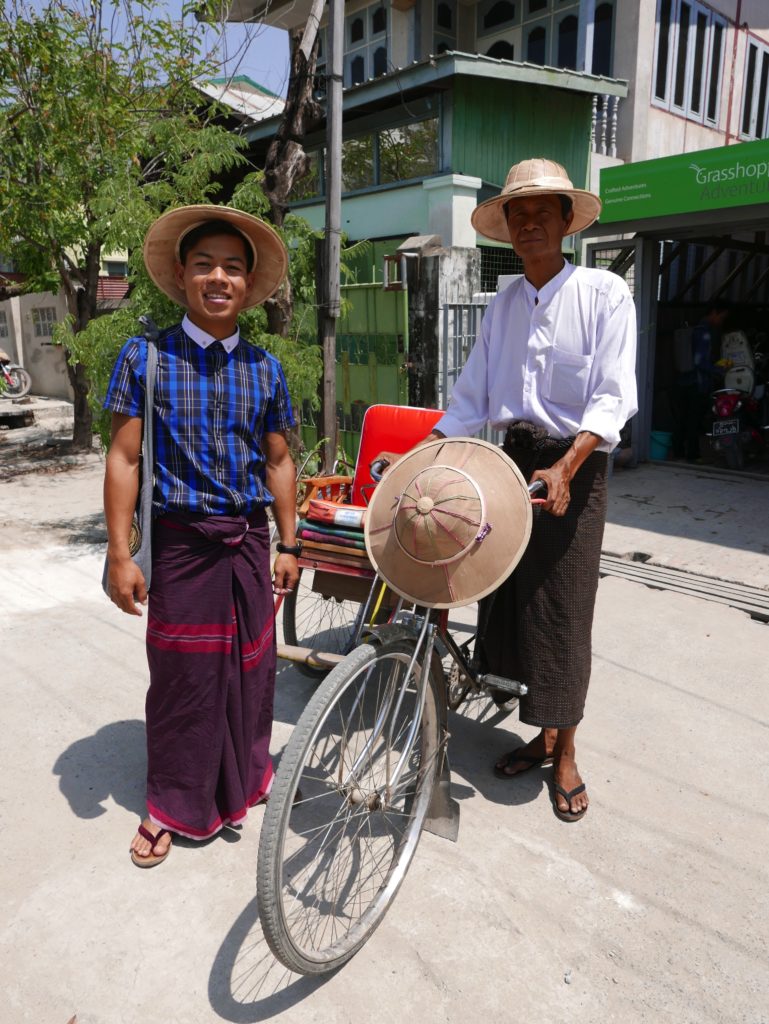 If you have enjoyed this article then please feel free to share it using the buttons below.