I had some time to kill in Yangon (Rangoon), Myanmar (Burma), and so I decided to take a local walking tour organised by the  Yangon Heritage Trust.
Having checked things out online I discovered I needed to be at their office for 8 am, hence, I got up early and walked the 2 km from where I was staying and arrived at 7:45 am. The office is not easy to find, and if you are looking for it I discovered that my GPS said it was at:
The office is not easy to find, and if you are looking for it I discovered that my GPS said it was at: clearly.loopholes.trifle, whereas the map suggested it was at peachy.lectures.dusters. The easiest way to find it is to go to either of the locations I have just given and to look for the large blue and white building (see photo below). The Yangon Heritage Trust shares the building with the local library, you enter via the door on the right in the photo below and head upstairs.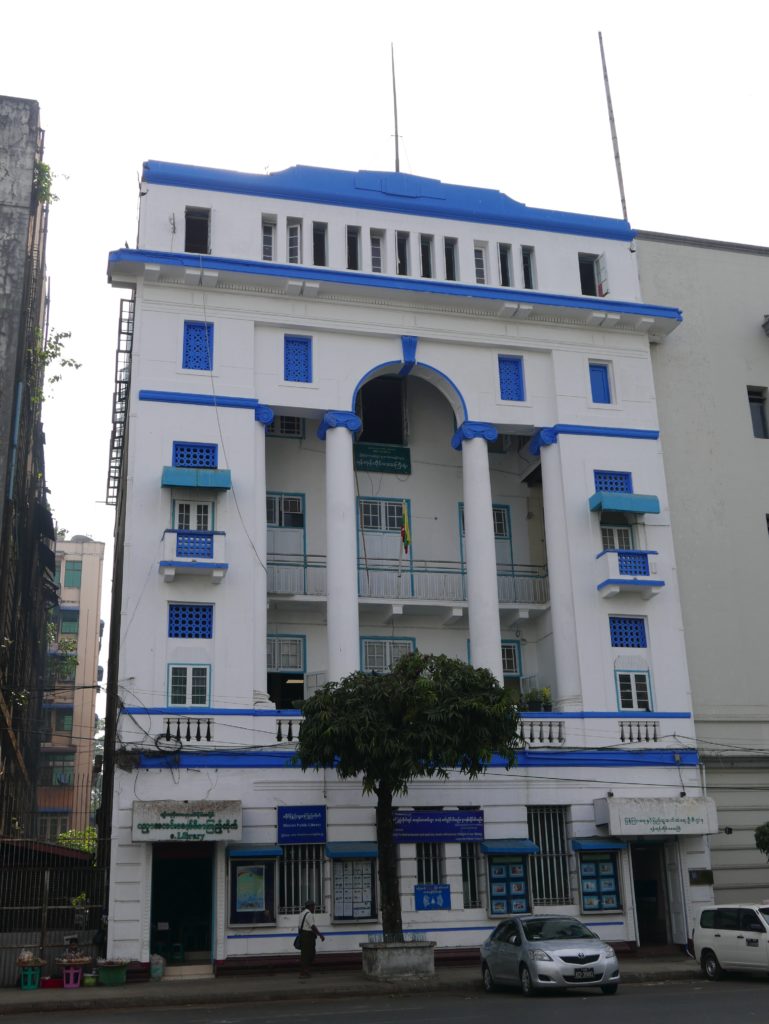 The Yangon Heritage Trust staff turned up around 8 am, and announced at 8:05 am that the walk wouldn't be happening as it had been 'booked for a private tour'.  This was the first I had heard of this, and I was not happy.  I had got up early, I had planned my morning, and then it all fell apart.  Why didn't they put something up on their website?
The district around the Yangon Heritage Trust is full of former colonial government buildings, all of which are rather impressive. So, armed with a map on my phone, I went for a walk around the local district to see what I could find.
The first building I came across was the Government Telegraph Office, which was a rather impressive building just down the road from the Yangon Heritage Trust.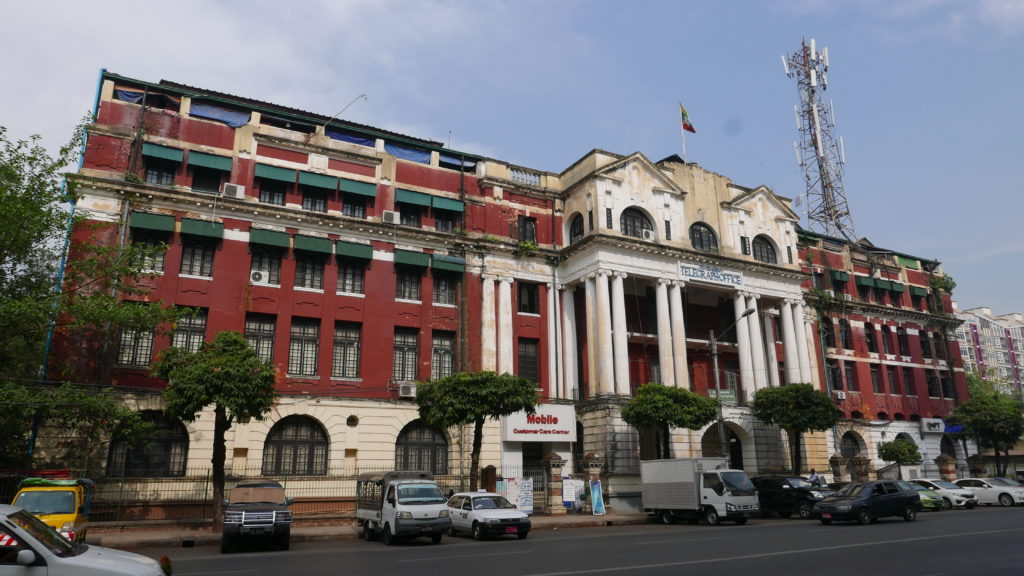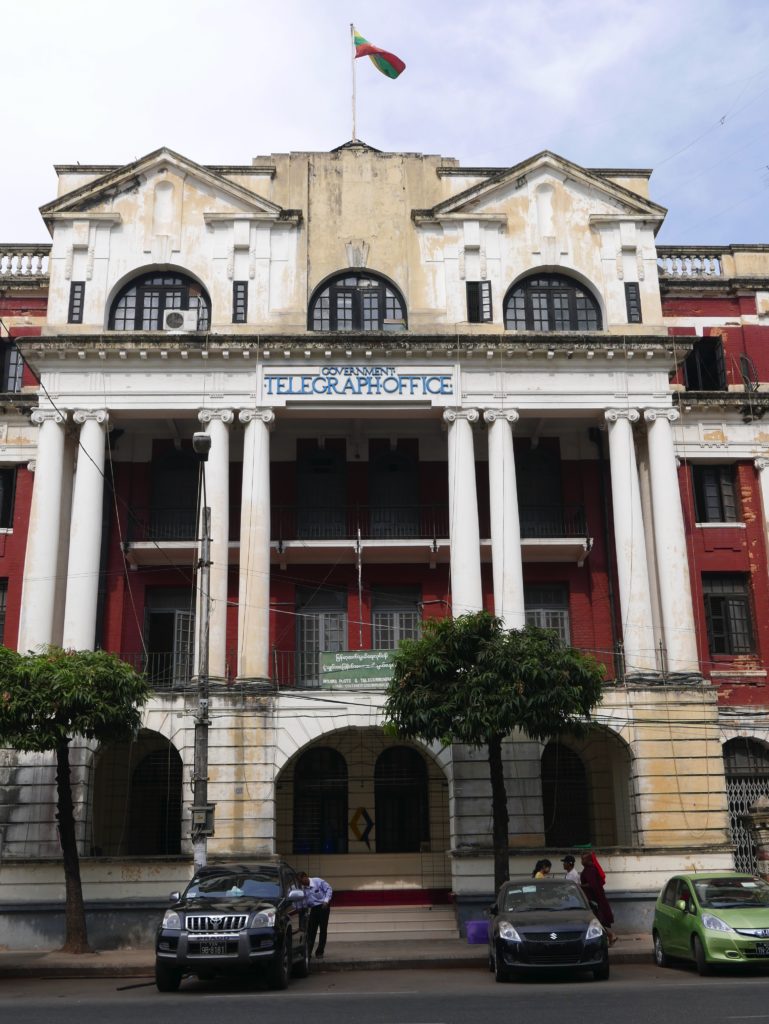 A short distance from the Government Telegraph Office was the Government Press Buildings (Built in 1912). Again, this was a rather impressive former colonial government building. What amused me was when I checked my What3Words App from my location it gave the three words as ticking.bookshop.luck, which I thought was apt for a building that had been originally connected to printing.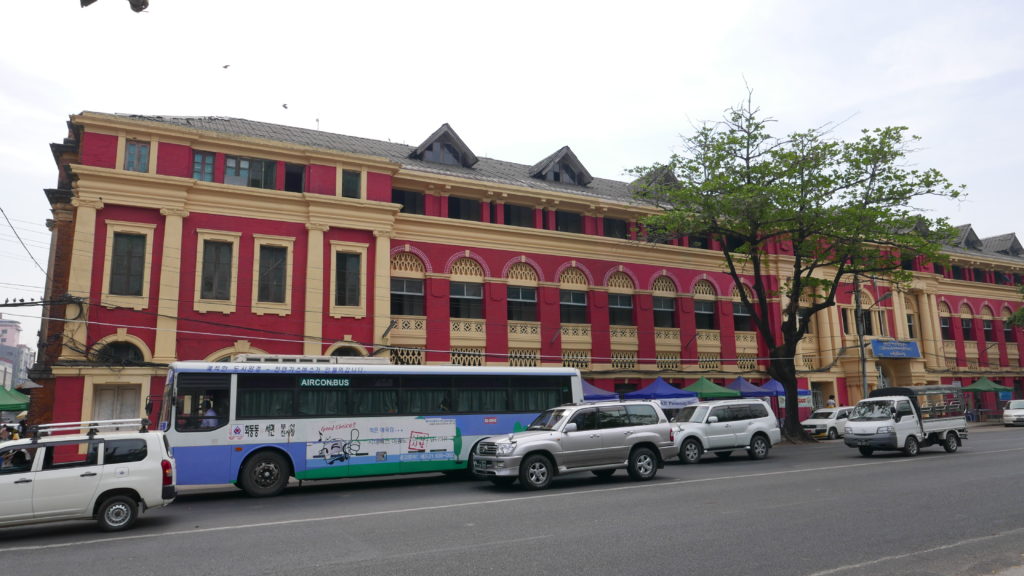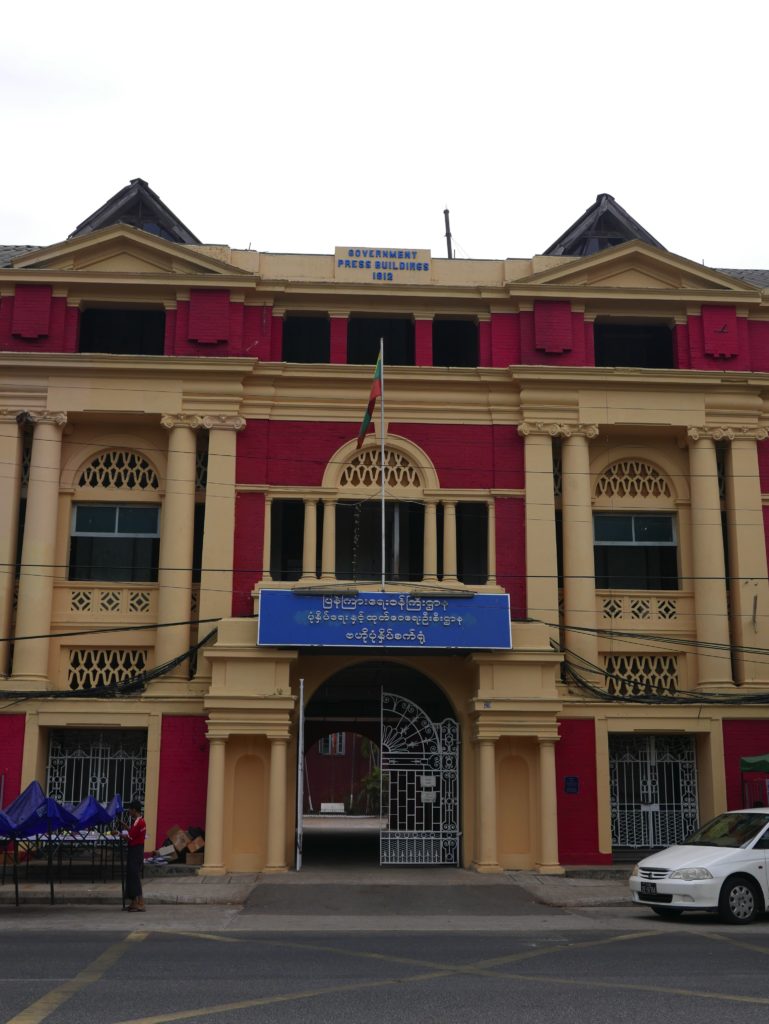 Opposite the Government Press Buildings there was a second-hand book market which seemed to sell a remarkable range of books.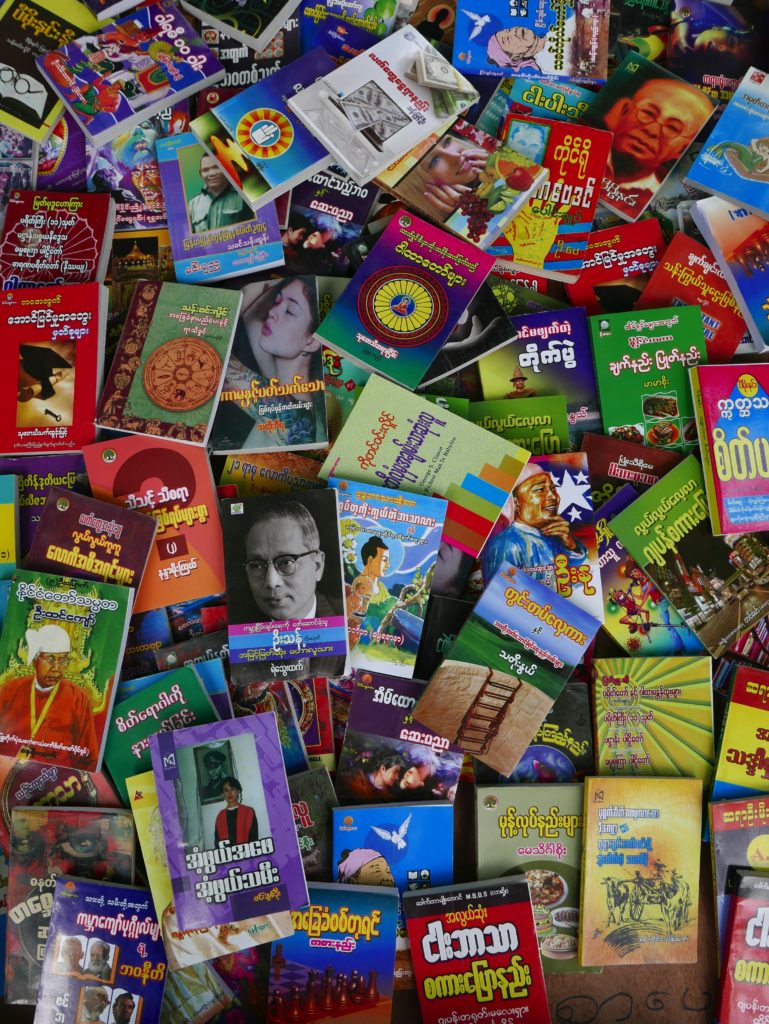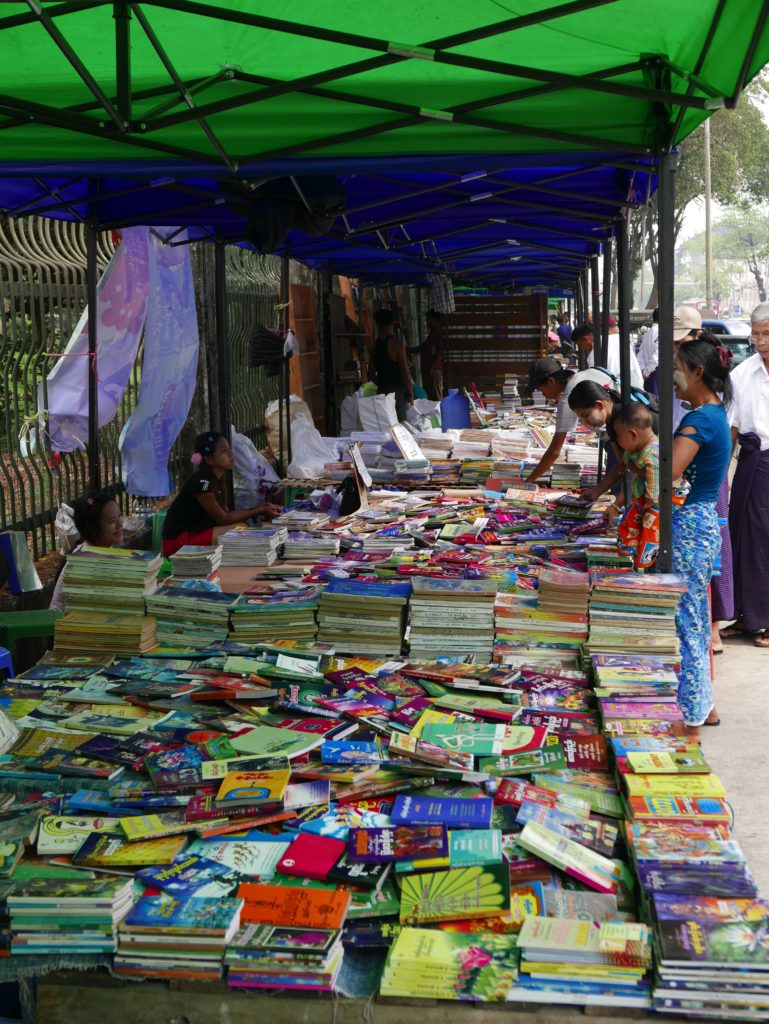 Opposite the Government Press Buildings was The Secretariat (or Ministers Office) – location: scoots.builds.doubt – which was built in 1889. When I first saw the building I thought it was abandoned and derelict as the building and grounds seem to be in a state of disrepair. However, as I walked around the plot it became clear that it was still in use and was currently undergoing a significant amount of renovation.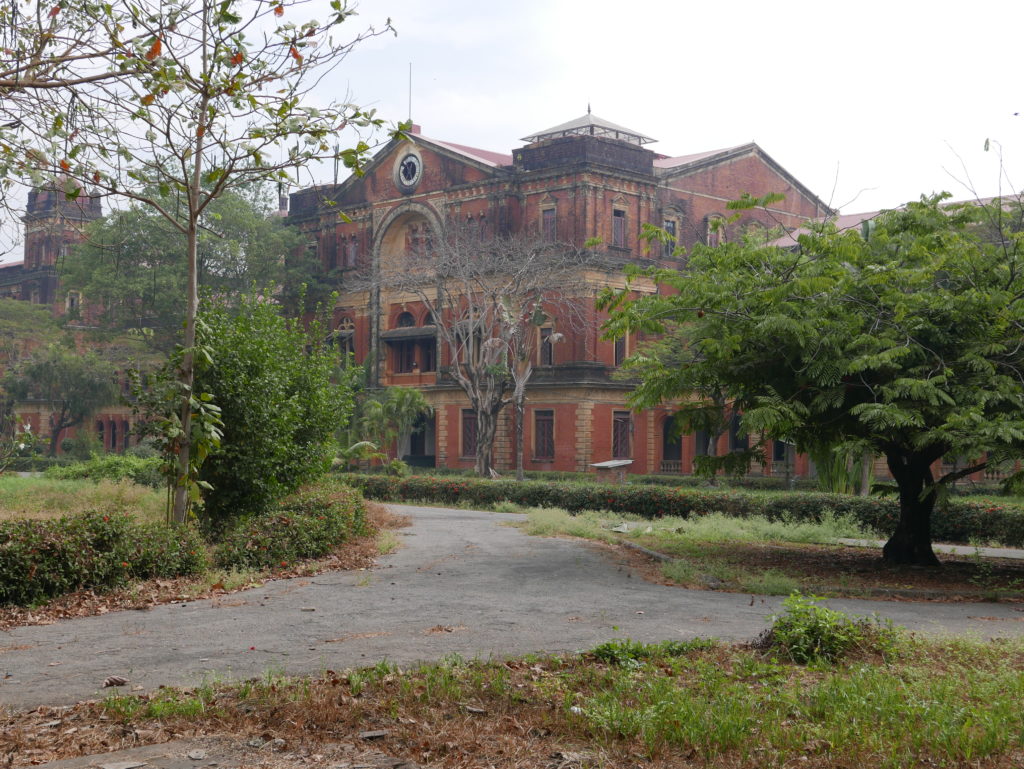 I must admit that the The Secretariat (or Ministers Office) Building is a rather impressive and imposing structure.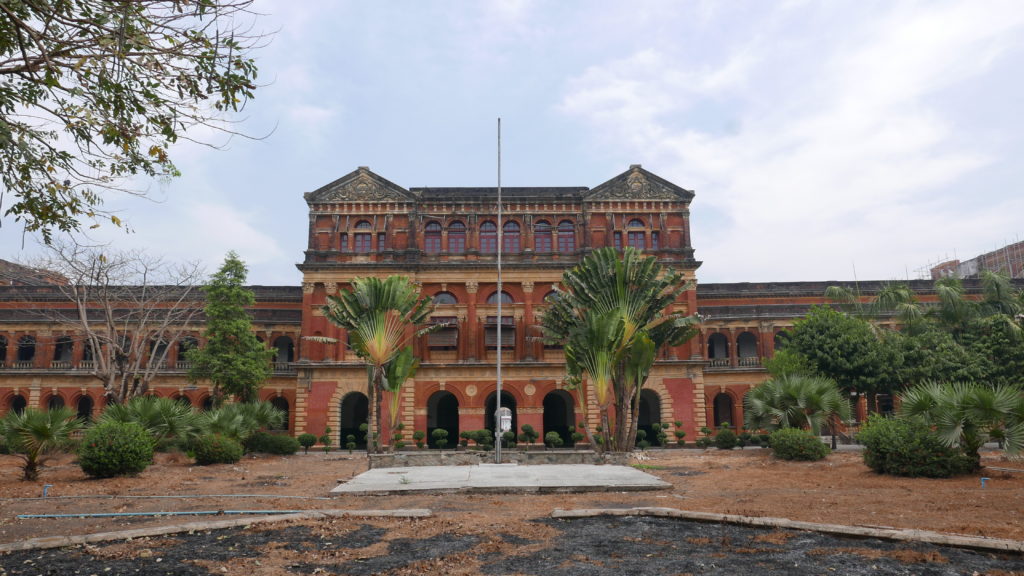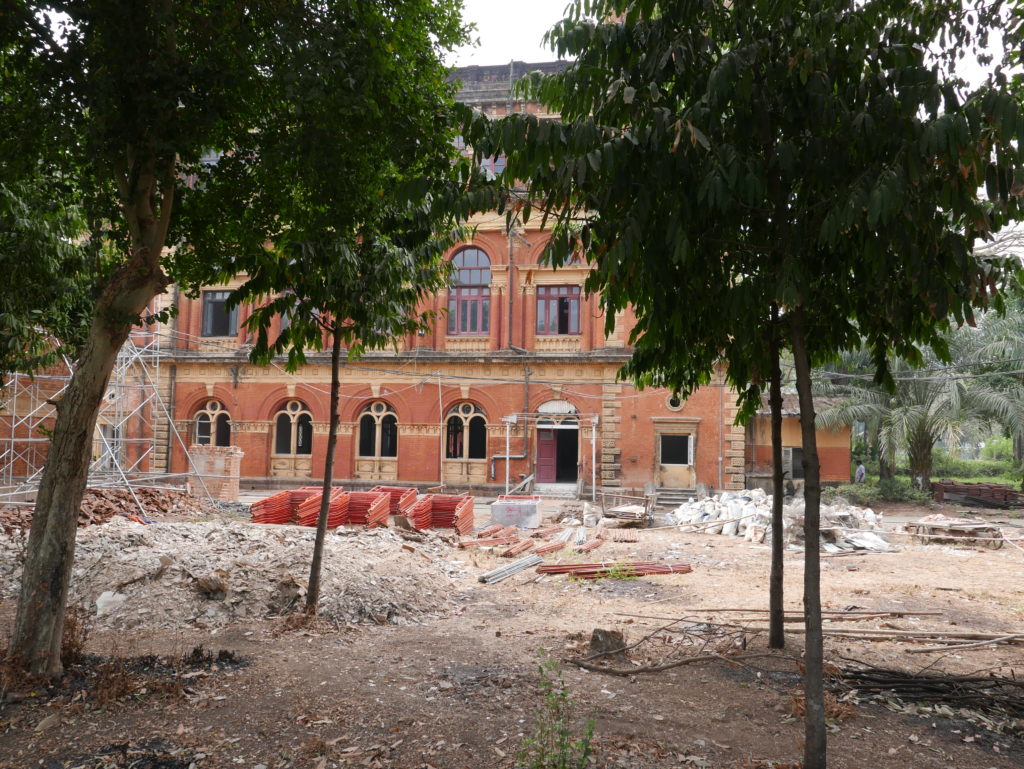 A short walk from The Secretariat (or Ministers Office)  is a local Salvation Army church (location: rocky.upstairs.fastening).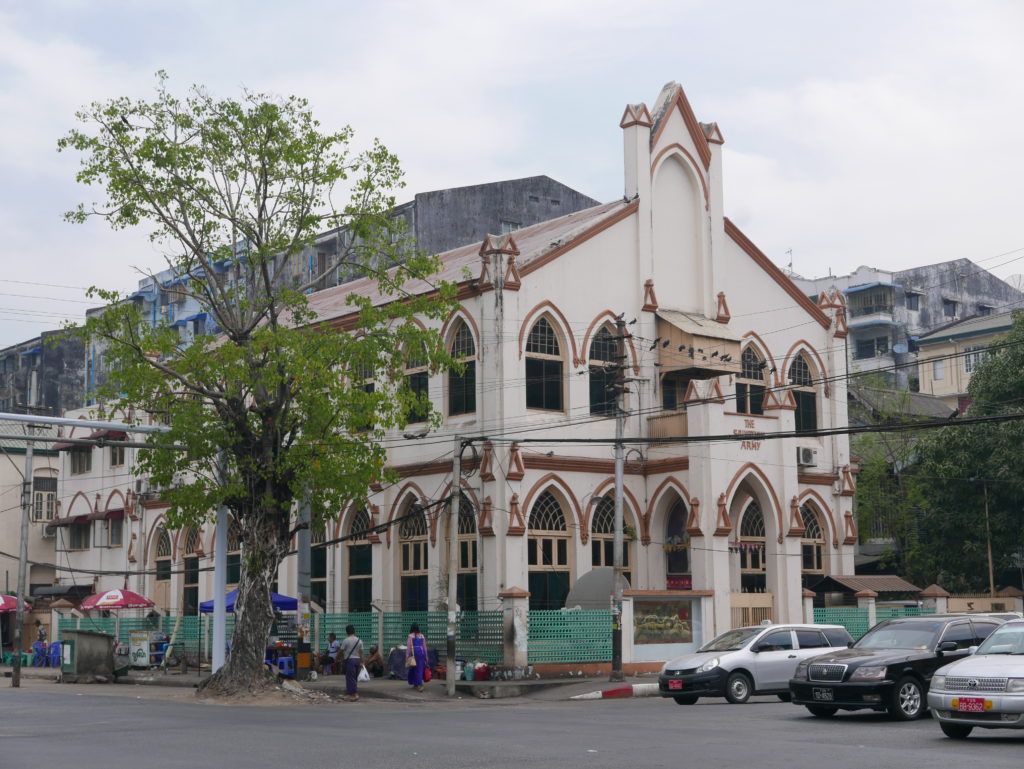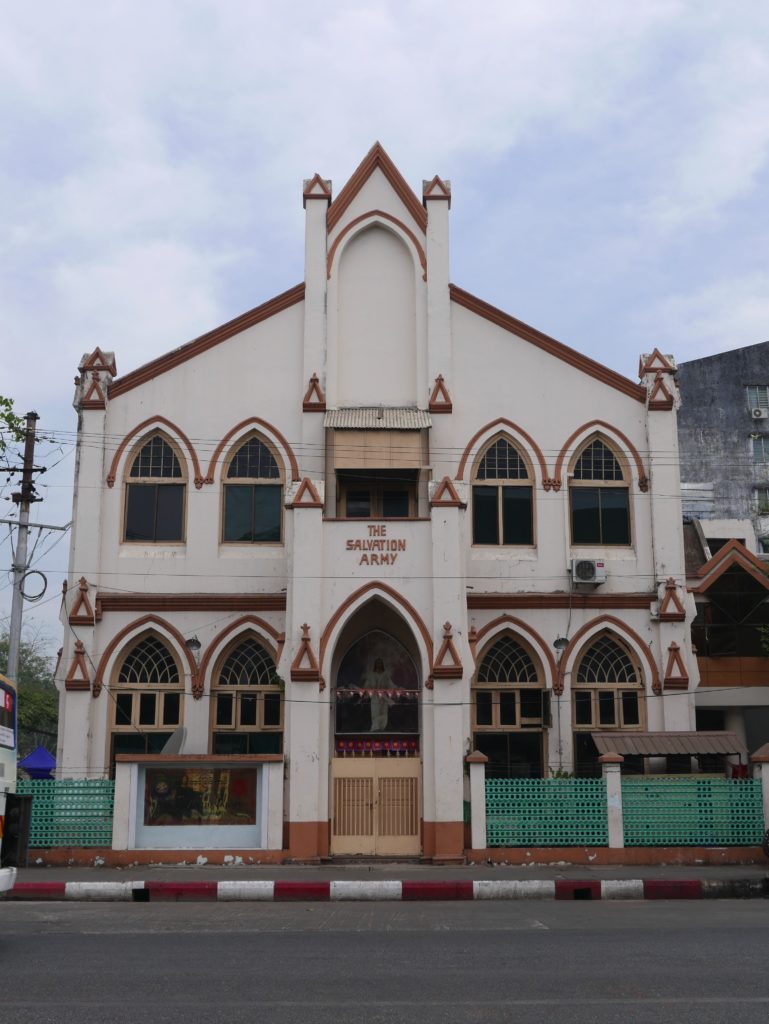 And close by was St Mary's Cathedral (location: overlaid.tinsel.dragging), which I would say is definitely worth a visit as it is a stunning building both internally and externally.
Most of the buildings in the Government District seem to date from around the turn of the 20th century, so therefore I was quite surprised when I visited St Mary's Cathedral to discover that the Catholic Church has been in Myanmar since 1511.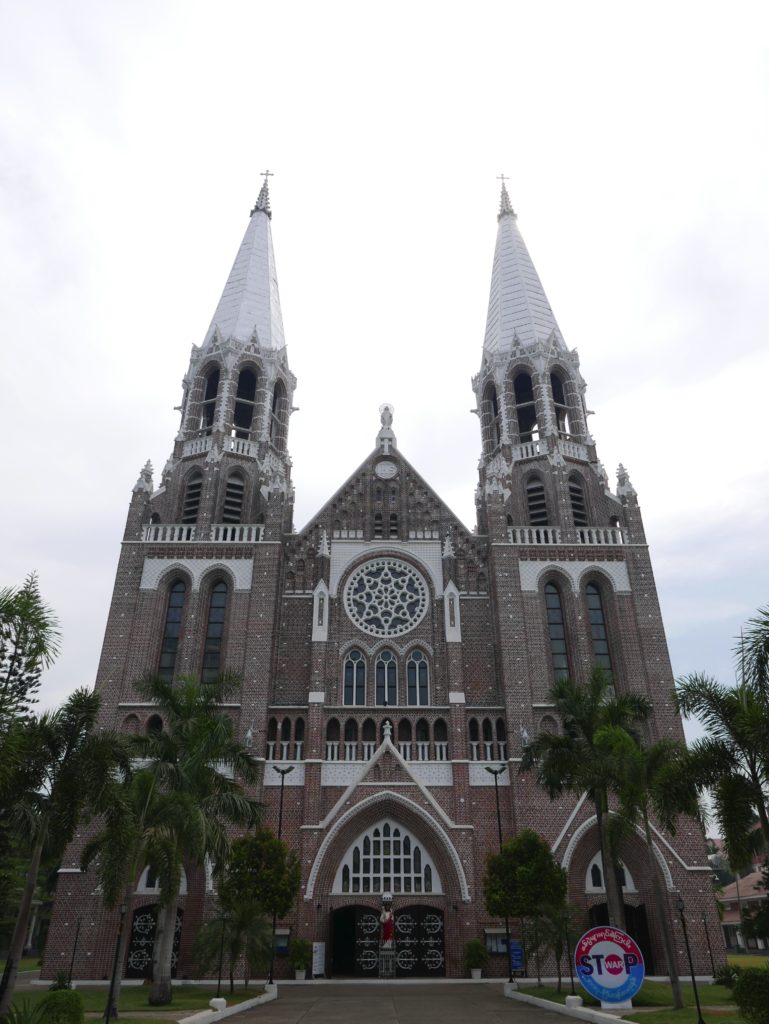 The Cathedral is dedicated to the Immaculate Conception and had recently undergone a significant renovation, which was completed in 2011. This included installing new stained glass windows (1st September 2009 to 21st October 2010). The work was carried out in remembrance of the Centenary Jubilee celebration on 8th December 2011.
The interior of the Cathedral is stunning.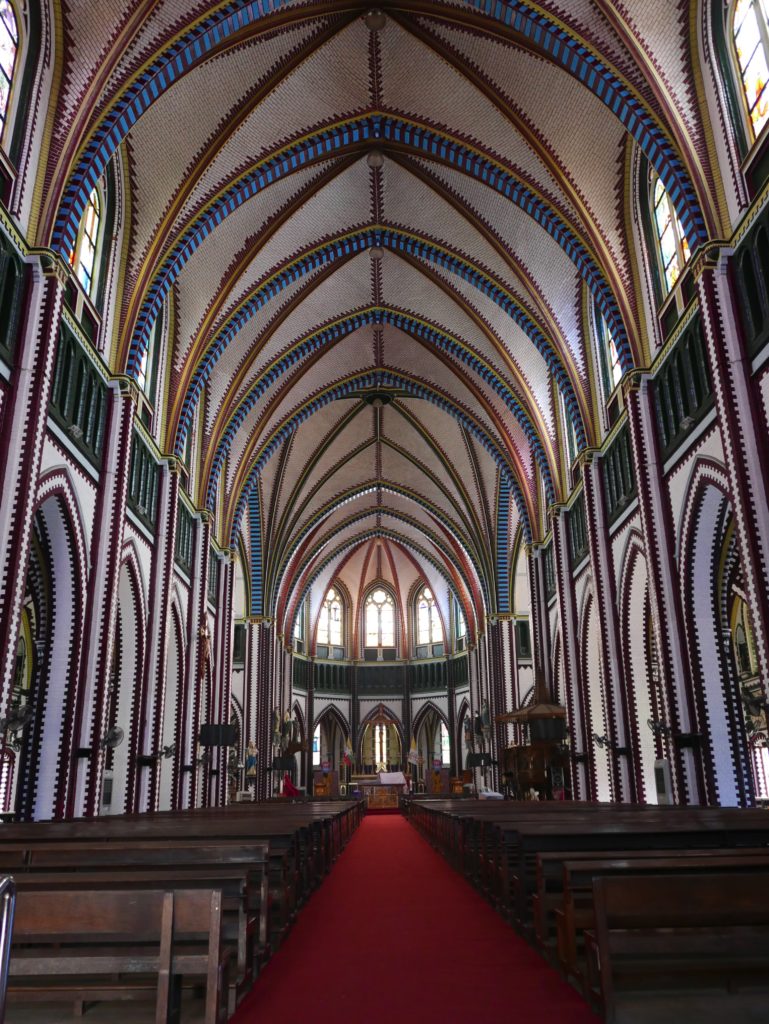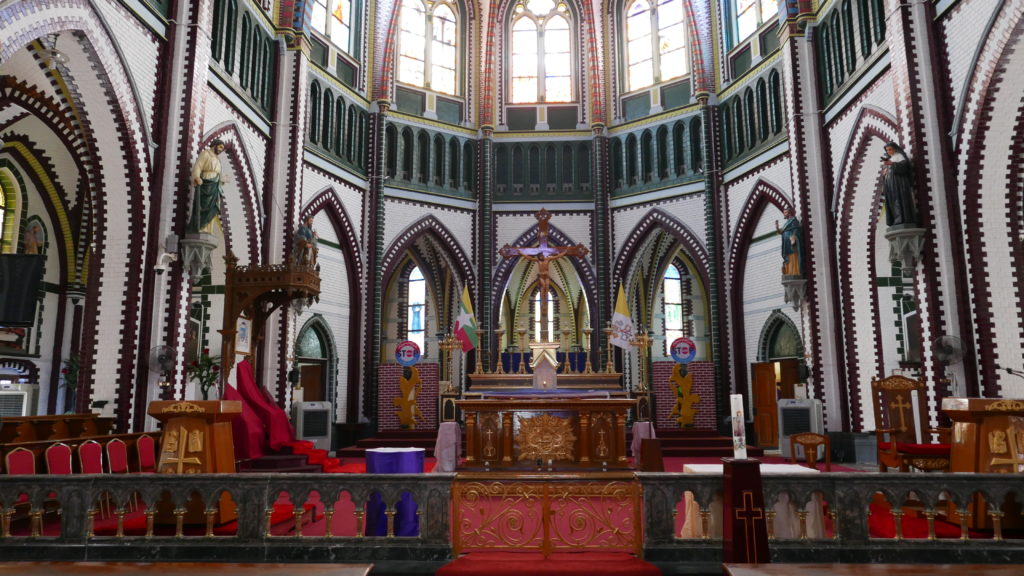 During my visit to the Cathedral, a tour group arrived and sung briefly in the Cathedral.
The Cathedral is a remarkable building and is certainly worth a visit if you are in Yangon.
Just over the road from the Cathedral is the offices of the Myanmar Times – nervy.banana.irritated, which was a building I suspect had seen some worrying and troubling events over the last 50 or 60 years.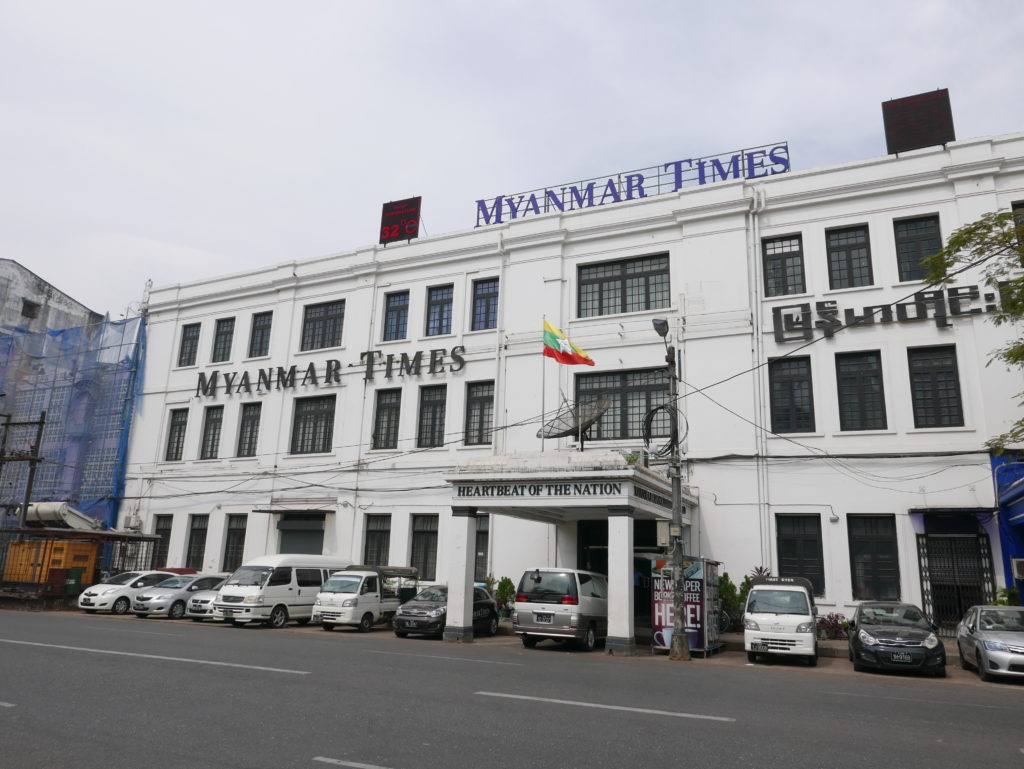 Finally, on my way back to the hotel I stopped at Scott's Market (the map say it is at diner.contracting.lung), but the GPS said dugouts.donor.winners).
I had visited Scott's Market on a previous trip to Myanmar – see Bogyoke Market (Scotts Market), Yangon (Rangoon), Myanmar (Burma) and I thought that on this visit the market was a lot quieter and there were fewer tourists around. Has the market changed? Looking back on my photos from the last visit it would suggest that the market has in fact not changed, and I just incorrectly remembered it being busier on my last visit.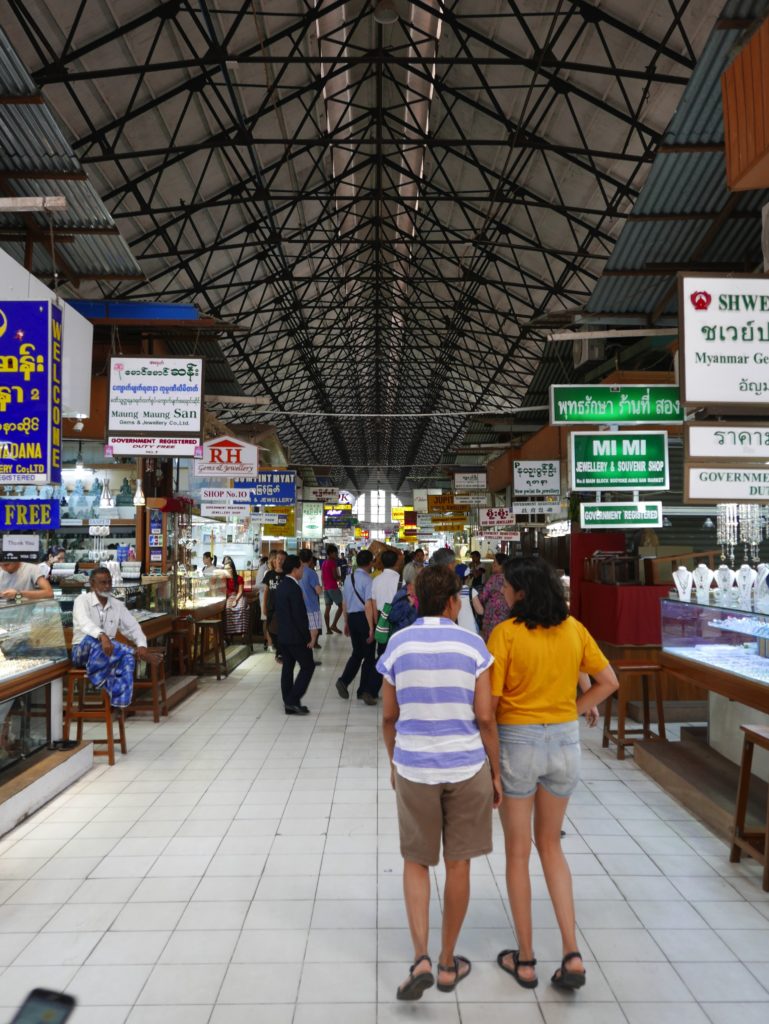 So, who needs Yangon Heritage Trust to explore Yangon? I didn't! Yes, it would have been nice to have had a guide as I no doubt missed some key buildings, and I certainly didn't get the facts about the buildings I saw, however, it is possible to easily find your way around Yangon to look at the buildings yourself.
If you have enjoyed this article then please feel free to share it using the buttons below.