I was last in Myanmar in 2015 and it was great to be back.
One of the things I really like doing in any city is just wandering around looking at what is going on and taking photos.
Everywhere I go there is a fascination with mobile phones….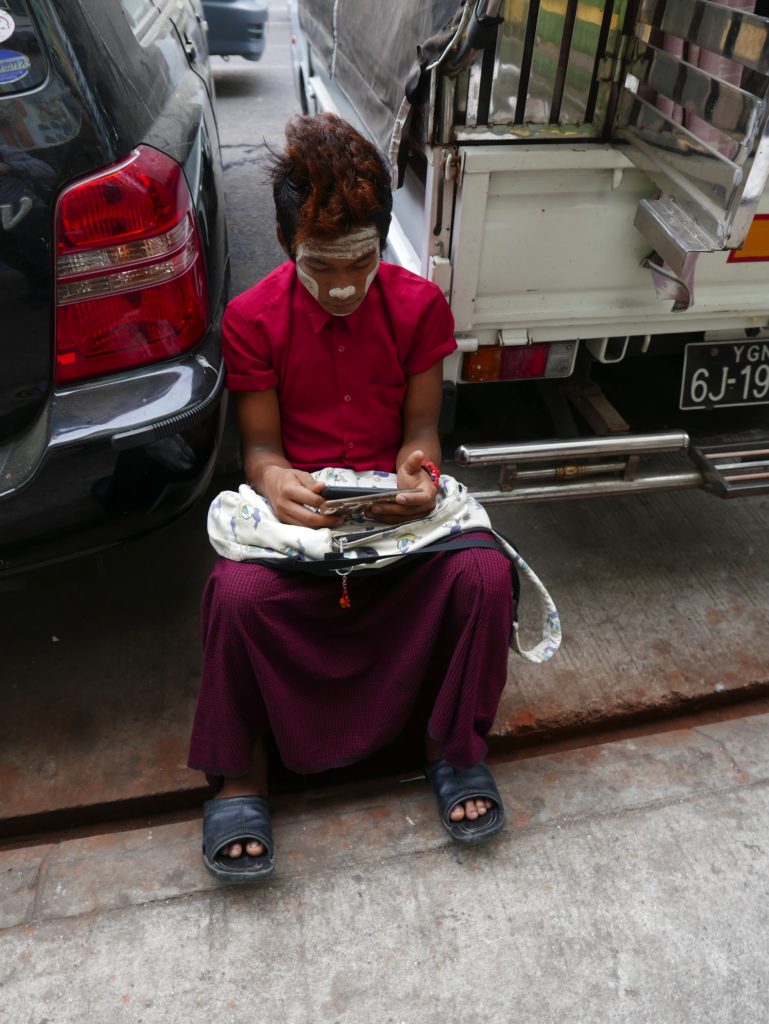 And life is lived on the streets in Yangon.  There are numerous stalls selling food… And it all looks, and smells, so good.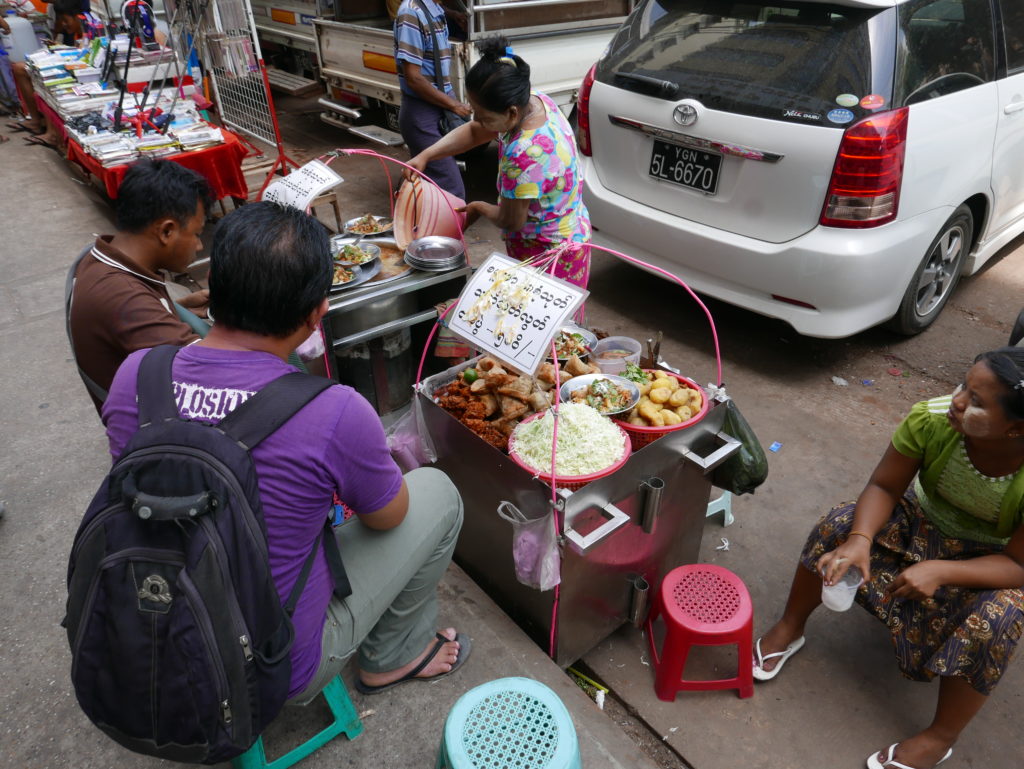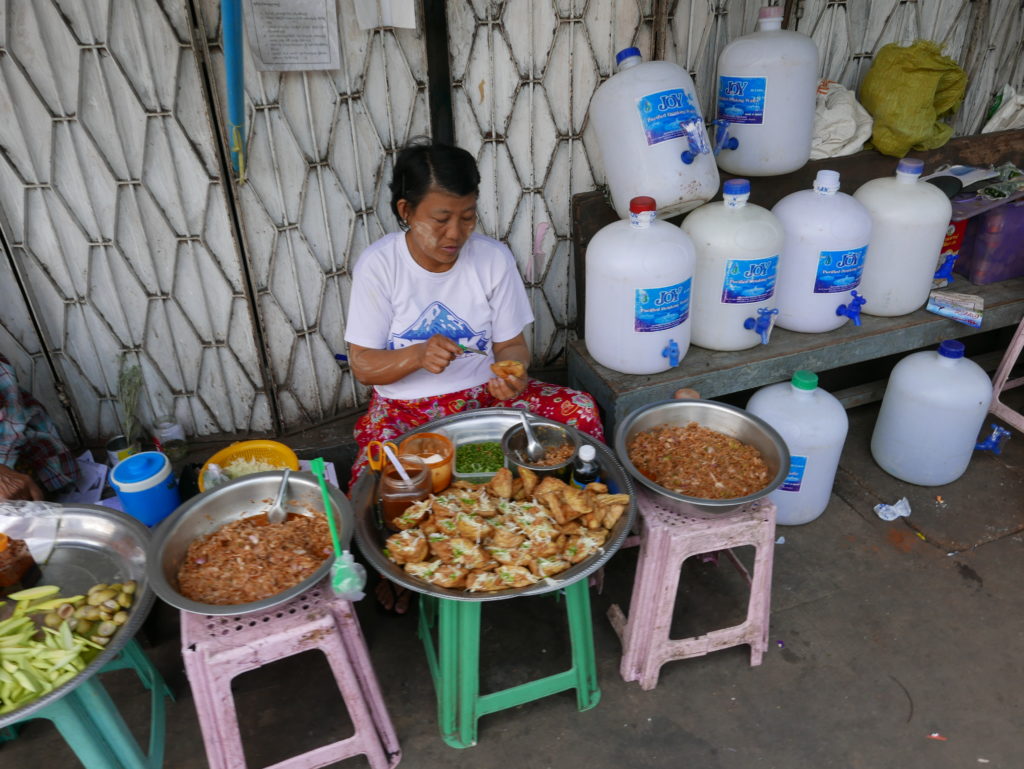 I am always impressed with the level the sellers go to to make sure things are clean and the food is fresh.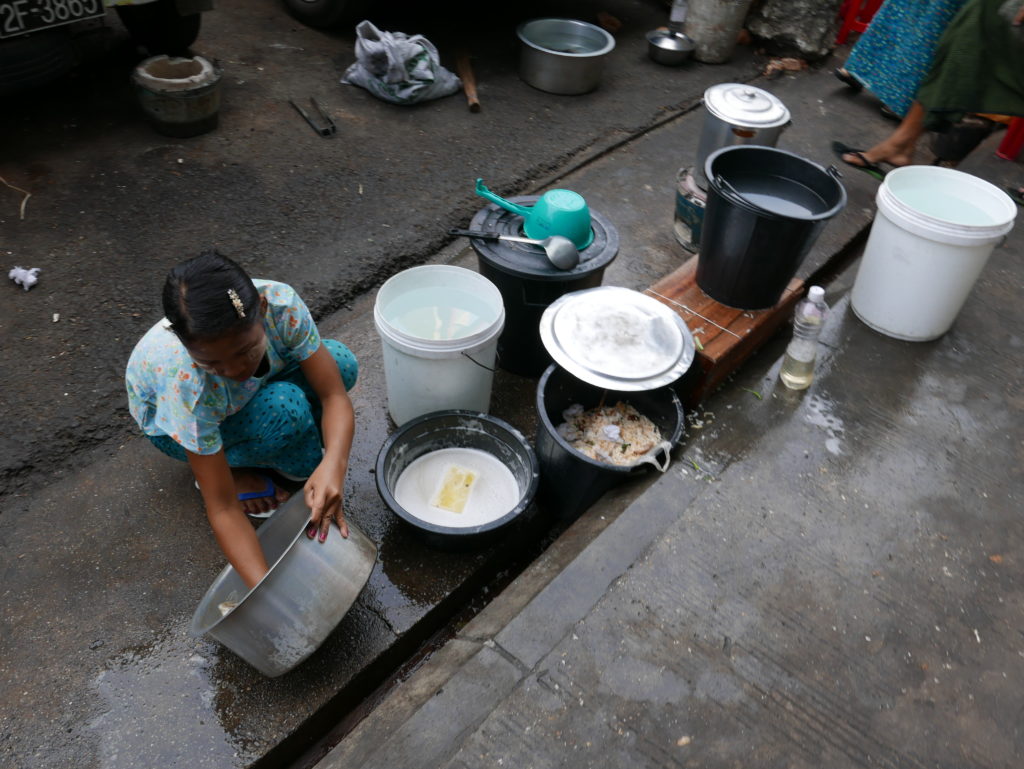 And if a food stall runs out of something there is always someone nearby selling the ingredients they need.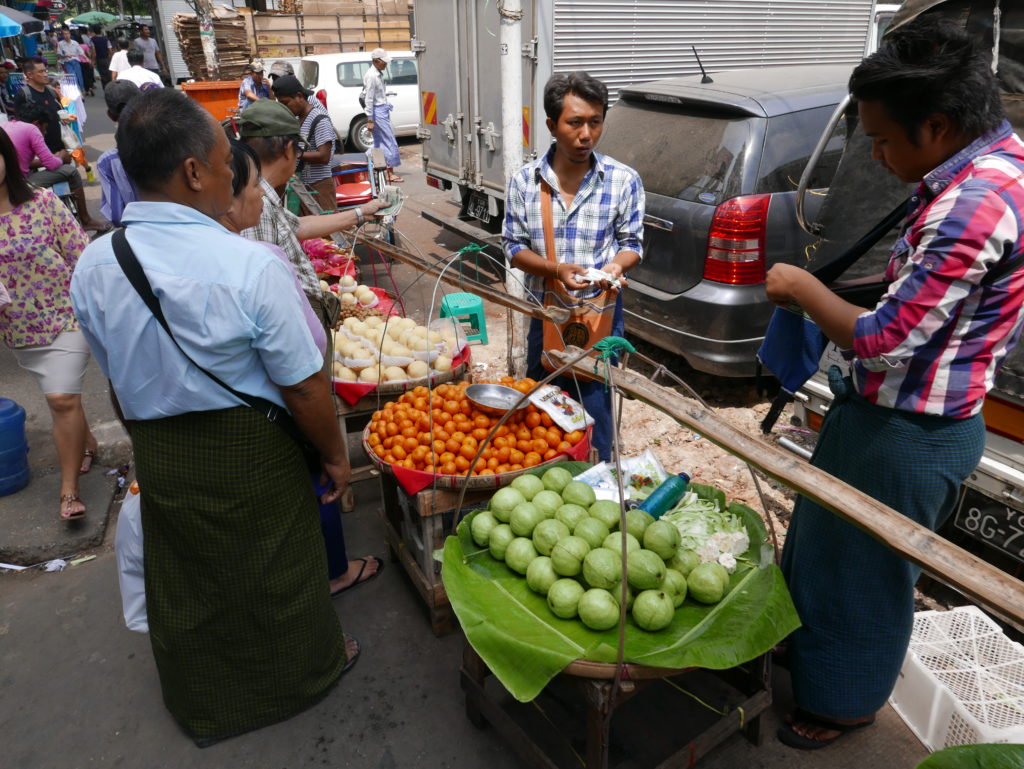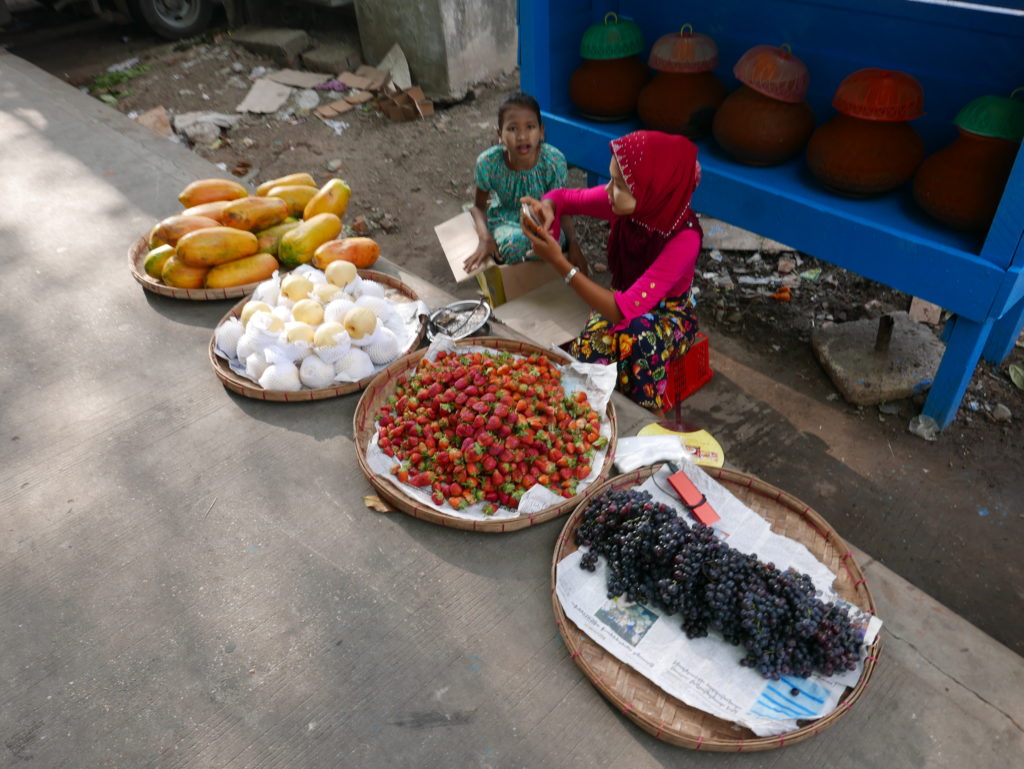 But it is not all food on the streets of Yangon there are some sellers specialising in very specific items.  For example, around one temple there were a lot of stalls selling work tools, and in the shot below I really like how relaxed the stall holder appears reading his paper in the early morning sun.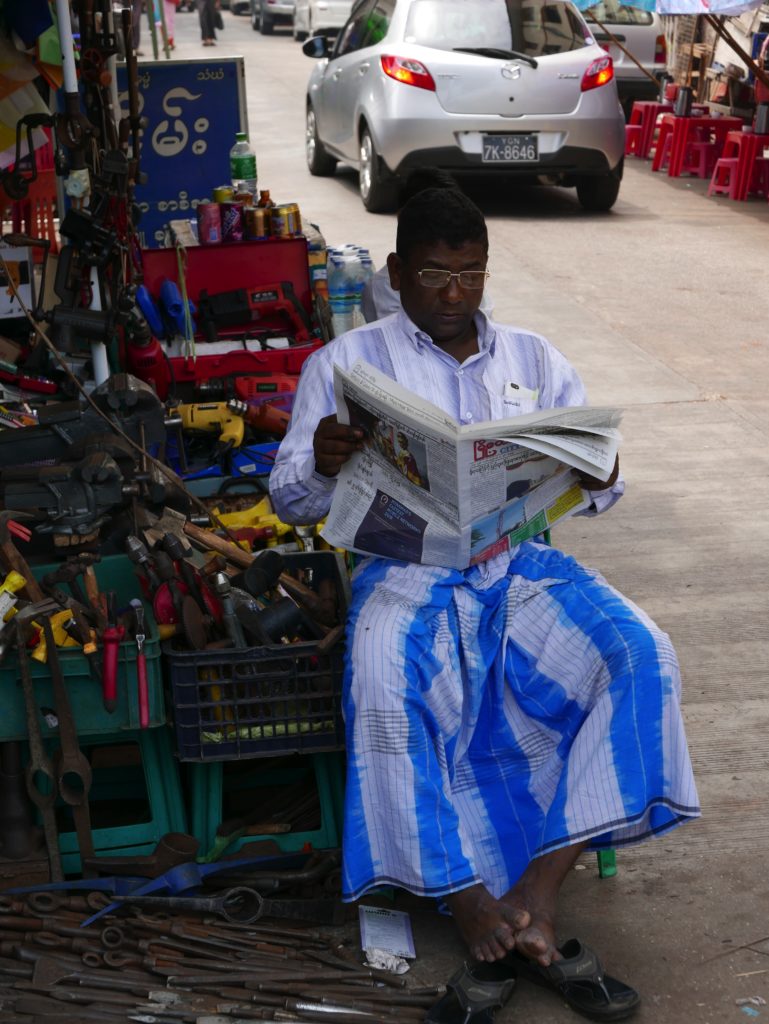 One type of street stall you see a lot of in Myanmar are those selling betel quid (see my earlier post on 'Why is there rampant gum disease in Myanmar (Burma)?', and no, I still haven't tried one…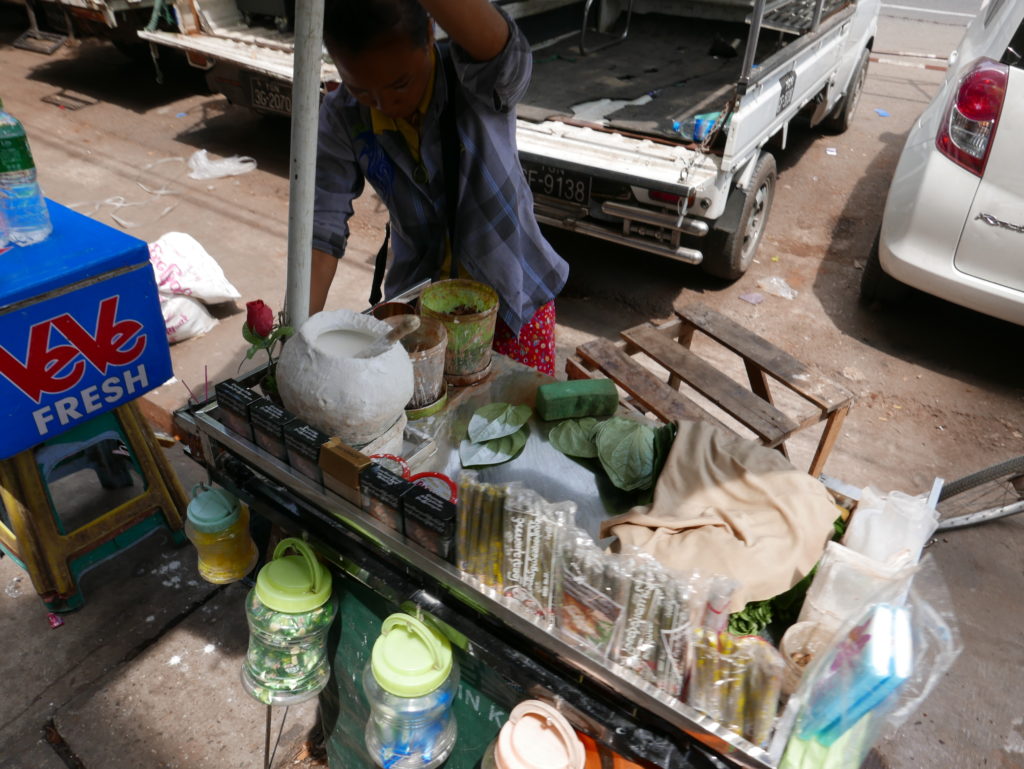 Interestingly, I saw a huge stack of the betel leaves for sale in a local market. This is clearly where the local betel quid suppliers come to get their raw materials.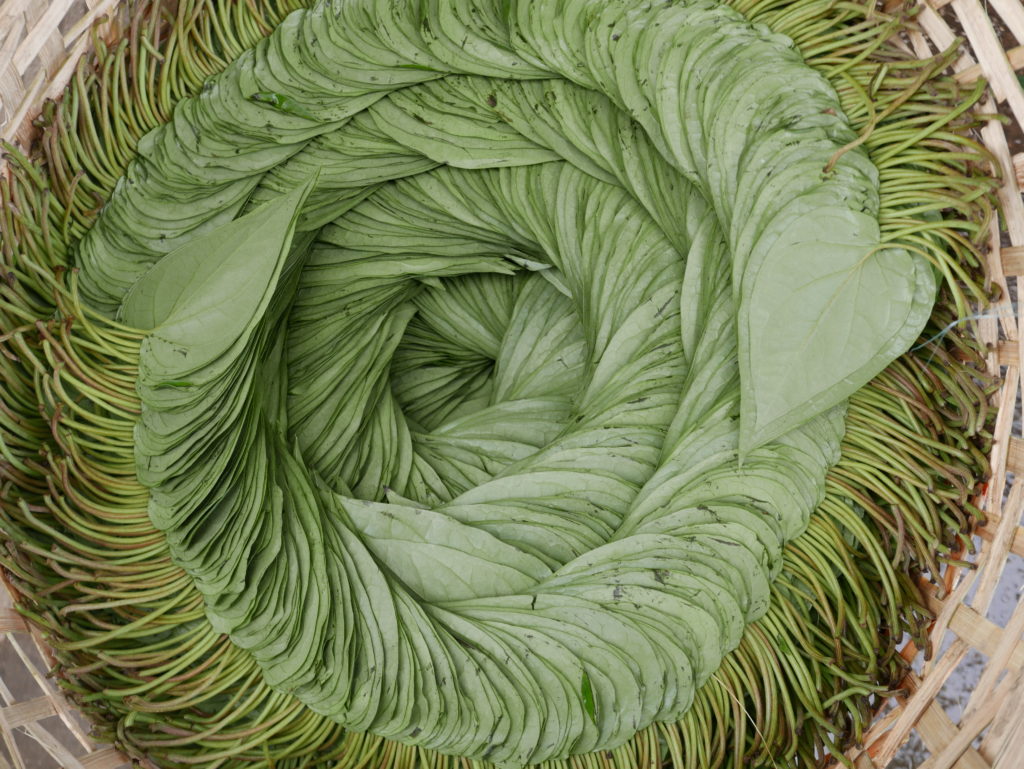 Besides betel quid, food stalls, and general market stalls, in Yangon there are also sellers of bird food so you can feed the local pigeons.  I don't know if this is a new thing in Yangon or not, however I can't remember seeing this on my last visit two years ago.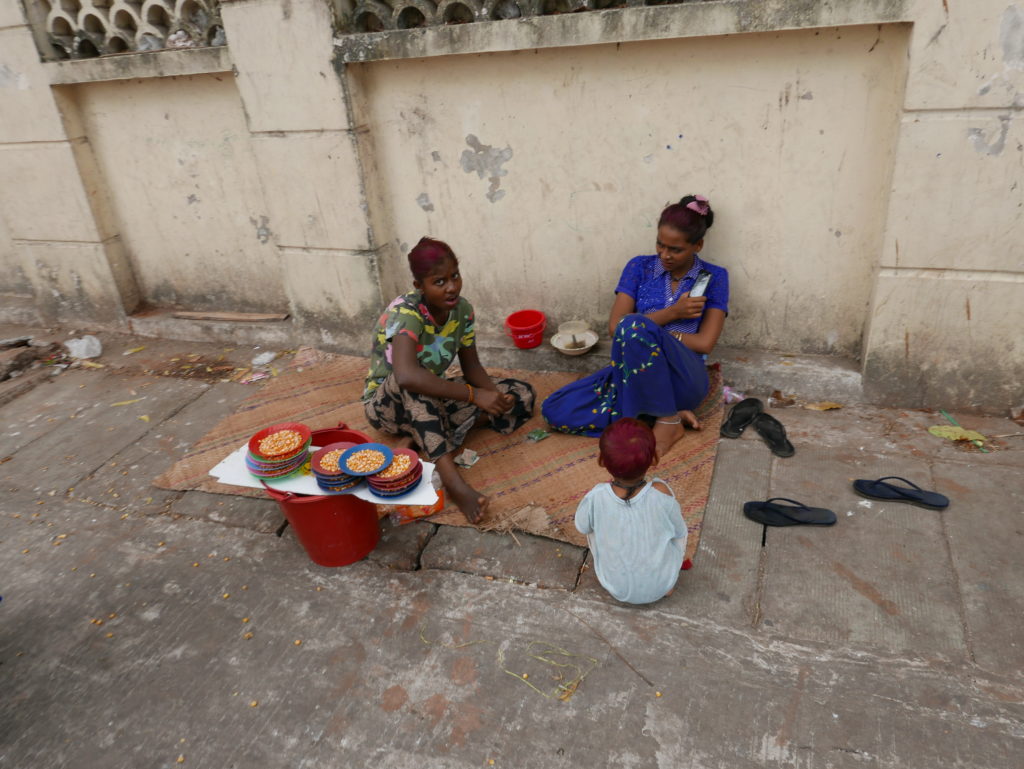 And on this trip, having spoken to a local, I finally found out why you see so many wild birds in cages.
On my last visit I had assumed that the birds were for food (which seemed odd as the birds were very small and I can't imagine there is much meat on them), or for pets. However, it turns out they are for religious use.
The birds are wild, and are captured. The birds are then sold to people going to the local temples so they can release them and gain good 'karma'.  This seems like an interesting way to transfer 'karma' between people because surely the person who captures the birds gets bad 'karma' (i.e. loses 'karma') and the people who release the bird gains good. However, as the bird purchaser is perpetuating this system then surely they should get the 'bad karma'?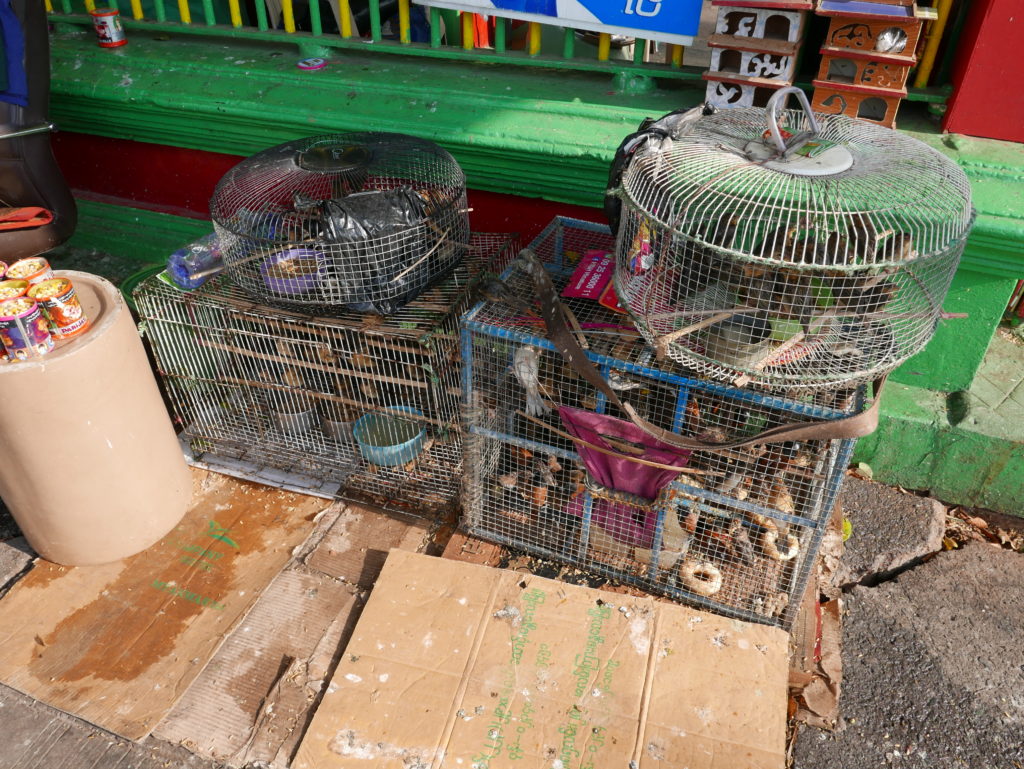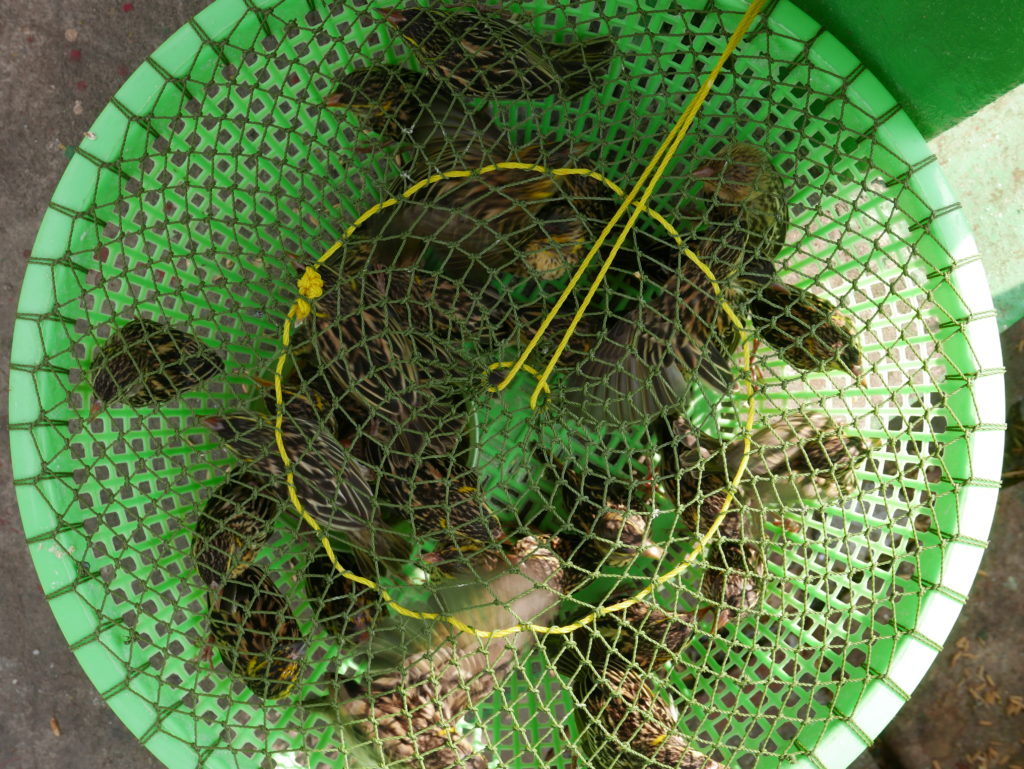 Of course, the streets of Yangon have a lot of monks around, particularly early in the morning when they are out collecting alms. (See Buddhist Monks of Myanmar (Burma) for more photographs of monks in Myanmar).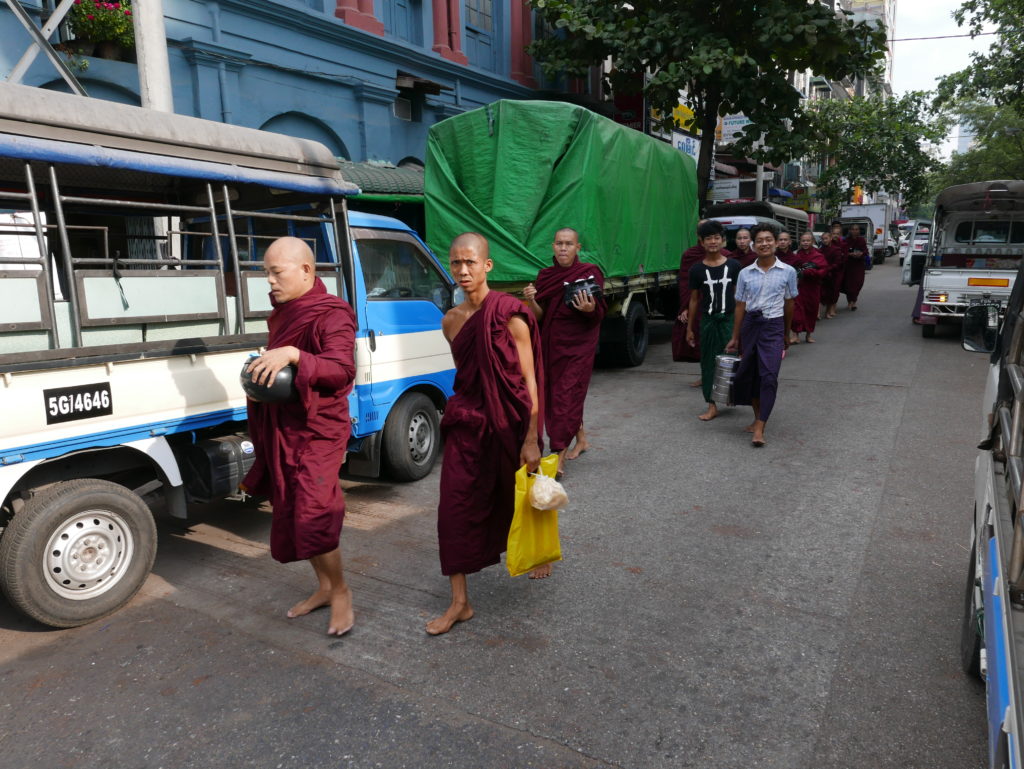 And the pink nuns of Myamnar are also on the streets (see Demanding money…. with menaces? The "pink" nuns of Myanmar (Burma) for more information).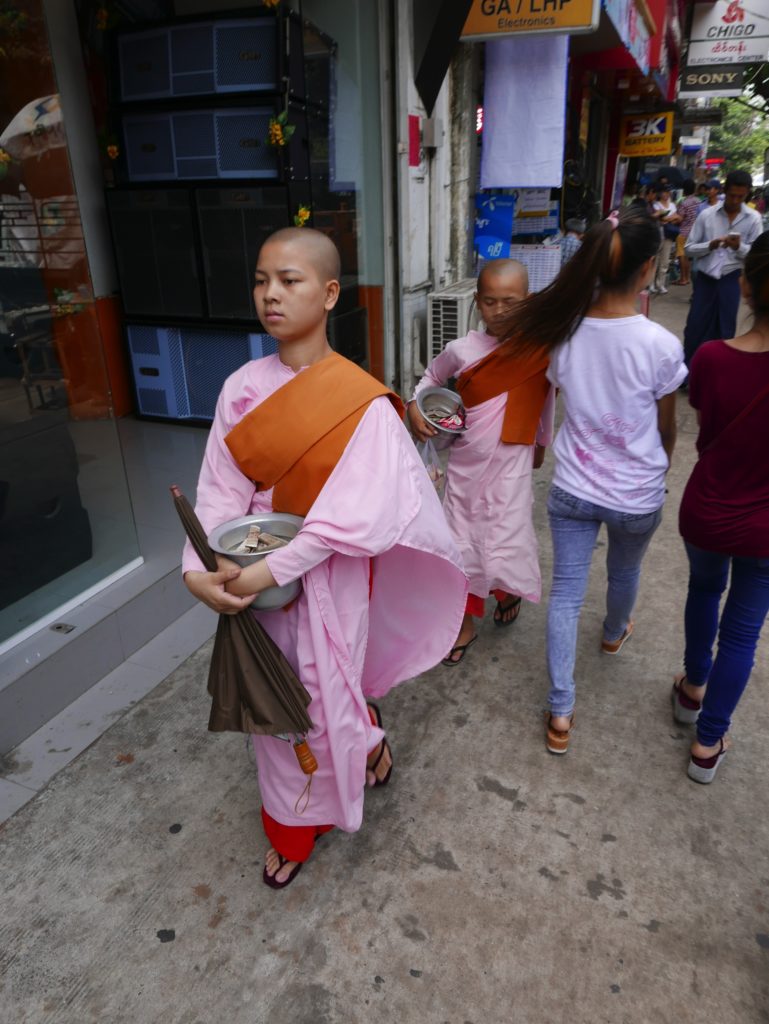 It was good to see that the drinking water pots were still around the city (see Drinking Water on the streets of Yangon (Rangoon), Myanmar (Burma)).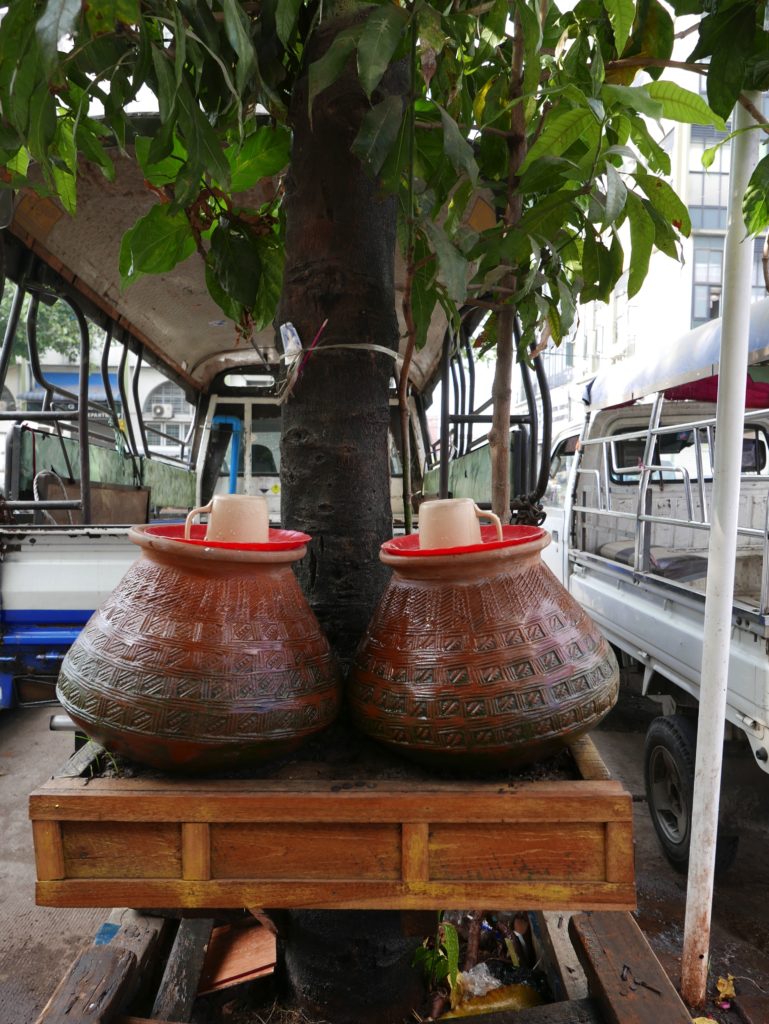 And if you have ever wondered how, if you are male, you carry things when wearing a longyi, well, here is the answer, you place the object in the waist band in the small of your back.  I have also seen men carrying their wallets and mobile phones in the same way.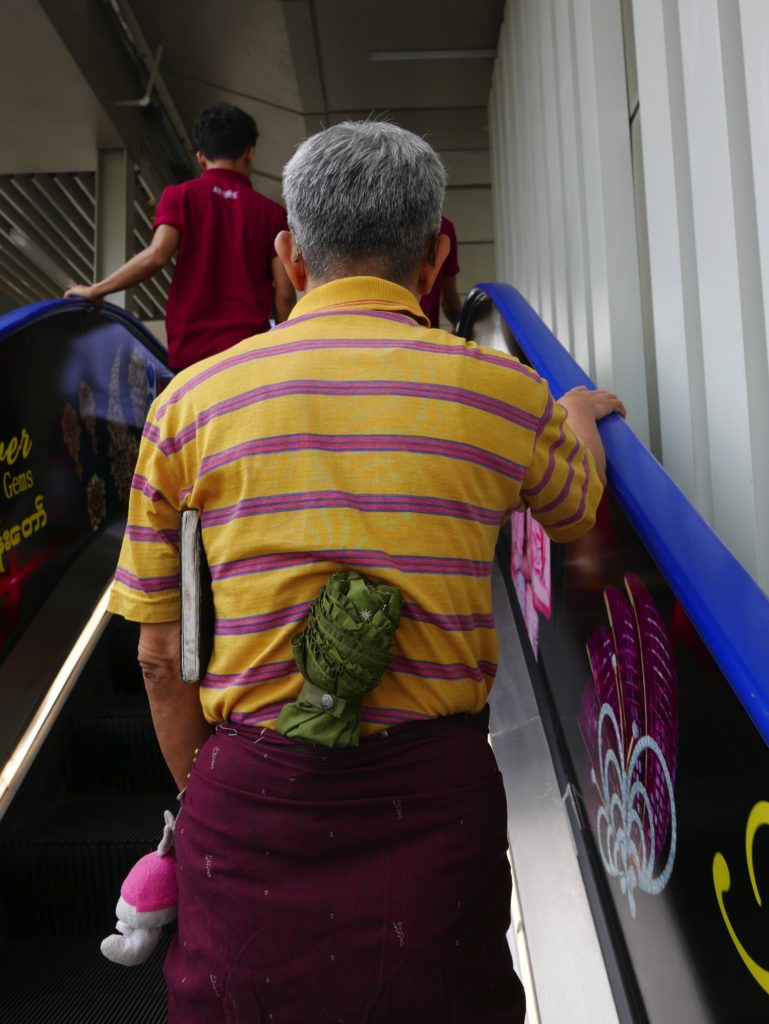 Finally, there are the trishaw 'drivers' all around town and it is great to catch them 'relaxing' between jobs.  It is interesting to see how they don't seem to get out their and chase business.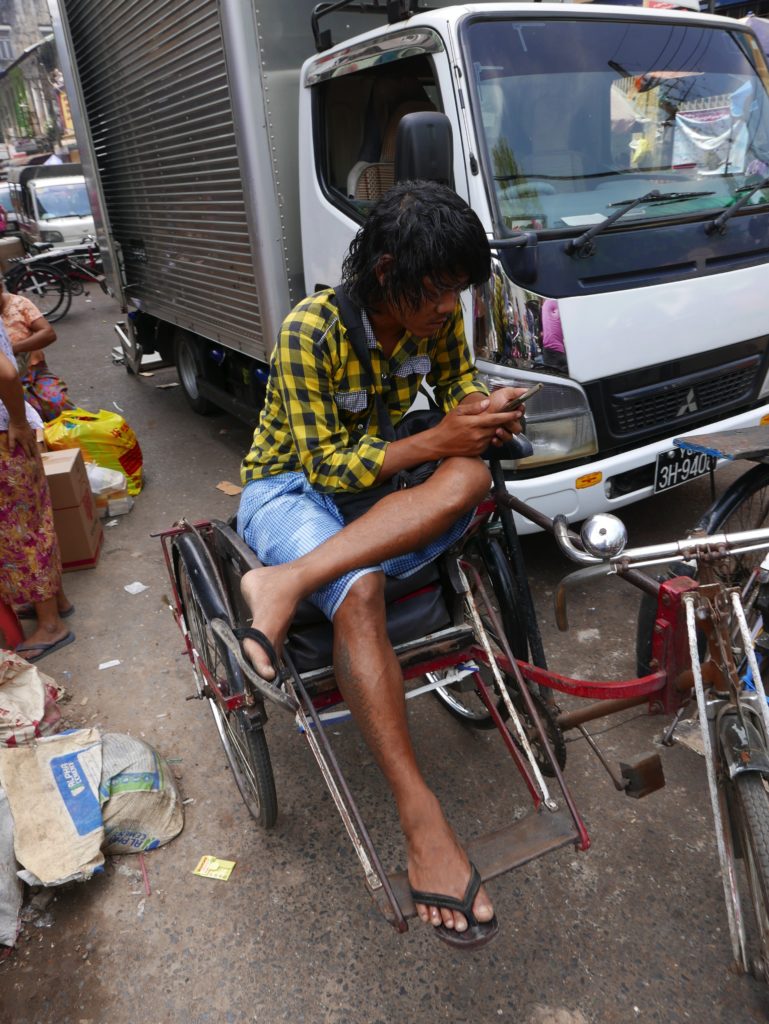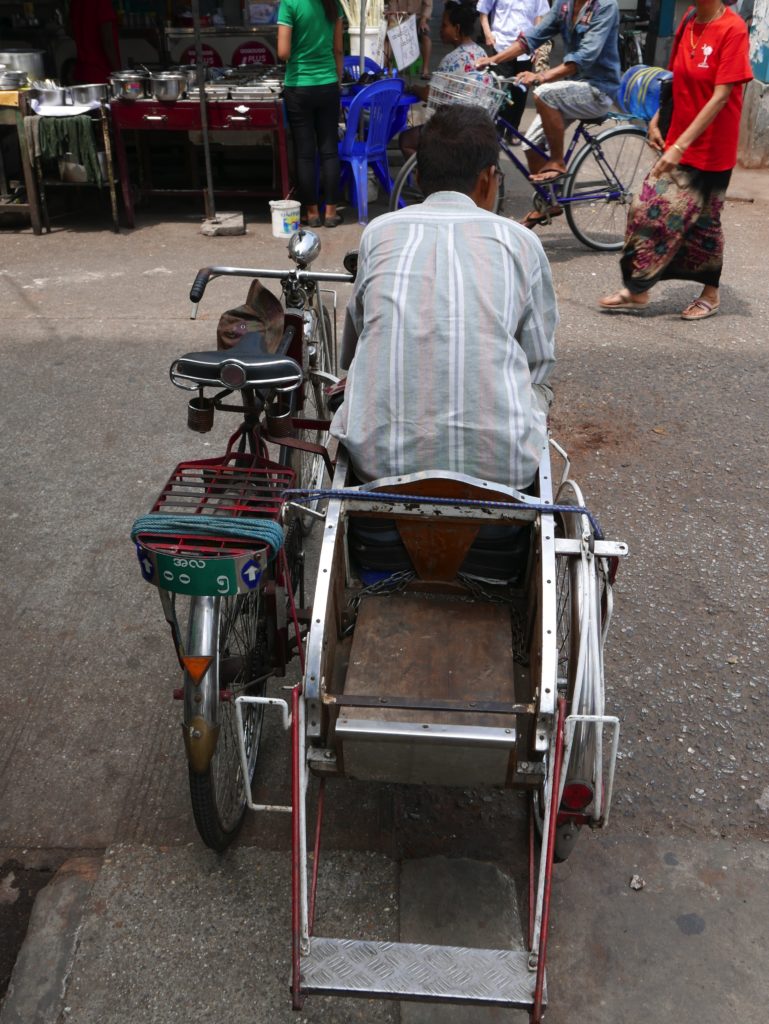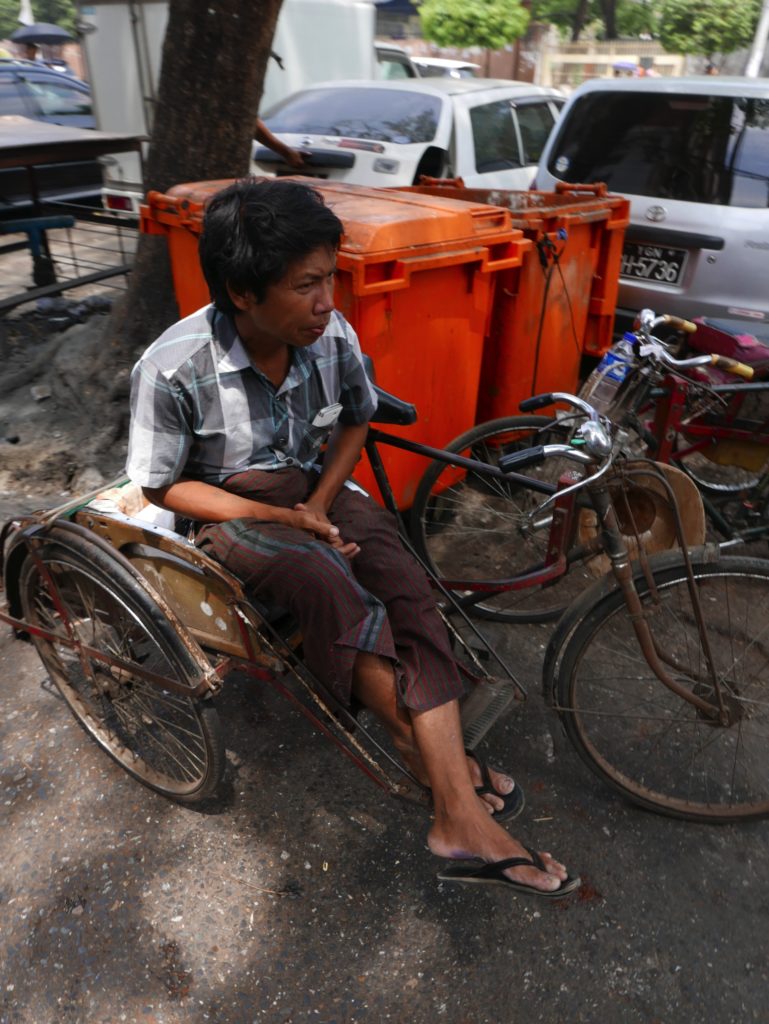 It was great to wander around the streets of Yangon again and to explore.  The city is such a great place for street photography and for watching the people of Myanmar.
If you have enjoyed this article then please feel free to share it using the buttons below.