I have just completed three days of skiing at Sunday River where I saw the worlds tallest (biggest) snowwoman.  Now in Killington.
Killington, Vermont….  a place I have skied many, many times.
The drive over from Sunday River was uneventful but very picturesque as we made our way through the White Mountains.
Killington is a big resort with a lot of terrain to cover.  We managed to book a room at the Snowed Inn, which was about halfway down the main drag in at Killington.  Very nice room, and free wifi. (Made one school boy error on the first night – we left our ski boots in the car – BIG mistake as it got very cold and the boots were almost impossible to get on the next day).  We hired some really good Elan skis from Roots Ski and Snowboard Shop…
The weather was cold but sunny.  The snow was excellent.  Not a hint of New England Packed Powder (aka ice).
Again, there was a ton of snow. And the slopes were in excellent condition.  They seemed to have got to grips with the grooming.
One thing I did notice on this trip was that during the week they now shut down a lot of the facilities on the mountain.  The main lodge at the top of the mountain was closed, as was the cafe at the start of the gondola (in fact, the gondola was shut for 2 of the days we were at Killington).  The only facilities open were Rams Head and Snowshed, and even Bear was closed.
We had three great days of skiing, as I said, the snow was in excellent condition, and there were no lift lines.
Even though I have skied Killington many times, one little discovery on this trip was Noels Restaurant (sign posted all over the mountain) at Sunrise Mountain.  A great little bar with some excellent lunchtime food.
And another discovery was this tree, which is over on Bear Mountain.
Can you see anything?
Look closely…
It is a bra tree…  apparently, people throw bras (and some knickers!) into the tree.  This is supposed to make the snow gods happy and insure a good season of skiing (apparently the idea started out West).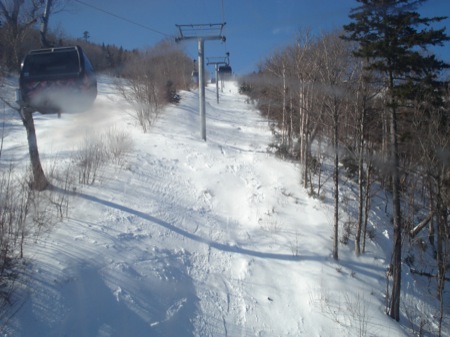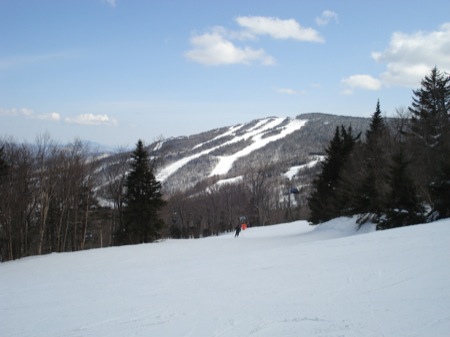 Summary:  A great trip…  snow at Killington was fantastic, and we had three great days of racing around the mountain on some fun Elan skis.
If you have enjoyed this article then please feel free to share it using the buttons below.