For my stay on Bali Indonesia I was booked in to the Gajah Biru Bungalows in Ubud (Ubud is the town made 'famous' by the book Eat, Pray, Love by Elizabeth Gilbert, it was also made in to a film).
I wasn't too sure about the Bungalows when I arrived as it seemed to be tucked down a little side street, and it looked a little run down. However, first impressions were wrong, and it was a great place to stay. It was very quiet, relaxing and the staff were wonderfully friendly and helpful.
The Bungalows are a little outside the centre of Ubud, and if you are going to walk into town (about 20 minutes) be careful as there are no pavements. The roads are narrow, the traffic is fast, and there are no (or very few) street lights – take a torch/flashlight. Plus, there are a couple of corners that you have stop and carefully look around to spot oncoming traffic.
At the main entrance to the Gajah Biru Bungalows is a shrine – is this a good sign, or a bad sign? Well, it turns out that shrines are very common in Bali and I should have been more worried if there wasn't a shrine outside the hotel.
The route down to the room set the scene for my trip to the country as it hinted on just how green the island is.
One fin thing about the Gajah Biru Bungalows was the metalwork artwork around the place. I was not sure who did it, but it was hidden around the grounds of the hotel in the trees and the undergrowth.
The Bungalows also had a second shrine at the back.
Breakfast was ordered the night before and served in your room. It was a good breakfast. All local food, and a good choice.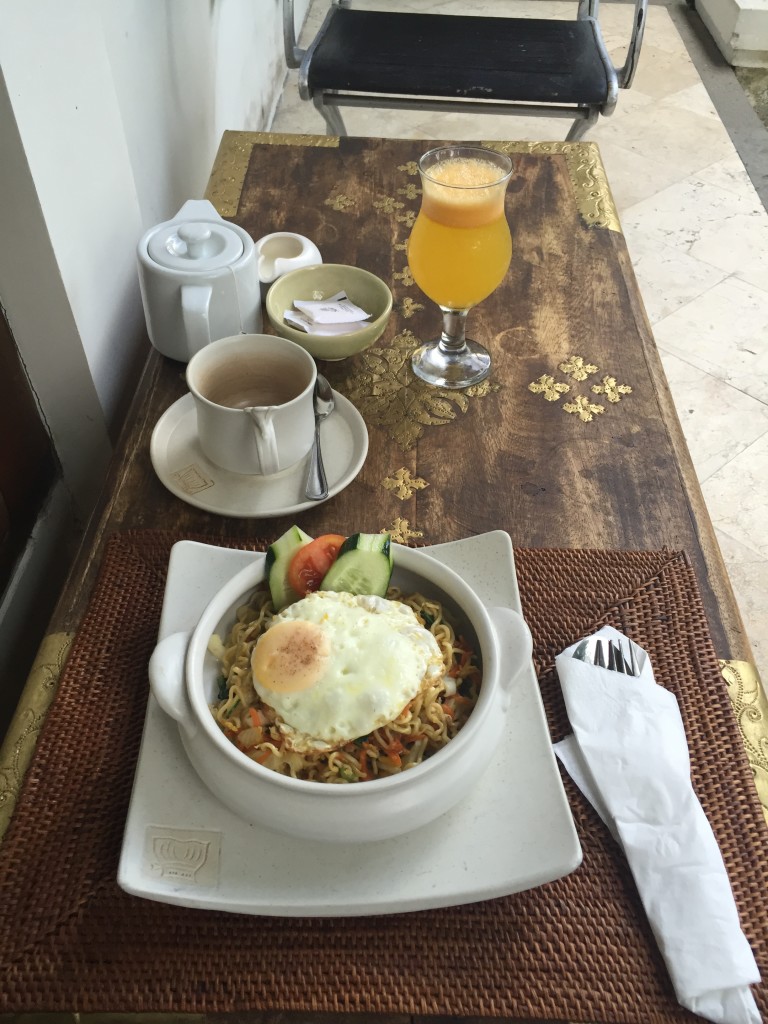 On my last morning at the Bungalows, I was leaving for the airport before breakfast was served. When I told the staff that I was leaving early, they insisted I have breakfast and therefore arranged for a "Breakfast Box" to be made for me. The box was great (see below) and I sat happily by the side of the road waiting for Ubud Taxis to arrive (as is usually the case I was early, and the taxi was on time).
Overall I enjoyed my stay at Gajah Biru Bungalows, Ubud, Bali. The staff were friendly and very helpful, the room was very comfortable, and the place was very relaxing. Service was good, and the breakfast was excellent. I would certainly go back.
FourSquare: Gajah Biru Bungalows
If you have enjoyed this article then please feel free to share it using the buttons below.