I spent 3 days and 2 nights in the company of Glory Cruises in Ha Long Bay, Vietnam.  So what did we do?  Where did we go?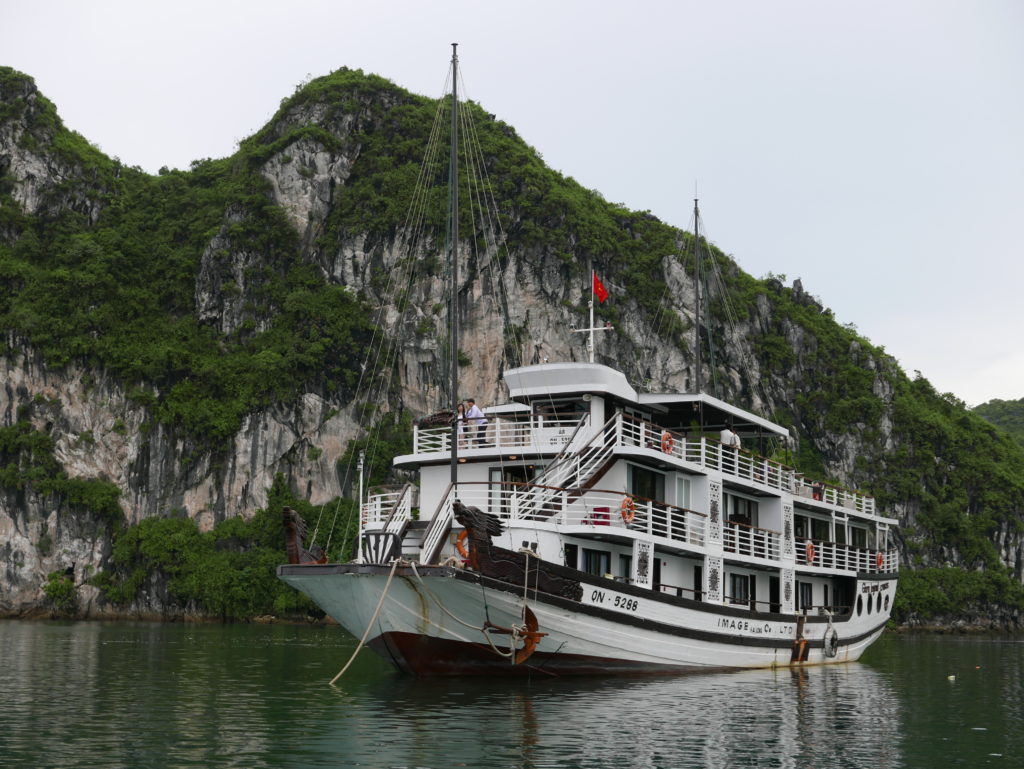 The bay does have some great stats:
total area of Ha Long Bay 434 km2
775 islands
typical tidal range of 4.4 to 4.6 m
depth on average 20 m, deepest 30 m
abundant fauna and flora
Ha Long Bay has a continuous and ancient culture
fishing villages of Ha Long Bay include:

Ba Hang
Hoa Cuong
Cua Van
Ba Ham
Cong Tau
Vong Vieng
Cong Dam
So, I was really looking forward to my visit
The Itinerary
The 'published' itinerary for the trip was:
CRUISE PROGRAM: 3 DAYS / 2 NIGHTS
DAY 1
12:00: Check in Glory Legend Café
12:45: Welcome on Boat
13:15: Vietnamese Set Lunch Menu
15:30: Visiting the "Vong Vieng" village
16:30: Optional swimming, kayaking at back of the boat
17:30.- Happy Hour – Sunset party on Sundeck
18:15: Cooking demonstration on Sundeck
19:15: Dinner with Vietnamese set menu
21:00: Movies show "Indochina" in the Restaurant
21:00: Second Happy Hour
21:00: Squid fishing catching at back of the boat
22:00: Good night
DAY 2
06:15: Tai Chi class on the Sun Deck
07:00: Traditional Vietnamese breakfast
08:30: Transfer to day-time boat
10:00: Swimming, kayaking at the "Three Peach" beach — Lan Ha Bay area
11.00: Visiting "Dong Tien" cave ~ Fairy cave
12:30: Lunch on boat
15:30: Return back to the big boat and join the rest of the program (i.e. 16:30 on from day 1)
DAY3
06:15: Tai Chi class on the Sun Deck
07:00: Traditional Vietnamese breakfast
07:45. Exploring the "Surprise" cave
09:00: Fix the bill, check out
10:00: Brunch
11:00: Disembark of the boat
End of the cruise
So, what happened?
Day 1
Early pick up from the hotel, and then it took around 4 hours to get to the Bay and the boat terminal. The transfer was a bit messy and confused but worked.  We were on the boat at 1 pm, where we had a quick briefing, and lunch at 1:30 pm. The meal was good with a range of dishes. For me, the spring rolls were the best.
The boat had 17 cabins split across two decks.  I was on the lower deck, which mean I had a door to an external walkway on the boat, and no balcony. The room was very nice and comfortable. All wood, with a good aircon unit.
At 3:30 pm we took a trip out from the main boat to be rowed around some local caves (Vong Vieng Village). The scenery in the bay is Impressive. The cave had bats, and other than two monkeys (Crab-eating macaque (Macaca fascicularis) also called a Long-tailed macaque) on an island saw, we no other wildlife. Where are the seabirds? We were told we would see Pelicans. At the caves, we had a choice of being rowed or taking our own canoe. I opted to be rowed. (Some of our canoeists were late getting back.)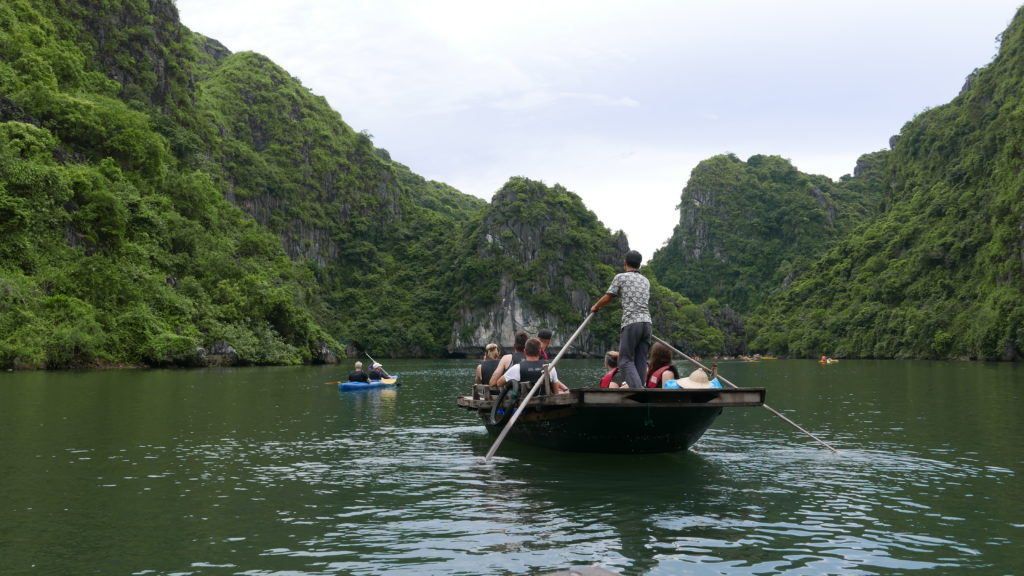 Back on the boat, there was a 6:30 pm spring roll making class. I missed it…
On day one dinner was served at 7:30 pm, and it was another very good meal. Lots to eat. Sweet and Sour soup, spring rolls, choice of main dishes.
After dinner we went squid fishing off the side of the boat – I saw, what I think, were a lot of squid in the water but didn't catch a thing. We were using a bright light and a green lure. Nothing. No interest. Later I was told we wouldn't have caught anything as there was no moon!
One thing that is annoying is that there are no tea and coffee facilities in the rooms and they are charging for tea, coffee, and water, and marked up prices. Not impressed.
There were a surprising number of other boats out there in the bay.  I could count at least 11 other boats when we moored up mid-channel for the first night.
Day 2
Up at 5 am for sunrise and it is pouring with rain. Even with a compass, so I knew in which direction to look, there was no evidence of the sun.
We spent most of day 2 on the 'day boat' as the main boat had to go back to the dock to drop off the 2-day trip passengers and pick up new passengers (there is a choice of a 2-day (1 night) or 3-day (2 night) cruises). I was not too happy about that as I was hoping to spend some time relaxing on the boat.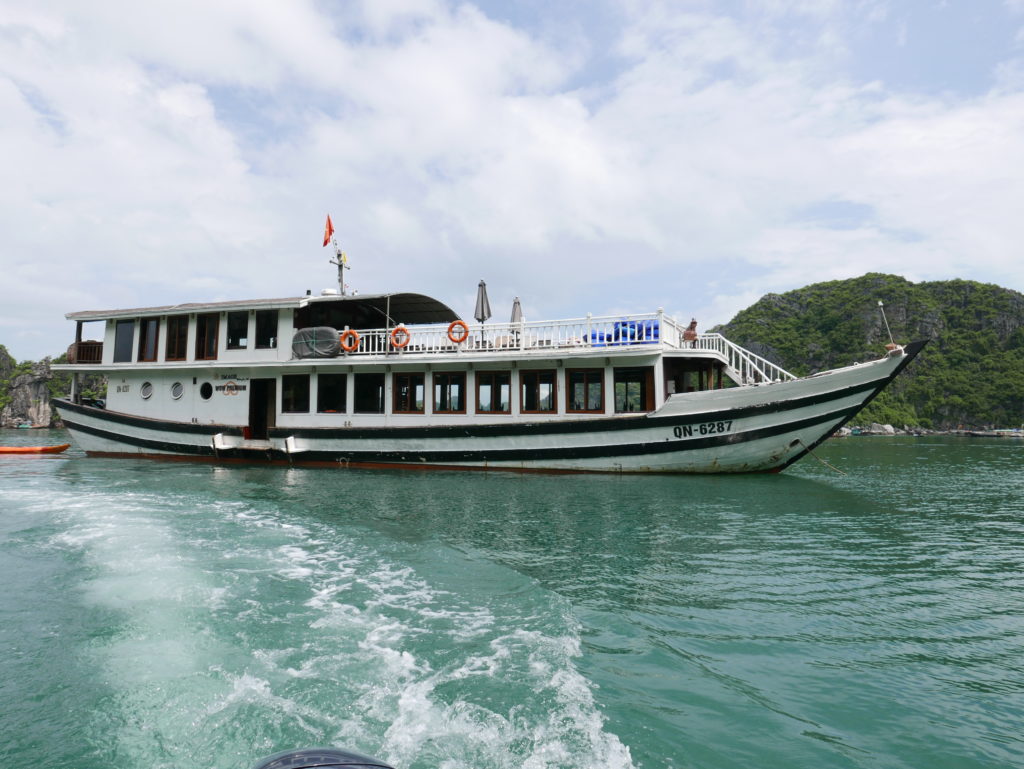 The day boat was very nice but felt like it had seen better days as it was getting a little tatty in places. We visited a local fishing village (about an hours cruise from our main boat). After the village, we moved to a small bay area for swimming and canoeing. On the journey over we had lunch (pumpkin soup, a chicken burger in a bun, with fries and beef stew, followed by melon and rambutans). For once there were no other cruise boats around when we arrived at the swimming point.
We didn't follow the published itinerary for the day due to weather and replaced the cave visit with a visit to the fishing village.
Drinks on the boat (including water with meals) cost extra. I had one Fanta, one coffee, and one bottle of water 110,000 Dong (£3.50 UK; $5 U.S., and they were happy to take U.S. dollars). The charging for tea and water is annoying. I've paid a lot for the cruise, and they charge for water. However, the crew on the boats were excellent and really looked after us.
One thing that was odd, was that despite having visited quite a large part of the bay over the first two days, we still didn't see much wildlife.  Where is it all?  All I saw was:
two monkeys (day 1)
some bats (day 1)
some small fish and squid whilst squid fishing (day 1)
two separate sea eagles in the distance (day 2)
I don't understand why the area is not teeming with seabirds as the cliffs and islands would make excellent nesting sites and there must be plenty of fish in the sea as otherwise there would be no fishing villages. I guess it could be that the level of pollution, mainly floating plastic, which is alarming, that is causing the problem? Despite all the plastic Ha Long Bay doesn't have the air pollution of Hanoi (it is also not so hot and less humid).
On a visit to a local floating museum I read that studies of Ha Long Bay have shown that the bay contains:
435 species of plant life
22 sea animal species
76 species of bird
28 varieties of mangrove flora
5 species of sea-grass
315 species of fish
545 species of invertebrates
234 species of coral
411 species of plankton
139 species of sea-weed
So, how come I saw so little?
Day 3: Final day
Again, I was up for sunrise, and again I couldn't see anything due to cloud, and a large island in the way. Interestingly, while I was waiting for the sun, I saw more bird in 10 minutes than during the previous two days. Saw two eagles flying high. Two groups of three birds flying low across the water, and a large flock of white birds flying between islands. In all cases they were too far away to identify or photograph.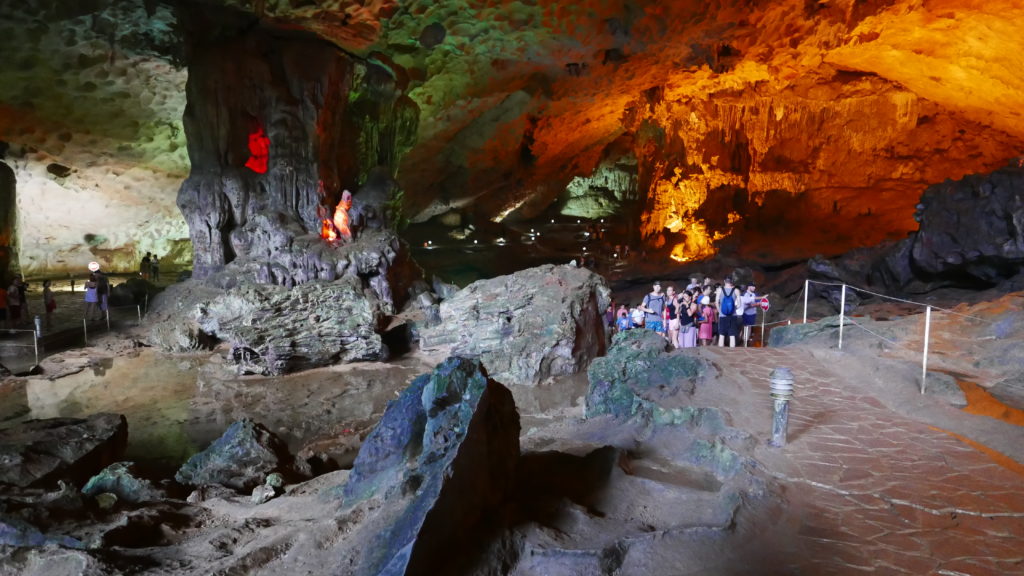 On the cruise, we were never that far from the mainland, and Ha Long city, and its bridge, often popped into view as we rounded an island. Plus, there was nearly always other boats around (large boats as in the type I was on).
One slightly worrying thing was staff kept almost leaving people behind. On the swimming/canoeing trip on day 1 it was only after the insistence of the other passengers that a head count was performed it was realised that we were missing 6 people. On another occasion we had to go back to the main boat to collect passengers that had missed the start of a trip. The problem could be easily fixed with a register and head count.
On the last day we visited the Surprise Cave.
We were back on the quayside by noon, and then had a 30 minute wait for the bus back to Hanoi.
On the way back, around 2:30 pm, we stopped at another factory/shop place where they were selling souvenirs, sculptures, and food and drink. The food/snacks seemed to be heavily marked up again. Back in the road at 3 pm, and back to Hanoi before 6 pm.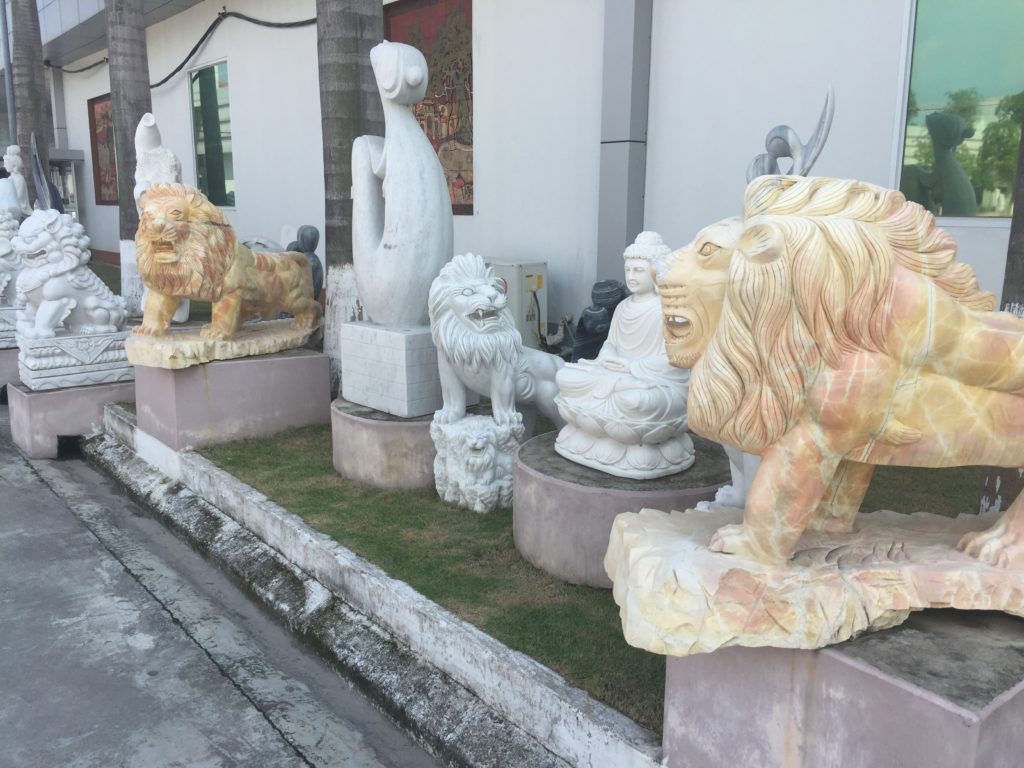 Driving back was notable for the lack of speed.
When leaving the boat I met Mr Le Bac, a general manager with  [Glory Cruises](http://www.glorylegendcruises.net).
Summary
Overall, an interesting trip and I was glad that I went.
The bay is spectacular. The scenery was amazing.  The boat was comfortable, and the food was good. The staff really looked after us on the boat, but they did have a habit of almost leaving clients behind on the excursions.
Although the geology of the bay was impressive I was disappointed by the lack of wildlife we saw (I was expecting to see quite a bit), and very alarmed at the level of pollution – floating plastic mainly.
Contact Details
PELICAN – Halong Cruise
Hanoi Sales Office: 5/338 Pham Ngu Lao str.,
Hoan Klern Dist.,Hanoi, Vietnam
Tel :(+84-4) 3927 5796/ 97/ 3759 3098
Fax : (+84-4) 3927 5798
Hotline (+84-9)3663 8069
Email: sale@peIicancruise.com
info@halongg|orycruise.com
website :http://www.pelicancruise.com
http://www.haIongglorycruise.com
hltp://www.imagehalongcruise.com
Halong Head Oflice: 32 Ann Dao str, Halong city
Quang Ninh Province, Vietnam
Tel :(+84-33) 3846 810
Fax : (+84-33) 3846 599
Hotline: (+84-9)1681 8466
If you have enjoyed this article then please feel free to share it using the buttons below.